Catawba County: In The Fast Lane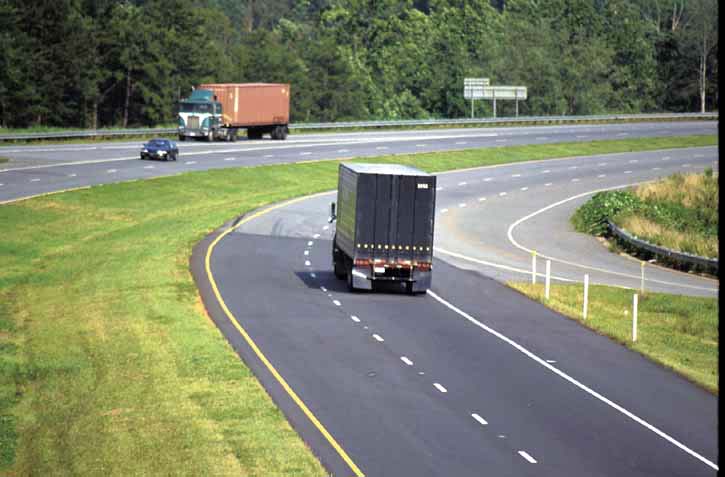 By Casey Jacobus
There's not much commercial development yet at the interchanges and traffic mostly is light on the new, interstate-quality US 321 that flows into Catawba County from the south. Having opened barely six months ago, the new transportation corridor still is seen as a faster way to get from Hickory to Charlotte rather than a destination in itself. But many people expect that will change soon.
Catawba County, nestled between the Blue Ridge Mountains and the Piedmont region of North Carolina, became a center of furniture manufacturing after Duke Power erected hydroelectric dams on the Catawba River in the 1920s, pouring inexpensive electricity into the area. And it became home to a burgeoning telecommunications manufacturing center in the 1970s when the arrival of Interstate 40 gave Catawba quick access to markets (and airports) in Winston-Salem, Greensboro and Raleigh to the east and Asheville and Knoxville to the west.
Now, the new Highway 321 is expected by many to become a similar catalyst for economic growth. Completed at a cost of $45 million, the new four-lane puts most of Catawba County within an hour's drive of the Charlotte metropolitan area, including Charlotte- Douglas International Airport. Before, drivers headed to Charlotte went east on I-40 to Statesville, then turned south on I-77 to reach the Queen City. Now, they can cut almost due southeast on Highway 321 and arrive much sooner.
"When you know you can hop on 321 and be at the (Charlotte) airport in 45 minutes or an hour, it is really conducive to doing business," says Bryan Derreberry, president and CEO of the Catawba County Chamber of Commerce. The chamber has such high hopes for the new transportation corridor that it opened its new $2 million visitor's center and headquarters just off the new highway in the SouthGate Corporate Park last summer.
Hickory, the county's largest city; Newton, the county seat; and Maiden have spent or plan to spend millions to extend water and sewer lines along Highway 321. With utilities in place, industrial and commercial growth is expected to follow. Catawba County commissioners have rezoned 2,000 acres along the highway for business use.
Already the corridor is one of the fastest-growing residential areas in the county. Of the 866 new home sites approved in Catawba County last year, half are located adjacent to the new road.
It isn't only commuters, developers, and manufacturers who will benefit from the new highway link. The quick connection from the Charlotte area also is likely to bring more skiers, hikers, furniture shoppers, and fall foliage admirers to or through Catawba County, pouring millions into the local economy.
But while the new transportation link is good news for economic growth in Catawba County — home to 457 manufacturing firms, the third-largest of any county in the state — the area continues to be regarded as one of the best places in America to raise a family, start a business, launch a career, or retire.
"Hickory and Catawba County have a lot going for them," says Mark Sinclair, who moved his family from Florida to Hickory 11 years ago. Sinclair left his position as director of the Orlando Science Center to direct the Catawba Science Center because he wanted to raise his two children, then 10 and 8, in a safe place with good schools.
"A unique combination of factors make this community a special match between a good economy and a good quality of life," Derreberry adds.
Hickory is almost synonymous with furniture. Sixty percent of the nation's furniture is produced within a 200-mile radius of Hickory. Some 200 furniture-related manufacturers employ nearly 16,000 people. Century Furniture Co., The Lane Co., Broyhill Furniture Industries, Sherill Furniture Co., Bassett Furniture Industries and Southern Furniture are among the county's top 30 employers. They are joined by textile companies like Shuford Mills, Joan Fabrics Corp., Carolina Mills, as well as Hickory Springs Manufacturing which makes foam, springs and mattresses.
Lately, the traditional industries of furniture, hosiery and textiles have been supplemented by industries of the technological age. Catawba County has become the nation's center for the manufacture of fiber optics and telecommunications cable. Hickory is home to Alcatel, the world's largest manufacturer of telecommunications cable products and the second largest telephone equipment company. Also, Siecor Corp., the world's largest independent manufacturer of fiber optics cable, is located here.
Recent expansions and the addition of new incoming companies further underscore the county's cachet among the business and industry community. MDI, among the largest grocery wholesalers in the country, last year constructed a $65 million, 1 million square foot facility just north of Hickory to house its growing business. Centroplastics, an Iowa-based molded plastic manufacturer, recently opened its only southeastern operation in the town of Claremont. And last month a New Jersey furniture importer and distributor, Collezione Europa, moved into a 250,000 square foot facility.
The county, which covers 405 square miles, has an estimated population of 131,256, including residents of its eight municipalities — Brookford, Catawba, Claremont, Conover, Hickory, Long View, Maiden and Newton. The Hickory Metropolitan Statistical Area (MSA), composed of Catawba, Alexander, Burke and Caldwell counties, is corporate headquarters to 47 firms, each with at least 500 employees and $500 million in sales.
While 48 percent of the county's labor force is involved in manufacturing, well above the national average of 16 percent, the county also maintains a $13 million agricultural industry. Sixty percent of that comes from the county's 17 Grade A dairy farms. Piedmont Farms, recognized world wide for its high quality Jersey cattle, ships cattle to Columbia, South America and Puerto Rico.
A strong economic base is only one reason why Reader's Digest selected Catawba County as one of the 10 best places in America to raise a family. Working with the Roper Center for Public Opinion Research, the magazine polled parents across the country to determine what was most important to them in choosing a place to live and raise a family. In addition to economic growth and an affordable cost of living, these parents listed an absence of crime, low rates of drug and alcohol abuse, good public schools, first-rate health care and a clean environment among their top requirements.
Mark and Mary Ann Turner moved to Catawba County from Florida five years ago. Mark Turner is vice president for operations at Catawba County Memorial Hospital, one of two outstanding hospitals in the county. Mary Ann is an award-winning elementary school teacher. Their children, Joanna, 16 and Nick, 14, attend public schools and participate in various music and sports activities.
The Turners say the schools, sports and church events, as well as the closeness to larger cities and to the mountains, make it a great place to live and raise a family.
"The area is centrally located; it's got the mountains, shopping, and the arts," says Mary Ann Turner. "The climate is wonderful, and with the change of seasons, it's always beautiful. One of the most important things to us is that it is a church-oriented community. There are a lot of people here who share our values."
Catawba County has a high quality of medical care for a community of its size, says Mark Turner. Both Catawba Memorial Hospital, which is county owned, and the private Frye Regional Medical Center offer patients care in many areas, including obstetrics and neurosurgery. Catawba Memorial is particularly strong in cancer care, while Frye has an outstanding heart center. Together they offer 615 hospital beds. Both are also major employers in the county.
"Catawba Memorial has an excellent medical staff with a high ratio of RNs," says Turner. "It's very easy to recruit quality physicians because this is such a great place to live."
Medical personnel or manufacturing employers, school teachers, or retirees, people moving to Catawba County have no trouble finding a home. Housing ranges from waterfront estates to bungalows in historic districts to homes in planned communities. The median price of a three-bedroom house is $105,000, lower than the national average of $110,511.
Linda Powell, 1998 president of the Catawba Valley Association of Realtors and an agent with Prudential/Hickory Metro Real Estate, says there is also a steady condominium market and that local apartment rents are among the most affordable in the state. There are 10 nursing homes and/or retirement communities in the county, as well.
"Buying a house in Catawba County is an excellent investment," says Powell. "Market values here have steadily increased over the past several years. Most people enjoy a seven to eight percent return in three to four years."
"Once people come to Catawba County, they don't seem to want to leave," says chamber president Derreberry, who counts himself among that number. Derreberry moved his family from Ohio three years ago.
"We couldn't be happier here," he says. "Maybe it's because it's such a good place to live that it's a good place to start your own business. Entrepreneurs, small business owners, are very prevalent among the chamber's membership."
Nation's Business Magazine rated Hickory one of the top small metropolitan areas in the nation for starting a business in July 1997, calling the city "a tiny Titan." With fewer than 33,000 residents, Hickory was the smallest of the five cities selected. But it has an entrepreneurial climate that goes way back in its history, says Charles Snipes, president of Bank of Granite, which for many years has been rated as one of, if not the best, small bank in the nation.
The tradition of local ownership began with the furniture and hosiery industries, says Snipes. They spawned a host of small companies which served and complemented their larger neighbors.
"In my 40-plus years in banking, I've seen hundreds of people come in here with just an idea on which they've been willing to risk everything," says Snipes. "Most of them have been successful."
In the 1990s there's been a new business started for every 100 Hickory residents, the fifth-highest rate in the state. Four banks have their headquarters in or near Hickory, including Bank of Granite, which is the No. 1 independent bank in the country.
One entrepreneur is Larry Bowman, who left local coaxial cable maker CommScope as vice president of operations in 1987 and bought bankrupt satellite-dish maker Prodelin Corp. He now employs 275.
The political climate in Catawba is definitely pro-growth, says Scott Millar, director of the Catawba County Economic Development Corp. "It's a great place to do business," he says. "The county is very business friendly."
Forward-looking community leaders established the Economic Development Corp. in 1978 as a recruiting arm for industry. They realized the need to diversify the economic base of the county and to attract industries other than the traditional powerhouses of textiles and furniture. Since the late 1970s the EDC has assisted with 145 business relocations and/or expansions, improving the county's tax base by more than $863 million.
City, county and chamber of commerce leaders also have worked together on an aggressive expansion of water and sewer lines, road and highway improvements, and enhancements to public education. In 1980 the voters approved mixed drink sales in Conover and Hickory, which spurred hotel, motel, restaurant, and entertainment growth in the county.
In 1990 when it was not common for communities to offer economic incentives to new businesses, community leaders put together an aggressive incentive package for Alcatel. Alcatel invested $40 million in an expansion of its Claremont facility and has grown and prospered since.
"It was a risky maneuver," says Millar, "but it paid off. That project really started the use of incentives across the state."
Community and business leaders have partnered with the county's schools and colleges to ensure there is adequate education and training to maintain a prepared workforce for the county's manufacturing firms. "With the unemployment rate at 3 percent or less, we have a challenge to ensure our young people are work ready and to provide appropriate employment opportunities to keep them home," says Derreberry.
The three Catawba County school systems — Hickory City, Newton-Conover City, and Catawba County — serve more than 22,000 pupils in 36 schools. The county also has two colleges: Catawba Valley Community College, a comprehensive community college, and Lenoir-Rhyne College, a 102-year-old liberal arts institution with 1,500 students. CVCC offers a variety of educational opportunities, including technical, vocational, adult and occupational educational programs. Two-year associate degrees, college transfer programs, plus various other diplomas and certificates, including business, engineering, horticulture, and furniture production design are offered.
"We are constantly developing programs to fill the needs of our service area," says Dr. Linda Philipps, vice president of academic and student affairs at CVCC.
The chamber of commerce also has responded to the need of area businesses for more and better prepared employees by initiating a Workforce Development Program, intended to increase the number of qualified high school and college graduates entering the county's workforce. As part of this program, the chamber is developing a new public-private partnership aimed at bringing all workforce development resources under a common planning umbrella. It also is coordinating a project aimed at placing each of the county's 1,400 public school teachers in a business environment for a full day to learn from employers the skills and attitudes future employees need to succeed.
Tourism already is a big business in Catawba County generating $235.6 million in 1966. More than 2,000 jobs are directly attributable to the hospitality industry. Two years ago, the 70,000-square-foot Hickory Metro Trade Center opened, providing space for meetings, conventions and trade shows. Visitors also come for races at the Hickory Motor Speedway and for ball games at the new L.P. Frans Stadium, home of Hickory's Class A ball team, the Hickory Crawdads.
The Hickory Motor Speedway has been in continuous operation for 42 years. Many NASCAR greats got their start there, including Ned Jarret, Dale Earnhart and Dale Jarrett. The speedway generates $2.4 million each year for the local economy.
Minor league baseball came to Catawba County in 1993. The Crawdads led the South Atlantic league in attendance during their first year of play and captured the imaginations of many residents who became ardent fans. The team is a Class A affiliate of the Pittsburgh Pirates.
Visitors also come to water ski, boat, swim or fish on Catawba County's three lakes — Lake Hickory, Lake Lookout Shoals, and Lake Norman — and to visit historic sites like Murray's Mill. The mill, on Ball's Creek near the small town of Catawba, is the one of the nation's last operating grist mills. Tourists and residents alike enjoy the natural beauty of the Catawba Valley area, its many city and county parks and its close proximity to the North Carolina mountains.
Catawba County combines a bustling economy with a family-friendly community atmosphere. It has a diversified economy, forward-thinking business leaders, and an overall high quality of life. For the first time in its history, service jobs are growing faster than manufacturing jobs, providing a unique mix for the economy, growing employment opportunities and more and better services for residents.
"It's as close to perfect as you can get," says Mary Ann Turner.