Community Profile: Halifax County
Top right: The Roanoke Valley co-generation facility
Bottom right: Executives look over operations at Coastal Lumber Co.
Halifax County, an early hotbed of colonial fervor,
emerges as a new center of economic development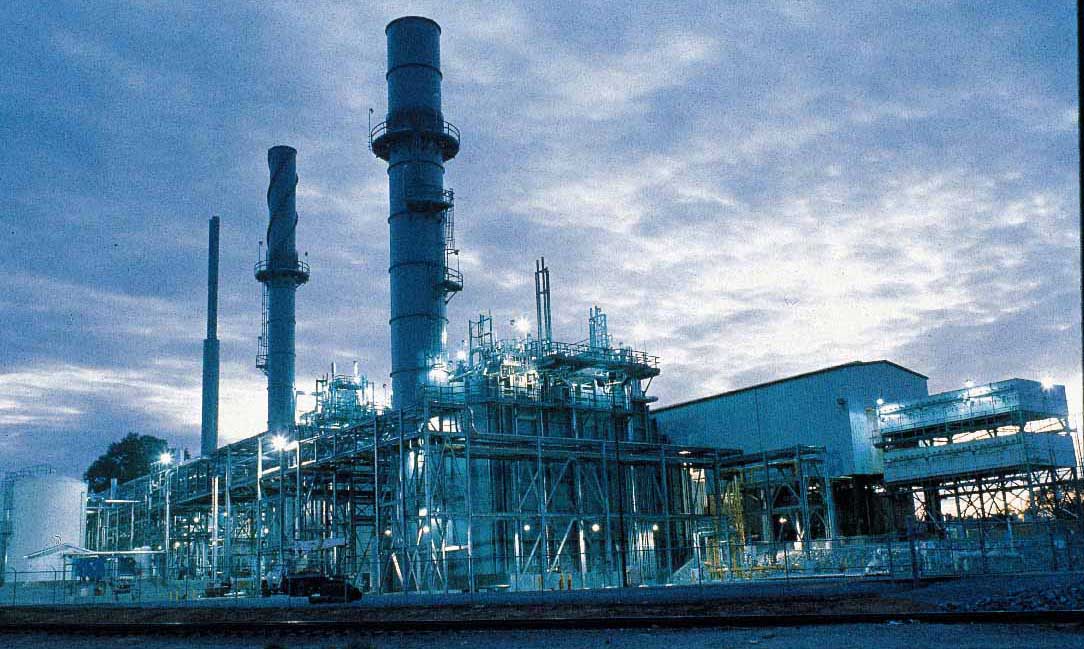 By David Crawley

Three months before the Declaration of Independence was signed, another group of revolutionaries resolved to become free of England. The Halifax Resolves, signed April 12, 1776, in what is now Halifax County, set the stage for the events in Philadelphia.
Today this diverse county straddling the Piedmont and the Coastal Plain and bisected by Interstate 95 is fast undergoing a different revolution. Having suffered for generations as one of North Carolina's most economically deprived counties, Halifax and surrounding areas have suddenly become a hot bed of economic development.
Three major new industries announced plans to expand here in 1998, including the $180 million Wisconsin Tissue paper plant near Weldon. In what was a banner year for Halifax and surrounding areas in Northeastern North Carolina, businesses announced $700 million in new investment with the promise of more than 2,000 new jobs, including the $300 million Nucor Corp. steel recycling mill in nearby Hertford County. When all the business expansions and relocations had been tabulated, the region came in a close fourth after Charlotte, the Triad and the Triangle for increased economic development statewide.
Halifax County thus finds itself poised to become a leading player in what is predicted to be one of the most prosperous areas in the state during the next couple of decades. "Northeastern North Carolina is fast becoming a mecca for economic development,"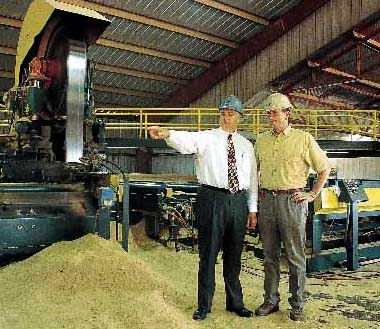 said Rick Watson, executive director for North Carolina's Northeast Partnership, a 16-county regional marketing organization established by the General Assembly in 1993.
"With Nucor and Wisconsin Tissue taking the lead, this region will indeed be the area to watch over the next few years," Watson added. "We are excited about the future of this area and the major role that Halifax County plays in our strategic plan."
These new jobs only add to the economic benefit and corporate goodwill from Halifax County stalwarts like N.C. Power and Coastal Lumber, both major employers in the area. In addition to providing jobs for 100 people and power for a good portion of the county, N.C. Power decades ago created two reservoirs — Lake Gaston and Roanoke Rapids Lake — that have become popular recreational areas in their own right.
No Overnight Success Story
While there is cause for celebration in Halifax County today, the area's success did not come overnight. Like a lot of places throughout the state, Halifax County and the Roanoke Valley have a rich history rooted in agriculture and textiles.
Over the course of about 100 years, the sleepy mill town of Roanoke Rapids, the county seat, attained modest notoriety and some regional popularity as a good place to raise a family and keep a steady job. Not much emphasis was placed on the need for economic development or increased educational needs as long as the hearty textile industry was king and the strong agriculture base found in the surrounding rural area remained queen.
Beginning in the early 1970s Halifax County experienced a period of substantial growth and shifting attitudes toward education and the area's economic outlook. Joining the area's existing industry — Champion Paper Company, Halifax Paper Board and Coastal Lumber — as major participants in the employment arena were new companies like Meyers Industries/Patch Rubber; Flambeau Airmold, a plastic container manufacturer; Kennemetal, makers of metal inserts; Roanoke Valley Energy, a manufacturer of electricity and steam; and Safelite AutoGlass, a manufacturer of windshields; and Private Label Automotive which makes automobile exhaust systems. All of these new factories imported some new blood into the labor pool.
During this time, a visionary named Charlie Edwards, a native of the area, almost single-handedly developed what had before been only a red clay hill east of town, into a sprawling, suburban neighborhood. Edwards also developed the area's first self-contained shopping center, Becker Village Mall, along with several other shopping centers.
Roanoke Rapids expanded rapidly eastward towards Interstate 95. At the same time the neighboring town of Weldon had been growing to the west to meet Roanoke Rapids. Where they met at the I-95 interchange with U.S. 158, a well-developed restaurant and hotel strip soon developed. Today it is one of the most popular stops for travelers, marking the halfway point along the corridor from New York to Florida.
In fact, the area currently boasts over 1,000 rooms, with at least a dozen different hotels and motels. There are also several historical bed and breakfasts in the county, three campgrounds, a beautiful state park and more than 65 eating establishments.
Positioned For Change
As the county and the Roanoke Valley entered the 1990s, a new generation of leaders emerged, armed with a strong sense of history and knowledge about the area they call home.
In 1994, a nonprofit entity called Halifax Horizons was formed when Brenda Blackburn, the Roanoke Valley Chamber of Commerce president, and Rocky Lane, director of the Halifax Development Commission, came together with a group of community leaders to form a plan that would enhance economic development in the area. Halifax Horizons, funded by both public and private sources, has four major goals. Included in these goals has been the development of an industrial center where Halifax Horizons has acquired 130 acres of land, laid in a quality infrastructure and built a 50,000 square foot shell building. Halifax Horizons has also designed and implemented marketing efforts such as web pages and brochures, supported development projects by working on water and sewer grants, as well as provided incentives to new businesses that are considering locating to the area. An example of those incentives was the recent $25,000 local award that went to the Wisconsin Tissue project in Weldon.
This investment, according to Quinn Morrison, plant manager of Roanoke Valley Energy and current chairman of Halifax Horizons, covered the costs of items such as land options and relocation studies, as well as printing and reports.
"Halifax Horizons serves a vital role in covering these incidental costs associated with industrial recruitment to the area," said Morrison.
A Busy Year
Rocky Lane and the Halifax Development Commission, chaired by Weldon Mayor Johnny Draper, have indeed been busy for the past 18 months. Lane, also a homegrown product of the mill villages, has logged thousands of miles during that time "hunting buffalo," as County Manager Charles Archer puts it.
The biggest of these "buffaloes" by all accounts was the January announcement by Wisconsin Tissue, a division of Chesapeake Corp., headquartered in Richmond, Va., that it will build a $180 million paper recycling facility not far from I-95 in Halifax County. The plant promises to bring with it about 250 relatively high-paying jobs initially and as many as 550 additional jobs over the next three phases of the plant's construction. According to Lane, the plant will locate on a 500-acre site just outside Weldon.
"I am excited about this project," said Lane. "Wisconsin Tissue is a class company, with an immaculate environmental record. The fact that they bring with them a substantial number of sustainable jobs over the next 20 years gives Halifax County great hope and tremendous security for a very bright future."
In addition to the Wisconsin Tissue project, other announcements made last year were the location of Castle Housing of the Carolinas to Enfield and the opening of Duquesne Energy in mid-1998. Castle Housing will build manufactured homes and Duquesne Energy, located in Weldon, manufactures fuel pellets from coal and paper pulp.
To top it all off, WestPoint Stevens, the area's largest employer which in 1997 purchased and resurrected the bulk of the area's textile mills, recently announced an $11 million expansion project to begin soon.
Strong Support for Business
The Roanoke Valley Chamber of Commerce has facilitated tremendous growth during the `90s. The first thing that one might notice about this relatively small chamber is that it is remarkably pro-active and passionate about its mission.
Of course the chamber does the usual things like sponsor events such as "Business After Hours" and ribbon cuttings, along with annual fund-raisers. The chamber also sponsors an annual small business expo and a number of fun events, such as the annual holiday party at which some lucky person can win $10,000.
In addition to being the front line of communication for retail development in the county, the chamber also takes an active role in leadership and workforce development. Efforts in these arenas include "Leadership Roanoke Valley," an adventure spread out over nine months in which as many as 35 business and industry leaders from the area participate in excursions, question-and-answer sessions and team-building exercises. Participants hale the program as a "must-do" experience that serves to make them all more informed, excited and passionate participants in the community.
"Leadership Roanoke Valley is an enjoyable, rewarding and worthwhile experience," said Ginger Hale, a local realtor and graduate of the course. "I highly recommend this adventure to anyone who wants a better understanding of the area and its people."
Other workforce development efforts include a business-education partnership division of the chamber. Headed up by its own full-time coordinator, this arm of the organization conducts workshops, seminars, practice interview sessions and job shadowing activities for area students throughout the year.
"Realizing that area schools are producing its future workforce, the chamber and the business community have joined forces to create a positive impact on that future workforce," said Chamber President Blackburn. "We are seeing that impact and the program is making a real difference here.
"An example of this is a summer internship program organized by the Chamber for the past three years," Blackburn continues. "In that effort about a hundred teachers were placed in particular businesses for one week during the summer. This has resulted in a much better understanding between teachers and business people regarding the skills needed by students to be employable."
Last, but not least, among the outreach programs of the Roanoke Valley Chamber is its "Work First" program conducted in conjunction with the Halifax County Social Services Department and the state's Work First program. Last year this grassroots program received an award from the governor's Work First Council as Outstanding Regional Chamber in the training of Work First participants.
Tourism Thrives
Tourism is also big business in Halifax County. The area is rich in culture and history and teeming with natural treasures like Lake Gaston, a 34-mile-long, man-made impoundment on the county's northern border. Gaston is an internationally known recreational lake famous for its sport fishing, boating, and recreational opportunities. Lake Gaston also has become a popular retirement area for nearly 8,000 year-round residents. In addition to Lake Gaston, the area boasts a smaller lake, the Roanoke Rapids Lake, and the mighty Roanoke River, which cascades several miles through the county before settling into its meandering journey to the Atlantic Ocean.
The river itself has garnered international attention from outdoor enthusiasts, boaters and fishermen as one of the premiere places on the East Coast to enjoy a vacation full of exciting and unmatched recreation. There are close to 50 miles of hiking trails throughout Halifax County in addition to a 2,300-acre state park, Medoc Mountain, which is home to a multitude of wildlife, birds and plant life.
Each year the county is home to more than a dozen events and festivals, including the outdoor historical drama "First For Freedom," which recounts the story of the Halifax Resolves. Also celebrated each year in the mostly Native American community of Holister is the Haliwa-Saponi tribe's pow-wow. Every third weekend in April, the tribe gathers to celebrate its cultural heritage and showcase its community through dance, food and crafts.
Lakeland Cultural Arts Center, the brainchild of Mark Taylor, who retired to the area in the 1970s after a lifetime on Broadway and in Hollywood movies, is housed in the historical Littleton High School building in downtown Littleton. It has been called the busiest community theater in the country, with new shows nearly every month. Lakeland also offers music and dance classes, as well as several special concerts each year.
Infrastructure In Place
"We are getting ready," says County Manager Charles Archer. "This county has worked long and hard and we have planned well for this day. Now it is upon us and we will do all we can to capitalize on our good fortune."
At the heart of that planning is a top-notch community college with a new, visionary president. In addition to an aggressive two-year degree curriculum, a fully-certified college transfer program and an extremely popular and diverse continuing education program, Halifax Community College recently expanded its potential for making a significant impact on the citizens of the county by establishing four satellite campuses.
Since Dr. Ted Gasper's arrival as president in the fall of 1998, enrollment at the college is up substantially. Students also have started classes at the new Scotland Neck and Littleton campuses. They will soon be joined by even more folks seeking to better their education at campuses planned for Enfield and in Jackson, which is a neighboring county seat.
Medical facilities, too, abound in Halifax County. The county is home to Halifax Regional Medical Center. Started as Roanoke Rapids Hospital in 1912 and serving just the local area, Halifax Regional Medical Center today is housed in a state-of-the-art complex offering myriad services to its patients. Over the last 27 years, through four major expansions, this cornerstone of the community has never looked back. From a 151-bed facility to its current status as a 244,000 square foot, seven story; 206-bed facility, the new Halifax Regional Medical Center stands tall among its peers in this area of the state.
"Halifax Regional Medical Center now serves a region that covers more than four counties in North Carolina and two counties in Southern Virginia," said President M.E. Gilstrap. "Our goal has been to remove the need for patients to go outside the area for primary or secondary medical care."
Gilstrap adds that the medical center's strategic plan includes efforts that are currently adding new local clinics to outlying areas and a brand new wellness center adjacent to the main property.
From any angle, the future looks bright for Halifax County. Whether gazing across the waters of Lake Gaston or peering through the mountain laurels that flourish on Medoc Mountain, the view is the same: Progress is finally here.
Halifax's Colorful History Remains on Stage
Although the buzz on Halifax County of late has had more to do with jobs than vacations, tourism in the area should not be overlooked. Experiences here range from a sportsman's adventure on beautiful Lake Gaston to a trip deep into American history.
The town of Halifax, for instance, was a colonial seat to the state General Assembly. The Resolves of Halifax were signed here in 1776 and marked one of the first actions taken by a colony toward independence. The town is home to several historic buildings of the era, one of which is the Eagle Tavern where General Lafeyette spent the night. History re-enactors in town display various skills from that period, such as making candles, washing clothing, and weaving cane chairs.
"We see ourselves as southern hospitality, rich in history and natural resources. Visits to historic Halifax should not be missed when folks come to Halifax County," says Lori Medlin, executive director of Halifax County Tourism Development Authority.
Joe Long, director of the 4-H Rural Life Center, recommends that visitors tour some of the historical sites. Allen Grove Rosenwald School, for example, has been carefully preserved to depict school life from the 1920s to the 1950s. Also near the site are an agriculture museum and an old farmhouse renovated to memorialize the county's farming heritage.
The Roanoke Canal Trail, which runs through both Roanoke Rapids and Weldon, is registered as a National Historic Treasure. This seven mile-long greenway marks the path that once offered a navigational system to bypass the dangerous rapids in this part of the Roanoke River.
"You can expect to see wildlife of all kinds along the trail," says Chris Wicker, Halifax County's Parks and Recreation director. "It is not unusual at all to catch a glimpse of deer, wild turkey and bald eagles."
Lakeland Cultural Arts Center, located in Littleton, is another recreational opportunity the Lake Gaston area offers. Musicals, dramas and other events are put on in an historic school building that is currently being restored. Person's Ordinary, another Lake Gaston attraction, was a favorite county tavern of colonial era travelers. Person's offered a place to rest, water your horse and perhaps enjoy a mug of something cool to drink.
Fishing on the Roanoke River is a deeply rooted local tradition. The river is the "Rockfish Capital of the World," with the season opening in March. Nearby Medoc Mountain State Park, consisting of over 2,300 acres, is also a wonderful place to fish as well as canoe, camp and hike.
Lake Gaston, an internationally known recreational lake famous for its sport fishing, boating, and other recreational opportunities, draws many outdoor enthusiasts to Halifax County. This 34-mile-long, man-made impoundment is on the county's northern border. In addition to Lake Gaston, the area also is home to the smaller Roanoke Rapids Lake. Both lakes and the Roanoke River give the area such a widely known reputation for being a sportsman's paradise.
Halifax County boasts more than 50 places to shop and 67 restaurants. In addition, Medlin emphasizes that the area offers accommodations — more than 1,000 rooms — that meet everyone's taste whether they run toward the national full-service hotel chains or the quaint bed and breakfast.
The Halifax County Tourism Authority has developed an impressive array of tools to help potential visitors to the area plan an exciting and adventurous visit. In addition to picking up some brochures and handouts, visitors can stop by the Tourism Authority's visitor center at exit 173 on I-95 and watch a video called "Touring Halifax County." For more information, take a look at Halifax County's web page at http://www.visithalifax.com or call 1-800-522-4282.
If driving tours are your thing, you might try a picturesque route described in a booklet called "NC Scenic Byways," put out by the NC Department of Transportation. The route, entitled "Lafayette's Tour," winds through much of Halifax County, near historic sites, small towns and Medoc Mountain State Park. The book's route descriptions include clear maps and careful directions, information about points of interest you'll pass along the way, and approximate travel times and mileage. To request a book, write to NCDOT Scenic Byways, P.O. Box 25201, Raleigh, NC, 27611.
—Tiara M. Nichols
COPYRIGHTED MATERIAL. This article first appeared in the July 1999 issue of the North Carolina magazine.