Executive Profile: Barry Eveland of IBM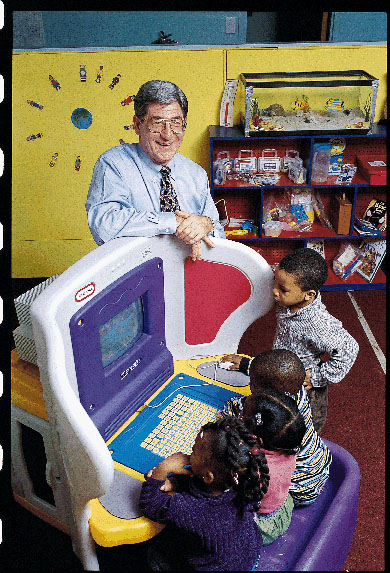 By Suzanne Fischer
Three tiny bodies squeeze into a low, plastic bench likely meant to accommodate only two youngsters. But these students at Durham's Scarborough Nursery School aren't dissuaded by a lack of personal space. Eager to start working on the computer in front of them, they're disinclined to wait in line.
Barry Eveland, the highest-ranking IBM official in North Carolina, beams as the children take hold of the mouse with authority. Leaning over the primary-colored, "peanut butter-proof" computer station — a joint venture between IBM and Little Tikes — Eveland, 54, watches the 4-year-olds maneuver their way through programs that teach letters and numbers.
"Education is our single highest priority when it comes to involvement in the community, particularly the early years," he explains. "You've got to get children formulated correctly from the start, which is easier than trying to catch them up later on."
Eveland serves as vice president of logistics for IBM's Personal Systems Group. He's a top-flight executive with responsibility for many employees and many, many millions of dollars worth of products around the world. But right now, smiling as the kids point and click, he resembles nothing so much as a proud parent.
"This isn't just because we're technology providers," he says, "but because we really do believe that technology offers an excellent opportunity to expand the toolset that schools have to provide the best learning experience for children."
Hence the "Young Explorers." Created in Research Triangle Park, these computer learning stations work like regular PCs, but at three feet tall and encased in tough yellow, tan and red plastic, they're specifically designed for the 3- to 7-year-old set. IBM provided Young Explorers to 50 nonprofit centers nationwide through its KidSmart early-learning pilot program.
But the company also wisely recognizes the value of the personal touch as well as the technological one; IBM — and by extension, Eveland — encourages employees to volunteer their time in schools, working one-on-one with students.
Eveland knows, first-hand, the impact that mentoring makes on young minds. His grandfather was one of his earliest and most significant influences.
"There were two or three years of my life when I lived with my grandparents, when my dad was in World War II," he says. "I was very close to my grandfather. He was a postal clerk, and on the side he made aprons to sell to postal workers. He grew that into a successful dress manufacturing business. He was a big inspiration to me. He helped me financially through school, too."
He also credits his parents with unconditional support and love. "When I was young," he recalls, "they instilled confidence in me that I could do whatever I set out to do. Their support in my formative years carried with me my whole life."
Eveland was brought up in a small Pennsylvania town called Shamokin, in the coal regions north of Harrisburg. The town, with a population of about 15,000, isn't quite as big as the Research Triangle Park IBM facility in which he now works.
Although a high school aptitude test recommended he study accounting, Eveland couldn't imagine himself as a CPA.
"I knew pretty early on that I wanted to be an engineer, because I pictured that as someone who got involved in solving problems using the analytics of math and science to come up with solutions that were practical. Practical solutions for every-day life."
He attended Lehigh University, in Bethlehem, Penn. which, at that time, was exclusively engineering and all male.
"I was very much into the sciences in high school. I ended up majoring in industrial engineering, which some people call `make-believe' engineering, but I always thought of it as `jack of all trades, master of none,'" he jokes. "But it does touch on all the engineering disciplines. It gives you a broad background in engineering and gets you focused on a lot of the management aspects."
After graduating from Lehigh in 1966, Eveland took a job in Owego, N.Y., that would be the beginning of a life-long career with IBM. In Owego, he worked on the System 360 language, which was the first large-scale solid logic technology that IBM put out.
But Owego, he says, is cold and dreary, with the fewest number of sunny days in the United States except for Seattle. So when IBM began transferring some work to the RTP plant and he was asked if he'd like to go along and help make that transfer happen, he jumped at the chance.
He and his then-wife and their two children, Jeffrey and Cheryl, moved to North Carolina in 1970, when the RTP IBM facility employed no more than about 3,000. One of the first people there who took notice of Eveland was Bill Kress, who retired from IBM in 1996 as site general manager and senior state executive and who currently serves as president and CEO of MCNC.
"When Barry transferred to the Triangle from Owego he made a presentation to me, and I knew from that moment that he had a lot of potential," remembers Kress, who worked with Eveland on and off for nearly 30 years. "I knew he'd become an executive."
Eveland held several different positions during the years between 1970 and 1982, but the one he refers to most frequently is resource planning manager for Dick Daugherty, who was the plant manager at the time. Eveland presided over resource planning — both people and facilities — during a period of explosive growth for the RTP site.
"At that time we started construction for many of the facilities we have here today," he says. "We also got started in intelligent display manufacturing — predecessors to PCs — and we were introducing such huge volumes, or what we thought at the time were huge volumes, that it caused us to really expand the manufacturing process here at this site."
While the RTP site continued to flourish, IBM looked for another North Carolina facility to house even more employees and missions being transferred from the Northeast. IBM-Charlotte was founded in 1978 at the University Research Park, which at the time was similar in concept to RTP.
"I was lucky enough to have done all the initial planning for that," Eveland says, "like the site justification and layout, what missions would go there, what people would be there at the beginning."
In 1982 Eveland took what he thought would be a two-year assignment back in New York working for John Akers (who would later become IBM's chairman and CEO), figuring that the job would broaden his understanding of the corporation. Within a year of the move he'd been promoted to an executive position in the logistics organization, fulfilling Kress' prediction.
Logistics, as he is the first to admit, means a lot of things to a lot of different people. At IBM, logistics encompasses production planning, scheduling, management of inventory, distribution of products, and demand forecasting, for which, he says, "you have to be a bit of a fortune teller."
His "two-year assignment" turned into 10 years on the corporate staff, at which point he decided it was time to "get [his] fingernails dirty again" and get back to real operations.
"The staff job was very interesting and very high profile; you had a great influence in what the corporation does because you're making recommendations to the senior management, so while you can make a tremendous amount of impact, it's second as opposed to being hands on," he says.
So, in 1993 Eveland transferred back to RTP as vice president of logistics for IBM's then-struggling personal computer company (now called the Personal Systems Group). The operation, he says, suffered from an inability to forecast demand accurately, from high inventory levels and from difficulty handling product transitions. "It seemed like the perfect opportunity to use the skills I'd developed in logistics over the previous 10 years . . . to use them on a real operation."
He and his staff set about changing their whole way of doing business by reducing the number of models they manufactured from 3,000 to fewer than 300, by streamlining product development cycles, by implementing new logistic processes in manufacturing to reduce the amount of inventory they held in the plants, by revamping their forecasting processes and by improving turnover time five-fold.
"We've made tremendous strides in the last five years," he says, "but we have more room for improvement."
They also restructured their organization in a way that improved their systems world-wide instead of just within the seven individual production facilities in Brazil, Mexico, Scotland, Singapore, China, Japan, and RTP.
As one might imagine, this work involves a lot of travel; he'll casually reel off a string of international trips he's taken or is about to embark on. "Sometimes I enjoy it a lot, but sometimes it's just tiring. You talk to any executive who has to travel often and they'll tell you that while there's a certain amount of pleasure, for the most part it's very, very time-consuming and very hard."
His favorite travel story goes like this: Eveland once left Raleigh late at night to meet with a customer in Omaha, Neb. He rented a car when he got there, drove on an interstate to a chain hotel, and went to bed. He got up before it was light, drove to an office, stayed indoors all day for the meeting, left for the airport in the early evening when it was already dark, and then flew home. "I get back to Raleigh and first thing, someone asks me, `Well, how'd you like Nebraska?' I haven't got the slightest idea what Nebraska's like," he says, laughing. "So, anyway, you get a lot of travel like that."
While the technology business demands a certain amount of globe-hopping, it also provides some of the conveniences of being back in the office. He tells of venturing out in a driving Scottish rain in search of a hookup he needed to plug in his PC at the hotel room so that he could check his e-mail.
"If you don't have e-mail, it's just awful. You go through withdrawal symptoms," he says, with a smile. "But, seriously, our products depreciate at the rate of 40 percent a month. If you've ever bought a PC, you know that the moment you walk out of the store with it there's going to be another coming down the line that's that much faster, that much less expensive. So speed is of the essence, and e-mail is an extremely important ingredient in speed. You can communicate with so many people so quickly."
Of course, if people can get in touch with you via e-mail, they will get in touch. An one point, Eveland turns his screen and waves his finger at all the e-mail subject lines in red. Those are the ones he hasn't answered yet. At 100 messages a day, keeping up is a challenge, which explains why his typical work day begins between 5:30 and 6:00 a.m.
Part of his job is to work to ensure that some of IBM's national corporate philanthropy gets directed to worthy North Carolina projects. Take, for instance, one of IBM's education initiatives called "Reinventing Education." Since 1994, the company has awarded $35 million in grants to school districts across the United States.
The Charlotte-Mecklenburg school system was the first to win a grant. Its $2 million funded a program called "Wired for Learning," in which IBM helped the schools establish a computer network to link parents, students, teachers and administrators.
"This allows parents to check the child's curriculum, leave e-mail messages for teachers, check on cafeteria menus . . . all the things that help the communication process. It provides opportunities for teachers to streamline some of their administrative work and communicate more effectively with students and parents," Eveland explains.
Durham public schools also were awarded a grant under the Reinventing Education program for $875,000, in a collaboration with Duke University. Four middle schools were wired and, with Duke's help, Eveland hopes the technology will be made available through public access in libraries. "This way, it's available to everyone, not just those who happen to have a PC at home."
Eveland also helps steer the company's statewide benevolent programs. Several months ago, for instance, IBM made a million-dollar contribution to Gov. Jim Hunt's Smart Start initiative. And serving on the governor's Business Committee for Education—a nonprofit group whose focus is on business partnerships with K-12 education—Eveland's also in a good position to encourage improvements in schools.
"We're really fortunate that Barry has maintained a high presence in state education reform," says Tom Williams, executive director of the committee. "He personifies what IBM expects of its leaders by being involved and taking an active role in the community.
"He's very comfortable to be around, very down to earth," Williams continues, "but that doesn't mean he's soft and fluffy. He'll ask the hard question because he wants to make sure that things will lead to a measurable result."
Between community involvement, work, and business travels, his free time understandably is limited, and yet he smiles widely as he explains that, of late, he's also commuted quite a bit to and from Charlotte. His fiancée, Gaye Burmeister, whom he'll wed in May, works at the Charlotte-based First Union as an assistant to its leader, Ed Crutchfield. Eveland calls their meeting a "fairy tale kind of thing": as the only two single people at a function at the Governor's Mansion, they were seated next to each other.
So he'll be doing the "weekend warrior" routine for a while, he says, since both he and Burmeister are devoted to their jobs.
"I'm 54 years old and I consider myself still young. I've got a high energy level. I can't come up with anything I'd rather be doing. Anyone who has the good fortune to be involved in something like this . . . something extremely rewarding both professionally and personally, something they think is just the best . . . why invent something else you could be doing when you already love your work?"
COPYRIGHTED MATERIAL. This article first appeared in the April 1999 issue of the North Carolina Magazine