Executive Profile
In business and at the legislature, Ed McMahan prides himself
on being `a servant leader, trying to get people to buy into ideas'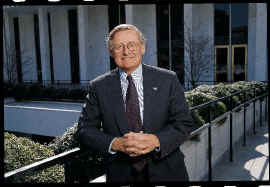 Ed McMahan had spent weeks behind the scenes twisting the arms of city officials not to abandon Charlotte's Crisis Assistance Ministry. He pleaded that if they allowed the program to run out of money, hundreds of working-poor families would go hungry or even get evicted from their homes.
It was during the recession of the early '90s and many elected officials were getting dozens of such pleas from public-spirited citizens stumping for good causes. But McMahan succeeded in persuading them of the value of spots in the city like the small side street on the gritty industrial fringe of uptown Charlotte. Soon, the ministry would be moving to new quarters there.
"Ed had been just the kind of chairman and effective advocate we needed politically," says Caroline Myers, executive director of the Crisis Assistance Ministry. "But also, when something needed doing, he often did it himself. That morning, there he was at the wheel of a big truck, loading and unloading clothes, food and boxes."
Turn the clock ahead several years and McMahan is in a far different setting in Raleigh. In the mahogany chambers of the state House, Rep. Connie Wilson (R-Mecklenburg), sits behind McMahan, who, although only in his second term, had been named chairman of a committee carving the state into new voting districts. Redistricting is a political hot potato.
"Everybody and his mother called," says Wilson. "Ed's phone rang off the hook, but he was always cool and patient. Most prominent business people just give money and consider that their public service. Ed is willing to roll up his sleeves, get into the mud and work with the rest of us."
For McMahan, 54, vice chairman of Little & Associates, the state's largest architectural firm, the contrasting settings have more in common than meets the eye. "Anybody who has a tough, gnarly, grubby job to do needs somebody like Ed McMahan," says real estate executive Allen Tate of Charlotte. "He's a genuine consensus builder," adds Tate, who also is chairman of the Charlotte Chamber, which works with McMahan on local legislative issues.
One such issue they worked on was solving Charlotte's traffic congestion. Despite the reluctance by lawmakers to allow Tar Heel towns to raise sales taxes sales for local projects, McMahan introduced a bill in 1998 to permit Charlotteans to vote on a half-cent mass transit tax. Numerous times when the measure seemed doomed, McMahan would somehow salvage it, until finally it cleared all obstacles. Last November, Mecklenburg approved a referendum to raise $1.1 billion for buses and trains.
W. Edwin McMahan is a rarity in business and politics. He is a successful businessman and effective legislator who has managed both while creating a minimum of enemies. He prides himself on being what he calls "a servant leader, trying to get people to buy into ideas."
At a time when partisanship often has gridlocked local, state and national politics, McMahan has been praised by the press and other lawmakers for bipartisanship. Asheboro's Harold Brubaker, the former House speaker who named McMahan to head the redistricting committee in 1997, says, "He's got a demeanor that, no matter how divergent the opinions around him, he can work out common ground."
Based on 1998 votes on business issues, McMahan was ranked No. 2 in the House by NC FREE, the Raleigh-based free-enterprise think tank, second only to Brubaker.
In business, behind the mirrored-glass windows of the headquarters of Little & Associates Architects in south Charlotte, McMahan and partner Bill Little, founder and chairman, are the Mutt and Jeff of corporate life.
A developer rather than an architect, behind his thin-rimmed glasses and in a stiff, starched shirt, McMahan by his own description is an inside-the-lines thinker and institutional finance man. With Little, he is paired with an outside-the-box creative force known for bright although sometimes wild ideas.
For years, for example, the two have followed a practice of setting personal goals. "Mine always put job and job success first," says McMahan. "In my first 25 years, I worked seven days and 80 hours a week. Looking back now, I have regrets. Fortunately, I have a tremendous wife, Evan-geline, of 34 years. But Bill's goals were always centered around health and his family."
McMahan gets no argument from Little. "Ed is the antithesis of me," he says. "He's outgoing, a joiner and socially active. While I'm not a recluse, I'm pretty darn close to it. But a firm like this has to network and have an out-front person and Ed provides that in abundance."
McMAHAN joined Little & Associates as a partner in 1976. By then the firm had charged into real estate development, only to get battered by the recession of the middle 1970s. "We were within two weeks of bankruptcy," says Little.
At age 29 and with a background in commercial lending and real estate investment, McMahan worked out a rescue plan and sold it to First Union Corp., to which Little owed $1 million. Today, First Union remains one of the largest customers of Little & Associates, which has 485 employees and outposts in Philadelphia, Washington, D.C., St. Louis and Tulsa, Okla.
"Ed has saved me from myself more times than I can remember," adds Little. McMahan sees their relationship similarly. "Bill wanted to be an architect, to design and work for clients, and he wanted me to basically oversee the business and the financial side."
Despite their differences, Little, a Gastonia native, and McMahan share small-town roots. McMahan's extend to Asheville in the 1940s and 1950s, where his father was an electrician at American Enka Co., a fibers manufacturer, and his mother managed a school lunchroom.
"We had a small farm, and I had a list of jobs to do every day," says McMahan. He played baseball in high school, then filled his summers on area sandlots as a YMCA counselor and coach of youth teams. One of those summers, he learned skills he needed 30 years later when Charlotte's Crisis Assistance Ministry, which provides emergency cash, food and clothing to about 11,000 families a year, was moving. "I drove a truck delivering school supplies all over the state for a local firm."
At UNC-Chapel Hill, McMahan worked in the school laundry to support his education, graduating in 1966 with a bachelor of science degree in industrial relations. He intended to return to Asheville to work at American Enka, but in his senior year he met and married a UNC Greensboro student, Evangeline Houser of Cherryville. When the company wanted to assign him to a plant in Tennessee, neither wanted to go.
Instead, after six months active duty in the National Guard, McMahan began training in the mortgage investment division of Jefferson Standard Life Insurance Co. in Greensboro. He had found the niche that would eventually bring him to Little & Associates. He was good at financing real estate developments, and after stints with Jefferson in Florida and Maryland, in 1971 McMahan was named senior vice president of the commercial mortgage subsidiary of Citizen & Southern Bank Corp., in Columbia.
Back in Charlotte, Bill Little offered McMahan the job of CFO and half of the uncertain future of Little & Associates. "It was lucky for me," says McMahan. "Right after I came, my predecessor, who had headed Bill's development group, left, and I just happened to be in the right place at the right time."
In the years to come, Little & Associates formed a holding company, Little-McMahan Group, and a separate construction company, created largely to build the firm's own projects. High-profile clients signed, including banks, and the firm developed 80 stores for Food Lion. But by the late 1980s, with the real estate market again weakening, McMahan and Little adopted a new strategy.
They sold the construction company, dropped real estate development and reorganized the firm into five — that's up to about 15 now — divisions specializing in areas like retail, financial headquarters and college and university projects, each headed by a partner in the firm. In recent years, projects have included such buildings as the operations center of Blue Cross and Blue Shield of North Carolina Inc. in Durham and the corporate headquarters of Sara Lee Knit Products in Winston-Salem.
Then, another twist helped shape McMahan's future. When Bill Little was diagnosed with chronic fatigue syndrome in 1989 and forced to loosen his hold on its leadership, "We realized we had extremely capable young leaders for the daily management of the firm," says McMahan. He had already held numerous local-government posts and become known for hands-on civic work, including ringing a bell for Salvation Army kettle collections. The door was opening for politics.
Little & Associates, says McMahan, had stressed two creeds. One was to always listen to the customer. The other was a continuing community involvement. Employees, for example, built a complete Habitat for Humanity house last year. "We encourage every partner in the firm to be on at least one or two local commissions. To be a successful corporation in Charlotte, you have to give back."
When David Balmer, the incumbent in House District 55, decided to run for U.S. Congress in 1994, McMahan saw his chance. He defeated an inexperienced challenger in the Republican primary, then coasted to Raleigh with no Democratic opposition. McMahan faced no opposition his second term.
"When somebody introduces me as a politician, I cringe a little," he says. "I say to people that I am really a businessman who is representing Charlotte in the state legislature. I don't really feel comfortable in political circles, so I've tried to avoid the politics of Raleigh as much as possible."
Charlie Shelton, a Charlotte investor, businessman and Republican stalwart, has known McMahan politically and as a client of Little & Associates for years. "Ed is one of the most analytical people I know," he says. "He's easy going, but he's absolutely firm in what he believes."
In fact, although his approach might be nonconfrontational, McMahan wades into touchy issues such as the sales tax for Mecklenburg transit.
"We succeeded in changing the attitude that had existed in Raleigh forever — that the sales tax is sacred and should go back to Raleigh to be distributed from there — in order to let local citizens vote on what's needed in their community," he says. "A lot of Republicans didn't favor it because it was a tax increase."
McMahan, a member of the transportation appropriations committee, believes transportation is a time bomb waiting to undermine Tar Heel business and economic development. "We've got to figure how to blend the resources we've got into a multimodal system," he says. "We'll continue for a couple of decades to be primarily a roads state, but we've got to at least plan for other types of system."
Another key issue for business — education — has benefited from principles that govern private enterprise, he says. "I'm proud of the degree of accountability we've brought to the K-though-12 system," he says. "There's accountability in the business world, and no reason we shouldn't have it in public education." Charter and private schools, he adds, bring healthy competition to the public system.
He advocates a similar hard look at Smart Start, an initiative to better prepare preschoolers. "The idea of spending money on early childhood development is great, but we've got to be cautious that we have accountability," he says. "It is going to eventually be a $500-million-a-year program and with that much money, we need to be testing those kids to know we're getting our money's worth."
Facing an additional 50,000 students in the next decade, the state's colleges are in for tough choices, too. McMahan knows his views put him on thin political ice.
"We have some of the highest individual and corporate tax rates in the country, so we can't expect a lot more new dollars except through growth," he says. "We are going to have to look at a university system that is more tuition driven. In Virginia, college is funded 80 percent through tuition and 20 percent by the public. We are the exact opposite. We can't deny poor kids higher education, but we have to find a better way."
A possible answer is, in his view, the under-funded and under-appreciated community college system. "Kids can go to school the first two years closer to home at a lot less cost," he says. "The university system has fought that, but with the limited resources we've got and tremendous capital and operating money needed in the university system, we're going to have a tremendous problem maintaining and expanding the system without a change."
McMahan recently built a beach home, where he expects to spend more time with his family. But the schedule of a businessman-turned-legislator is brutal: Raleigh on Monday for a week of breakfast meetings at 7, morning committee meetings, afternoon sessions, followed by dinners and receptions until 10. McMahan shares a Raleigh apartment with three other legislators, where he sleeps on an air mattress during the week before returning to Charlotte on Thursday night for business Friday and Saturday and sometimes part of Sunday. Then the cycle starts over.
"I might quit the end of this term, or one more at the most," says McMahan, who believes the citizen legislature must streamline itself — possibly though session limits — or surrender to full-time, professional lawmakers.
Rep. Wilson hopes that doesn't happen. "Ed McMahan," she says, "shows that nice guys don't necessarily finish last."