Executive Profile

Ralph Shelton of Southeast Fuels in Greensboro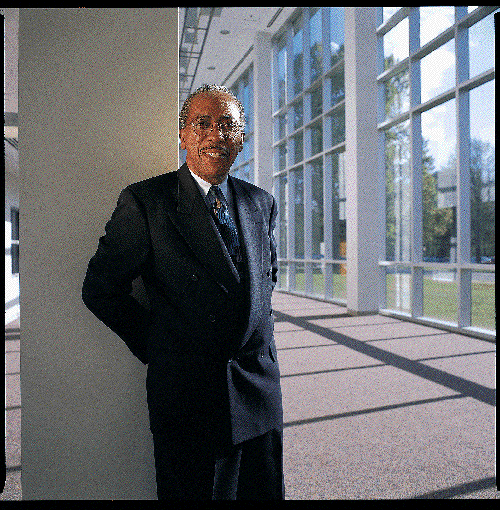 By Clint Johnston
Mounted in a prominent spot on Ralph Shelton's wall is a color photograph of a coal train entering a tunnel. The photo is not stylized, not particularly striking and certainly not the type of attractive, sometimes expensive art often found in a CEO's office. So why does the founder and president/CEO of Greensboro's Southeast Fuels Inc. display this unremarkable photograph on his office wall?
"That's up there so when someone asks what we do for a living, I can point to it and say `That's what we do for a living," Shelton, 56, a member of NCCBI's board of directors, says with a gentle laugh.
That photograph of a "unit train" of coal may explain Shelton's career to the visitors who come to his office but it does not stop the telephone calls he receives when the weather turns cold every fall and winter.
While electricity, natural gas and fuel oil heat the vast majority of homes in Greensboro, there are still some people who depend on coal furnaces, and they eventually call Shelton asking if he can send one of Southeast Fuel's trucks out to deliver a load, or more often, if he can leave several bags of coal.
Used to those calls, Shelton's secretary will patiently and kindly explain that Southeast Fuels Inc. does not retail coal. Under Shelton's direction, however, whoever happens to take the call will then do his or her best to find callers some coal to heat their homes.
As Shelton has noted since the calls first started coming in when he founded the company years ago, the caller is usually an elderly person not very experienced in tracking down a dwindling number of residential coal suppliers. As a service to the community and their fellow residents, Shelton's employees will not simply hang up on the disappointed resident, but will give them the telephone numbers of potential sources.
That small gesture of handling a person's problem even though it takes time away from the focus of Southeast Fuels is indicative of the type of person Ralph Shelton is, was, and always will be.
He learned this concern for others from his parents — corn, wheat and tobacco farmers in the tiny community of Java, Va., a town between Danville and Lynchburg. Shelton learned early in life on the farm that the more people helping the easier the job was. He was one of 11 children.
"We were the assets of the farm!" Shelton says with another laugh. "We didn't know we were poor. We had a nice house. It was a small house, but we got what we needed."
Looking back, Shelton can see where his personal perseverance came from. Of the 11 children, 10 went on to college. Shelton helped pay his way through N.C. A & T in Greensboro by working summers in an Atlantic City, N.J., hotel as a bell hop. He stayed with his father's two sisters both to save money and probably at the insistence of his parents to keep some semblance of parental influence over him as a small-town teenager in the big city.
"My aunts' home was almost a second home to me. We (his sisters and brothers also found jobs in Atlantic City over the years) had great jobs. You could make $30 to $40, sometimes $75 or $80 if you worked through the weekend," Shelton says.
He majored in applied sociology at A&T, graduating in 1964 just as the Vietnam War was heating up. Within six months of the time they had graduated from college, six of Shelton's friends had been killed in combat. It was a sobering experience that he still speaks about quietly in memory of those friends.
Starting his career with the intention of becoming a social worker, Shelton quickly became disenchanted.
"It was so frustrating! So few people are charged with so much responsibility that all we could do then –– just as they do today — is put out fires. The case load was tremendous. There must be a better system out there," Shelton says.
From the welfare office, Shelton moved into private industry. He found a job with a warehousing firm that allowed him to take time off to pursue more education.
"I had always liked learning, and at one time I had thought I wanted to be an attorney or successful in my own business. Going back to school had nothing to do with money, but me wanting to prepare myself for business," Shelton says.
Once he got his MBA from Wake Forest University's Babcock School of Management in 1976 at the age of 33, Shelton found a job with Burlington Industries as manager of fuel procurement.
It was here that he learned the basics of what he does today for a living; burning temperatures of different kinds of coal, types of coal needed for different types of furnaces; the rate at which coal burns. He discovered he liked the intricacies of dealing with the coal producers and matching up their coal with Burlington's need for it. In time, he began to see a niche for him to take his expertise into that long dreamed-of business of his own. In 1984 Southeast Fuels was launched in the basement of his house.
"I enjoyed working for Burlington Industries. They were a fine company. But I had reached the age where if I was going to do something for myself, I had to do it. I didn't want to be 47 years old and moaning and groaning about I could have done something on my own, but I never did," Shelton says.
With his wife Christine acting as his secretary, Shelton started looking for clients. First up was his old employer, Burlington Industries. Next came Merck. Then came Miller Brewing. Other clients have called over the years so that Southeast Fuels and an umbrella company, Shelton & Associates, now employ 18, including his daughter Cassandra who operates her own Christian bookstore. The newest of the companies is a return to another of Shelton's business roots, warehousing.
The core of the business remains acting as a producers' agent for five coal producers in Kentucky and West Virginia. Shelton explains that the company is not a broker dealing in the raw commodity of coal, but takes on the role of consultant, matching up the kinds of coal mined by each of the companies with the kinds of coal needed by the end users. In recent years the focus on coal has shifted to include some fuel oil and by July 1, the company will be representing some natural gas companies.
"At Burlington Industries I knew quite a bit about the consumption side and now I know about the production side. You have to know about the grades, softness of the coal, sulfur and ash content, environmental issues," says Shelton.
But coal is not Shelton's whole life. A large number of people in Greensboro, from college presidents to football players to little children to the city's business leaders, would say that from their experience, Shelton's spare time is given to them.
"My whole life there has been someone there to help me, starting with my parents on the farm and my aunts in Atlantic City and mentors at college. I have always found someone to help me along the way and I just want to give back, to give a helping hand in some way," Shelton says.
There are plenty of organizations willing to accept that hand and all of them have something good to say about Shelton.
"Ralph Shelton is one of my most favorite people in the whole world," says Cheryl Collins, interim president of the Greensboro Area Chamber of Commerce. "He is very respected in the business community and an advocate for many issues. He is the type of person who, when asked to be part of a group on some initiative, ends up leading the charge."
Shelton served on the chamber's board for many years and was chairman in 1996. While chairman he took a special interest in small business. At the time there was a committee on minorities and women; Shelton pushed to elevate to a full council status, giving it much more attention.
Kathy Elliott, small business developer at the chamber, says she thinks Shelton's greatest contribution in recent years has been helping establish and promote the chamber's Venture Capital Fund, a loan pool dedicated to finding businesses that show potential but not the collateral that might be demanded to get bank funding.
"He's been very instrumental in bringing a lot of folks to apply for that fund. Because he has built a business himself from scratch, he understands what it takes to be successful. He tries to relay that both to the loan board and to the people who are applying for the loans. He makes sure that they understand this is a serious loan and if they don't perform, we will treat them like any other business. What we find is that many of these businesses have already been informally mentored by Ralph. They already understand from talking with him what is expected of them. And the nice thing is that this man expects nothing in return from them. He is just a very giving, unselfish person," says Elliott.
Shelton says the reason he has taken such an interest in the small business loan program is that he knows what the small business people are experiencing.
"I remember what I had to go through when most banks did not know what coal was," Shelton says. Today, there are 28 loans outstanding in the program.
Loans, while they deal in real money, are really invisible, just numbers on a balance sheet and in a check book. Another of Shelton's projects is finally taking shape in bricks and mortar.
One of the embarrassments at N.C. A&T for years has been its antiquated field house. While larger schools usually have gotten the best state dollars could buy, A&T has made do for years, sometimes using other nearby facilities for visiting teams when the field house became too crowded.
When the chancellor of A&T decided that the school had waited long enough, the call went out to Shelton to muster support among alumni and the business community for building a new field house. This spring ground was broken, and the new facility will be open by the 2000 football season.
"The kids deserve it. Their facility has been substandard for so long that it is not even as good as some new high schools have today," says Shelton.
Dr. Dorothy Alston, special assistant to the A&T chancellor for administrative affairs, describes Shelton's work like virtually everyone else who has ever met the man.
"Mr. Shelton, in terms of fund raising and support of the field house, has been exceptional. Extraordinary. As an alumnus and volunteer, he took the leadership role and found the time to deliver the corporate, financial and moral support to get this project moving and keep it moving. I don't think it would be premature or an overstatement to say that if it were not for Ralph, we would not have had a ground breaking," says Dr. Alston.
It is not the first time Shelton has had a major hand in turning an idea into hard reality. Eight years ago he served as chairman of the Greensboro YMCA and undertook the goal of building a recreational facility in southeast Greensboro.
"Those people had been neglected for years and now it is one of the nicest facilities in the city. It gave me a lot of pleasure to play a quiet role in getting it built," Shelton says.
Sometimes Shelton's contributions can't always be seen but his work is obvious. As a member of the Wesley Long Foundation and a trustee of the Moses Cone Health System, he was instrumental in creating a preventive health care program. It took almost two years of meetings, but nearly everything discussed by the board is now in place.
Kate Ahlport, vice president of Moses Cone-Wesley Long Community Health Foundation, worked with Shelton at Moses Cone Hospital before its merger with Wesley Long Hospital and now with the merged foundation.
"Ralph's greatest strength is that he is such a positive person. He always presents issues in the most positive light. He is a skilled mediator. While doing board committee work, he is always able to find a point on which the board can agree so they can move forward with a consensus. He does his homework and is always well-versed on the issues before he comes to the meeting. And, finally, he is a genuinely kind and caring person who is concerned about the welfare of others," Ahlport says.
During Shelton's tenure on the board, the foundation and its predecessor organization have built community clinics, funded more than 30 health programs worth more than $750,000, and instituted a pilot program in an elementary school that helps regular teachers give physical education instruction to students because public funding has been shrinking.
When Shelton does have spare time, it is easy to figure out what his hobby is. He says he plays golf at least once a week and without being asked, he volunteers that one thing he will definitely do this year is make at least a practice round for the U.S. Open being played at Pinehurst.
Dr. Alston summarizes by saying, "If we had a world full of Ralph Sheltons, this would be a much better place."
COPYRIGHTED MATERIAL. This article first appeared in the June 1999 issue of North Carolina Magazine.