By Suzanne Fischer


Statesville area leaders have long touted the region's exceptional business climate and quality of life, but anyone looking for a more objective source won't need to look far. Kudos from state and national press — most recently top honors from Site Selection magazine — confirm what locals have been saying for years: the greater Statesville area, located about midway between Charlotte and Winston-Salem, offers some outstanding places to live, work and grow a business.
"We're pleased to death about this," says Jeff McKay, director of economic development at the Greater Statesville Development Corp. (GSDC), which serves Statesville, neighboring Troutman and northern Iredell County. The "this" he's referring to is Site Selection's recent announcement that Statesville ranks as the No. 1 American small town for attracting corporate facilities over the last decade.
Indeed, since 1989 more than 100 companies have opened new facilities or expanded existing ones in the greater Statesville area. Recent announcements include one by Oregon-based Tube Specialties, a manufacturer of heavy truck tubing, to build an $11 million, 109,000-square-foot facility and employ about 100 people in its first phase of development.
Others came from Rene Composite Materials ($5 million, 56,000 square feet, 60 jobs), Garden Ridge (268,000 square foot distribution center), Tubetec (25 new jobs) and Eclipse Packaging (10 new jobs). In February, B&B Fabricators held a groundbreaking ceremony to mark the start of construction on its new 60,000-square-foot manufacturing facility. The company, which has operated in Statesville for years, is investing $5 million in new machinery to manufacture equipment that produces carpet padding.
To understand part of the area's appeal to business, talk to Rick Makrickas, plant leader at Goodyear Tire and Rubber Co., which announced its decision to open a plant in Statesville in 1995. The location is home to a tire mold manufacturing group (as well as some engineers, finance and human resource specialists) and was the company's first new U.S. facility in 14 years. Goodyear selected Statesville from among 20 other sites.
"We judged the final three locations on nine factors," Makrickas explains, "and Statesville placed first or second in all of them." Some of these criteria included availability and quality of labor, training opportunities, transportation, cost of utilities, site location and appearance, taxes and incentives and community appeal.
In addition to the community's high marks in all these areas, Makrickas was particularly impressed with the professionalism of and assistance offered by the town's leaders. "Jeff (McKay) was extraordinarily helpful, and Mitchell Community College President Dr. Douglas Eason did a lot to support us," he says. "He set us up in a building on campus to use as an office for our first four to six months rent free, and then he worked with us to set up our initial training."
The plant employs 159 people, and since its first mold was created in August 1996 production has increased eight-fold. The initial building, at 15,000 square feet, was a $14 million investment; in 1997 the company spent $26 million and added another 32,000 square feet.
"We've got a great labor force," Makrickas says. "They've got a good work ethic and they're interested in continuous improvement. I highly respect their abilities."
On a personal level, too, Makrickas applauds the company's decision to locate in Statesville. "I give it a 10. You won't find any more friendly people in the country."
Tom Tisa, director of human resources at the Dana Spicer off-highway products division, couldn't agree more. "I've lived here for five years, and I love it. The cost of living is friendly, it's a fantastic climate, and the community works together."
Spicer, which employs about 630 at its 450,000-square-foot facility in Statesville, manufactures axles and transmissions for off-highway equipment used in the mining, forestry and construction industries. The company moved to Statesville from Michigan 23 years ago when it decided that the South was a good place to do business.
Manufacturers aren't the only businesses thriving in the area. Locally owned and operated Piedmont Bank, which first opened its doors in July 1997, surpassed $100 million in assets as of the end of 1999. With branches in Statesville and nearby Moorseville, the bank has made unprecedented progress, according to Thad Woodard, president of the N.C. Bankers Association. "This growth is a tribute to Piedmont Bank's solid leadership, its board of directors and its first-class staff. The bank's success also demonstrates the vibrancy of Iredell County," Woodard said. The bank's president, Bill Long, said that surpassing the $100 million mark was a "significant milestone."
Agriculture, which remains the No. 1 industry in the county, according to Danny Hearn, president and CEO of the Greater Statesville Chamber of Commerce, will also receive a boost when a new $8 million livestock show and sale arena is built in Statesville. Hearn estimates that the facility will draw about 250,000 people each year.
The number of new companies arriving in the area speaks volumes about Statesville area leaders' commitment to economic development. But it's the prosperity of Statesville's long-established businesses that proves the strength of the area's staying power.
Take L. Gordon Iron and Metal Co. and its sister, Gordon's Furniture, for instance. The companies were founded in Statesville in 1917 by Louie Gordon when he rode into town from High Point with little more than a dream and a horse and wagon. Today, with its fifth generation preparing to enter the business, the Gordon family has not only built the scrap metal recycling business, but created and run the largest home furnishing store in the county.
In addition to being a stellar corporate citizen, the company also recently won the 1999 award from the Duke University Fuqua School of Business as North Carolina Family Business of the Year in the small business category. The honor moves the company into a finalist slot in a national competition sponsored by Mass Mutual Insurance Co.
"We've got more Gordons now than ever working in the family business," says Craig Gordon, one of Louis' grandchildren. "We're up to nine, and it won't be long before the fifth generation, who are already working part time in the summers, comes on board."
Some of Statesville's other long-time businesses include Statesville Brick Co., Bartlett Milling Co., and Kewaunee Scientific Corp., which designs, manufactures and installs scientific and technical furniture.
Troutman, a town of about 2,000 just south of Statesville, enjoys both cooperation and friendly competition with its neighbor. "We put the `great' in Greater Statesville," Town Administrator A.J. Barghothi says with a chuckle.
McKay enthusiastically acknowledges that Troutman has "a better potential for growth in the next five years of any town in Iredell County. They are positioned to take off. Their leadership has recognized that and done a lot of things to prepare for it."
Some infrastructure projects in process will go a long way toward encouraging that growth. A two-mile water and sewer extension from U.S. 21 to I-77 will "open up unbelievable amounts of real estate to commercial and light industrial development, as well as retail," Barghothi explains, and a plan to connect the town's sewer system to Statesville's will double Troutman's wastewater treatment capacity. Population and housing have also increased at a fast clip: the number of Troutman residents has grown about 15 percent in three years, and the town board recently approved development of some 660 new homes.
To put that into perspective, Troutman's new mayor, Elbert Richardson, reminds us that currently the town has 880 households. "Our challenge in the coming years is to manage the growth and maintain our friendly, small-town feel." Toward that effort, the town is working on developing a land-use plan.
"Troutman is a wonderful place to live and raise a family. We're within 45 minutes of virtually anything you'd want to do, but at the end of the day you can come home and hear the crickets chirping," Barghothi says. "You can have the advantages of living in a small town without being in the middle of nowhere."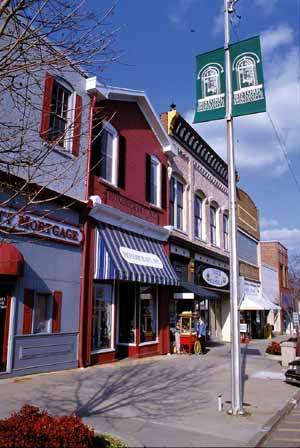 Unique benefits
Driving around town and pointing out other recent industrial recruits, McKay reels off a number of Statesville's unique benefits.
"We're one of two or three cities in the state at the intersection of a major north-south and a major east-west interstate," he says. "We like to say that you can get on an interstate in Statesville and not hit another red light until you get to Barstow, Calif."
Statesville sits near the intersection of I-77 and I-40, linking the area with large portions of the eastern U.S. In fact, McKay points out, transportation studies have shown that about 60 percent of the U.S. population resides within one day's drive.
"With the just-in-time approach that companies are taking these days, being able to get things out there quickly is becoming essential to the manufacturing process," he adds.
A road improvement project in the works will further increase access to the area. Highway 70, Statesville's fastest-growing industrial corridor, is slated to be widened to four lanes, connecting I-77 to I-85 outside of Salisbury. "It's a much needed project," McKay says. "It'll alleviate some traffic problems and provide a major distribution route for a lot of companies, like Food Lion."
In addition, Charlotte-Douglas International and Piedmont Triad International airports are 45 and 55 minutes away, respectively, and Statesville Municipal Airport, a general aviation facility, is just minutes outside of town.
Corporate real estate in the area is plentiful; 12 business and industrial parks offer a total of more than 2,300 acres of land, most of which is zoned for light to heavy industrial use, warehousing and distribution, and light to heavy manufacturing. Also slated are two new speculative buildings: a 56,0000-square-foot facility in the Sherrill Industrial Park, one mile from I-77 off US 70, and a 20,000-square-foot building in the East Iredell Business Park.
"There's lots of industrial property here," McKay remarks. "We've worked just as hard on that as on recruiting business. Without a place to put them, there's little point in hunting for companies."
The diversity of business and industry in the area also plays a part in Statesville's success in attracting further corporate development.
"People here are pretty open to new trade and learning new skills," McKay says. "It's not like we've got all one kind of industry, and a workforce that's only trained in that particular kind of work, for the past 50 years."
And despite low unemployment, employers are able to pull from numerous neighboring communities. Iredell County borders nine other counties, and approximately 250,000 people live within a 25-mile radius of Statesville.
A popular workforce-related program is JobLink, sponsored by the Iredell County office of the N.C. Employment Security Commission. Services offered at the JobLink center, which aids job seekers and employers alike, include job placement assistance, recruitment, information about education and training opportunities, internet job search, workforce re-entry assistance, career change guidance, and use of an on-site interviewing facility. The county Department of Social Services, the public school system, Mitchell Community College, N.C. Vocational Rehabilitation, and I-Care Inc. all help the ESC staff the center on a part- or full-time basis.
The Statesville Chamber of Commerce, too, is heavily involved in workforce development. "That's one of our main priorities, definitely," says chamber president Hearn. "We feel like rather than focusing on attracting a workforce from across the country, we need to recruit people on a regional basis and get them well trained." In pursuit of that goal, chamber staff and volunteers visit parents in their workplace to talk to them about educational and job opportunities from which their children will have to choose once they graduate from high school. "Kids decide by the time they're in eighth grade if they're going to be taking a vo-tech track," Hearn explains. "They're our focus."
Other education initiatives spearheaded by the chamber include educator and student internships, teacher/student business tours, a teacher and faculty appreciation banquet, and a speakers bureau that recruits business and industry leaders to talk to students in classrooms throughout the school system.
Education for the future
It's no surprise, then, that education and worker training are deciding factors for many new businesses settling in the Statesville area. That being the case, Mitchell Community College has probably helped tip more than a few scales in Statesville's favor in the competition for industry.
"We do have an unusually effective partnership with the chamber, the economic developers, the city and county governments, and the Employment Security folks," says Dr. Eason, president of the college. "I've been here 10 years, and I don't remember any breakdowns in that partnership. There's a real affability here. People intuitively move toward finding solutions."
The college originally opened its doors in 1856 as a Presbyterian women's college, but in 1956 the Mitchell College Foundation was incorporated and the community took over the college through the foundation. Mitchell became the fifty-seventh member of the state's community college system in 1973 and remains the only private college admitted.
On a remarkably beautiful campus that wears its history well, faculty and administrators employ some of the newest technology to address adult basic literacy, continuing education and curriculum tracks and worker training programs.
"We're aware of the tremendous needs of the manufacturers in this area, particularly in view of the less than three percent unemployment rate," Eason says. He often meets with existing and potential employers to assess the kind of skills they require of workers. "Then we ask ourselves if we have it in the inventory of MCC, if it's in our grasp to develop a program and get it going on a fast track, or if not, with whom can we broker that service."
Partnerships with other area colleges and universities make the most of what each of the institutions has to offer. Mitchell, for example, is a member of the Charlotte Area Educational Consortium, a group of 22 two- and four-year colleges that allows students who can't find a course they need at their home institution to take the class at any of the participating institutions at no additional cost. A similar compact holds for faculty who need to borrow research materials from a neighboring college library.
Part of the college's mission is to help its students, and potential students, make the transition from old to new manufacturing. "It's shocking for me, being old enough to have a historical perspective, to see how much manufacturing has changed," Eason says. "Today's factories are modern, computer driven, and you see people working in teams with less supervision, employing more problem-solving skills, doing less rote work.
"We can help people who are currently making $6 to $8 per hour double their income in three to four years, if not quicker. And help them stay here, in the community, while they're improving their earning potential at the same time."
There are at least 16 other two- or four-year institutions of higher learning within a 50-mile radius of Statesville — nine community colleges and seven four-year colleges and universities. Gardner Webb University, for instance, operates one of its 16 satellite campuses in Statesville, home to the Davis School of Nursing, as well as some graduate courses and night classes for adults who are working toward a bachelors degree.
Dr. Howard Coleman, superintendent of Iredell-Statesville Public Schools, concurs with conclusions drawn by Eason regarding the changing face of employment and ways in which the school system can prepare students for the future.
"As we move into more high-tech sorts of jobs, critical thinking skills become even more important. We have to get students to a higher order of thinking, and we have to start early," Coleman says.
The school system is investigating the possibility of starting public preschool and day care for children up to 4 years old, an investment that Coleman says will translate into academic success in a community that already boasts higher-than-average SAT scores and in which all schools met or exceeded state academic achievement growth goals. With 16,800 students (and a growth rate of 600 new students per year), 31 schools (with three new schools on the drawing board), and a wealth of expanded educational services (advanced placement and enrichment classes and a task force to focus on the drop out rate, among others), the Iredell Statesville school district stands as a real source of pride for the community.
And that shows in the support the system receives from business and government. "Chamber and business leaders have found that 75 to 80 percent of Iredell students stay in the county, so they are our future workers and leaders," Coleman explains. "It makes good business sense, and it's important for the community, to have a well-educated citizenry work and function here."
Staying Healthy in Statesville
The area is served by two hospitals, Iredell Memorial and Davis Medical Center. Davis has about 149 beds and 161 physicians representing 28 specialties. Among the many special services the hospital provides are a 24-hour emergency department, intensive/coronary care units, sleep diagnostic unit, a state-certified cardiac rehabilitation program, sports medicine and psychiatric services. The center also sponsors community health and wellness programs like new-parent education and baby wellness and support groups for patients with diabetes, arthritis, fibromyalgia, cancer and chronic pain.
Iredell Memorial is a 247-bed, not-for-profit hospital opened in 1954. Its buildings and grounds are owned by Iredell County and leased to a board of trustees comprised of local citizens. The medical staff is comprised of about 120 physicians representing 24 specialties. An expansion in 1986 added four patient floors in a new tower, and more recent additions include a building that houses MRI facilities as well as The Women's Breast Health Center, a mammography and education center. Grants awarded by the Duke Endowment helped the hospital open a diabetes learning center and an off-site nursing clinic that serves a neighboring homeless shelter.
The hospital, which boasts all private rooms, offers a wide variety of special services including 24-hour emergency care, a busy home health agency, radiation therapy and a cardiac rehabilitation program.
"We operate that at a loss because we feel it's so important for people who have had heart attacks to have supervised activity and guidance with their diet," explains Arnold Nunnery, president and CEO of Iredell Memorial Hospital. "We don't want to charge for these services or in any way discourage people from taking advantage of them."
Last year, Iredell Memorial offered some 328 corporate wellness programs — like smoking cessation, controlling high blood pressure and flu shots — at area businesses.
"If there is something we can do as well as or better than the larger medical centers, then we'll want to do it," Nunnery says. "If they can do it more efficiently, we'll leave those things to them. But, for instance, our reputation stands on quality of care. Our nursing care is something we can do better than large facilities because, being smaller, we can be more personal, more individual."
Nunnery, who has been with the hospital for 25 years, takes pride in the facility's numerous certifications, many of which the hospital sought voluntarily, as well as the fact that Iredell Memorial receives no funding from the city or county.
Putting it all together
R.B. Sloan, chairman of the board of the GSDC and CEO of Energy United, said it's the combination of quality-of-life-factors and the strong support of the community that ultimately makes the Statesville area an attractive place for new businesses to settle and existing businesses to grow.
"It's hard to argue the fact that this is just a great place to live," he says. He's right. The city's thriving downtown is lined with historic buildings and bustling shops and restaurants. In fact, 47 of the commercial district's buildings are listed on the National Register of Historic Places. Residential neighborhoods, dating back to the early 1800s, are made up of wide, tree-shaded streets and graceful Victorian homes.
Lake Norman, with 500 miles of shoreline and beautiful stretches of open water, lies just a few miles outside of town. Sailing, fishing and windsurfing are popular here, and there are numerous beaches and recreation areas for swimming and picnicking. Duke Power State Park, located on the shores of Lake Norman in Troutman, offers more public beaches, nature trails, and camping and picnic areas.
Perhaps the special event for which Statesville is most widely known is the annual hot air balloon rally traditionally held the third weekend in September. The oldest balloon rally on the East Coast, it has been named by the Southeast Tourism Society as one of the top 20 events in the Southeast. Spectators watch as more than 50 huge, colorful balloons fill the skies above the Statesville and Troutman areas.
Charlotte, the largest city in the state, is just a short drive down I-77, and it has all the entertainment value you'd expect in a major metropolitan area. The Queen City is home to NBA basketball with the Hornets, professional football with the Panthers, Lowe's Motor Speedway with its NASCAR racing, the renowned Mint Museum, and numerous other cultural, entertainment and shopping offerings.
Of course, you don't have to leave the area for entertainment, particularly if it's racing you're into. Iredell County is host to over 40 Busch and NASCAR teams. In Statesville alone you can get up close and personal with the race cars of Bill Elliot, Darrell Waltrip and Jimmy Spencer, watch as the cars are worked on, and check out NASCAR memorabilia, awards, trophies and photographs.
Dining options are many and varied, and accommodations range from well-known and respected chain hotels to beautiful historic bed and breakfast inns like the Kerr House in downtown Statesville. This inn was originally a private home, built in 1891. Visitors to the Kerr House, a relative newcomer to Statesville's lodging scene, enjoy lovely rooms with private baths, a delicious full breakfast, and the touring advice of friendly and knowledgeable hosts.
Tammy Bishop, of the Statesville Tourism Development Authority, explains that honoring the past is a real priority for the area. "A big part of what we do is preserve our history while welcoming growth at the same time. It's important to us that we carve out a place for us and not just be viewed as a suburb of Charlotte, because we've got a unique character all our own."
It's that character and the community's overall strength that area leaders believe make an impression on visitors and prospective businesses.
"Our incentives aren't a whole heck of a lot compared to some other areas, although we can develop some good packages. If it's strictly a financial deal, though, we wouldn't get it," says Sloan, the GSDC board chairman. "But if financial incentives are all a company is interested in, frankly, it probably wouldn't be a good match for us anyway. Bottom line, the best incentive we can provide is a good business climate and a great community."

Suzanne Fischer can be reached at 919-836-1412 or at sfischer@nccbi.org
COPYRIGHTED MATERIAL. This article first appeared in the April 2000 issue of North Carolina magazine.