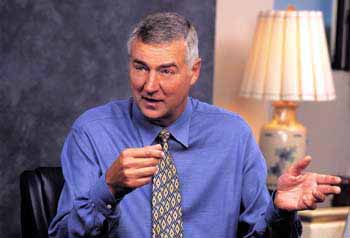 Practical
Visionary
Friends say Jim Goodnight
can sense the future, but he also knows the importance of living today
By Phil Kirk
For a very public figure, Jim Goodnight remains a very private person. It's fitting that his brainchild, SAS Institute, is the largest privately-held software company in the world.
The 57-year-old Goodnight — he'll turn 58 in January — is a multi-billionaire and one of the wealthiest people in America. He oversees 7,500 employees in 150 offices worldwide, some 3,500 of whom work out of SAS headquarters in Cary.
Its software is used by 98 of the Fortune 100 companies. When the U.S. Census Bureau counts and categorizes population, it does so with SAS (Statistical Analysis System) software.
"We are a knowledge company," Goodnight says. "Ninety-five percent of our assets drive in and out the front gate every day and my job is to make sure they come back."
He manages "by delegation." Where once as many as 26 people reported directly to Goodnight, a reorganization in management has reduced that number to five. "I'm here to sort of nudge the ship along," he says in his usual low-key manner.
Goodnight's leadership style is effective, and it inspires loyalty from his employees. Mary Musacchia, counsel to the president, government relations and public policy, says, "Jim can see around corners. In the early '90s, people were saying mainframes were dead. Jim said mainframes aren't dead, and time proved him right.
"When I think of SAS, I hear a line from a Barbara Mandrell song, `I was country before country was cool.' That is SAS. We were making intelligence form data in the 1960s and using computers to do the work. That was Jim. Now the industry talks the talk of data mining, but Jim walked the walk long before it had a name. Jim is approachable if you have something worthwhile to share. He is very intelligent and will ask probing questions, so be prepared. When Jim hears ideas that make sense to him, he adopts them."
SAS inSchool Director John Boling has worked on the Goodnight team for 20 years. "Jim has the unique ability to not only be visionary but also the skills to translate that vision into a successful business plan," he says. "In today's world you typically find a visionary who does not have good implementation skills or vice versa but not both. Jim excels in both areas. He possesses the uncanny ability to anticipate changes in an information technology industry that is constantly changing.
"Most importantly, he places great emphasis on hiring talented people whom he entrusts to deliver on the mandate. His executive managers are provided complete support to fulfill the corporate objectives. He, more than anyone else, has defined the SAS culture and inspired a loyalty among his staff."
Goodnight was born in Salisbury and lived in Greensboro until moving to Wilmington at the age of 12. As a youth, he often worked in his dad's hardware store in Wilmington. His parents, Albert Goodnight and Dorothy Patterson Goodnight, are deceased. Even at a young age, math and chemistry were his strongest subjects — thanks in part, he says, to a "wonderful chemistry teacher" at New Hanover High School. He applied to North Carolina State and the University of North Carolina at Chapel Hill, and opted for the Raleigh school largely because of his friendship with Roman Gabriel, a star football player from Wilmington who went on to an All-American career as a quarterback for the Wolfpack.
Goodnight fell in love with computers in the one computer course he took at N.C. State in his sophomore year. "In mid-stream, a light went on, and I fell in love, making machines which do things for other people," he says. The following summer he got a job writing programs for the agricultural economics department. The intrigue has never waned. A few years later, while working on his master's, his curiosity was piqued over the prospect of man being sent to the moon. His programming skills helped him land a position with a company building electronic equipment for the ground stations that would communicate with the Apollo space capsules. Goodnight and his wife, Anne, whom he had met as a senior at N.C. State — she was attending Meredith College — moved to Florida.
Disney World it wasn't. His new workplace stifled productivity. It was noisy and cramped. Management maintained a short leash. Heck, he couldn't even get a free cup of coffee in the office. When Anne's father became ill, Goodnight called N.C. State to see if he could continue his graduate studies. A short time later, he was back in his old surroundings. "It was like I never left," he says.
It wasn't long before Goodnight struck gold. While working toward a Ph.D. in statistics, he hooked up with Jim Barr, who had recently returned to N.C. State after working at IBM. The two parlayed their expertise to lay the foundation for what would become SAS. The idea was to design a statistical program that would make sense out of the endless agricultural data streaming into the school. SAS debuted in 1968. Ten years of steady growth later, the company could call 600 customers its own.
THE gated SAS campus was built in 1981. It lies adjacent to Interstate 40 and Harrison Avenue in Cary, and looks like a huge college campus rather than a world-class business. The campus is growing, and is expected to continue to do so. A 20th office building has been added, as well as another cafeteria and an additional child care center. More than 34,000 flowers were planted last year alone. When work gets frantic, masseuses are on site to alleviate employees' stress.
There are even high chairs and baby seats in the cafeteria to encourage families to eat together. A 35,000-square-foot fitness center encourages workouts, and there's time for such things because SAS has a seven-hour workday.
Goodnight is not a big "meetings" person. He would rather wander the halls and talk with employees, always learning while teaching. His desk stays clean, and he often moves his office to be with a group working on something that interests him.
Employees eat lunch to the sounds of a pianist — that is, if they're still hungry. Hundreds of pounds of M&Ms — in equal amounts of plain and peanut — are delivered to each floor of each building every Wednesday. There's also unlimited free soft drinks, tea, coffee and juice.
"Why shouldn't the company pay for coffee and snacks?" Goodnight asks, remembering a different time and attitude in Florida. "Expensing these things became a way of life long ago."
Goodnight is not out to win honors; rather, he sees the value in retaining employees and their loyalty, creativeness and high level of productivity. While the annual savings of perhaps $75 million because of low attrition is important, it is obvious that Goodnight understands the value and worth of his employees as individuals and as members of their families and the SAS family.
However, the working conditions at SAS are known worldwide and the recognition has been coming to the Cary business on a regular basis, more prominently three top-10 rankings (currently No. 6) in Fortune magazine's annual list of 100 Best Companies to Work For.
Fast Company magazine dubbed SAS "Sanity Inc." and said on its cover, "You can create great products, beat the competition, make good money, and go home at 5 o'clock."
"I believe that a person's surroundings have a lot to do with how a person feels," he says. "We try to have nice surroundings here."
Few would argue with the SAS workplace-friendly policies. No one could question the results — employee attrition often averages less than four percent a year in an industry that often tops 20 percent. "Jim has remarkable instincts, and SAS' exemplary workplace is a prime example of that," Musacchia says. "He believes in providing a tremendous amount of individual freedom, where employees are given responsibilities and are trusted to do what needs to be done. It has resulted in an environment that fosters the kind of loyalty that you seldom find anywhere."
Facilities and candy are not the only employee benefit techniques. While some companies are able to offer stock options, SAS cannot. Instead, there is no limit on sick leave and employees can stay home to take care of ill family members. There are other perks: Last year, employees received $16 million in bonuses and $30 million in profit sharing, according to Goodnight.
"We're spoiled rotten, we really are," says Karen Thomas-Smith, a systems analyst who missed five months of work after near-fatal complications from delivering twin daughters. Her husband, Joe Smith, a SAS network administrator, missed three months. Says Smith, "If you have to work in corporate America, this is the place to work."
The Goodnights had a personal experience that has increased their involvement in education. They took their son out of the public middle school their daughters had attended.
"Overcrowded conditions, a lack of technology, and classes which were too large" were the main reasons they temporarily abandoned the public schools. They started Cary Academy in 1996, a high-technology private school next to the SAS campus. Yet, they've maintained an interest in improving public schools.
Cary Academy works with public school teachers to sharpen their technology skills. Just recently, it was announced that the Goodnights will head the Funds for Education Campaign for the Wake Education Partnership next year. This group works to support public schools in Wake County and finances many improvements.
The third way is an integral part of SAS. Called SAS inSchool, this division develops content-based educational software that contains the framework for a new generation of teaching courseware designed to further the use of technology as a learning tool in public, private, charter, and home schools.
Staff at SAS inSchool includes teachers, multimedia graphic designers, instructional designers and technologists, and computer programmers. It lost $5 million last year and will probably lose another $15 million before it makes a profit. However, Goodnight's passion for education figures to mean the division eventually will be a money-making success. SAS donates cash, computers and other resources to area public schools and non-profit groups such as the Family Literacy Center of North Carolina and Communities in Schools. Scholarships are provided for Cary Academy, North Carolina A&T University and N.C. State.
John Boling, director of SAS inSchool, said, "By implementing a successful technology infrastructure coupled with rigorous digital curricula and sufficient staff development at Cary Academy, (Goodnight's) vision is being viewed as the model school today for effective technology integration and usage. The results are already benefiting public schools nationally and many schools are moving toward replicating the model."
Like all successful companies, SAS isn't adverse to change. There's a new company logo, a new image and a $30 million national television and print advertising push. "The Power to Know" is the company slogan. And the changes go deeper. Personnel moves in management have been implemented during a year when speculation increased that SAS would relinquish its claim as the largest private software company in the world by going public.
At the same time, SAS announced it would begin investing in other companies. The hiring of mover and shaker Andre Boisvert as vice president of business development and strategic investments showed that Goodnight was serious.
SAS is expected to shed its quiet image and become better known across the country and throughout the world. In addition to an added emphasis on marketing, partnering with other companies will become more common. This shift in strategy is expected to make SAS more attractive to Wall Street as a potential customer. Yet with all the changes, there are some things that remain constant. "New technologies, new approaches to problem solving, and new internal processes are to be expected," Goodnight says. "But our corporate foundation of delivering superior products and services and always doing the right thing will remain unchanged today and tomorrow."
Goodnight has seen thousands of software companies both fade and blossom during the past 25 years. Some have failed because they didn't change with the technology and others were the victims of poor management.
SAS has often been at the forefront of change and innovation, and thus has prospered. In the 1999 annual report, Goodnight writes, "Yet here we are, moving forward together with our customers in the most exciting, earth-shaking era in modern history — a time of change exceeding that of the Industrial Revolution. Today computing is all about, and business is all about, one thing: `e.' SAS is in the best possible position to help our customers not only succeed in the `e-arena,' but thrive there."
SAS revenues surpassed the $1 billion mark last year. The target in 2003 is $2 billion, and it jumps to $5 billion two years later. That will require a growth rate of 20 percent or so a year, compared to a 16-17 percent growth rate the past couple of years.
Goodnight's work schedule is quite different from the normal CEO. "I arrive in the office by 9 a.m., take an hour off for lunch and leave around 5," he says. That schedule should not fool any of Goodnight's competitors. An avid reader, he goes over business journals most nights. He rarely finds time for golf, which may explain his 22 handicap. Exercise comes from regular stints on the treadmill and frequent walks with his wife. "Pushing away from food is the best exercise," he says with a smile.
"Jim has a quirky sense of humor," Musacchia says. "While working on a development project, he set up a temporary office in a basement. SouthPeak (a SAS subsidiary) had just finished using props for two games it had developed and Jim had some of these sent over to decorate the basement hallway. Today, you can walk down this hall and be confronted by gargoyles, Greco-Roman statues, and a sideboard that looks like it came from Versailles."
Goodnight believes that business people should not ignore politics. "I see over-regulation and absolute waste in government," he says, adding that government emphasis should be at the state level. He has discussed such weighty subjects as taxes with George W. Bush, and supports opening up trade in China, where SAS currently has four offices.
SAS maintains a diversified portfolio of investments, and Goodnight personally has numerous other business interests. He led an investment group a few years ago that bailed out Midway Airlines for $22 million and kept it here. Today, he still is a large stockholder. "Throughout the evolution of business, one thing has remained unchanged: the pivotal role of information in making decisions," Goodnight writes in the most recent SAS annual report. "The most successful companies are the ones that gather the best data and turn it into actionable knowledge about their customers, their suppliers and their own organizations."
The Goodnight philosophy, leadership style, and vision are expected to result in continued growth of SAS Institute. That's good news for Goodnight, and it's also good news for Cary, the Research Triangle Park area, employees, their families and the state of North Carolina.

COPYRIGHTED MATERIAL. This article first appeared in the December 2000 issue of the North Carolina magazine

Phil Kirk can be reached at pkirk@nccbi.org

Return to magazine index