Community Profile

Primed
for Progress

Surry County keeps the spirit of Mayberry alive while fostering an exciting and prosperous future

By Ned Cline

Who can stand upon the summit of the lofty mountain and view the grandeur of surrounding scenery and not be impressed with the wisdom and power of nature's God?"

The preacher got it right almost 150 years ago. Marquis Lafayette Wood, a circuit-riding Methodist minister, was so struck by the serenity and beauty of Surry County while standing on the pinnacle of Pilot Mountain on a balmy spring day in 1858, that he penned the quote above in his diary. His assessment has since been lifted from his written records and carved in stone — Surry County white granite, no less — and put on permanent public display on the foyer wall of the county's history museum.

Since the preacher's utterances 143 year ago, if any people in the neighborhood have felt like challenging his acclaim they have kept it quiet. Certainly, there is much about Surry County that is different from what the minister saw in the decade before the Civil War. But there is also much that is pretty much like it was when the man with the clerical collar rode into town on horseback.

Mount Airy still proudly depicts artwork of its three industrial foundations of textiles, tobacco and furniture on the town seal. Tranquility is still the traditional trademark in the county seat of Dobson where ample markings are easy to spot of the way rural counties used to be. The nearby town of Elkin still boasts of its history as much as its modern health facilities, a place where an afternoon pitcher of sweet tea shared among friends is considered a fine thing to do. And Pilot Mountain is still the place with the view that on a clear day can make the world's problems seem far away.

None of this, however, means that the past is prologue. The goal of local leaders is to blend the best of the past with the economic essentials of the future. Signs of success abound. The area seems primed for progress.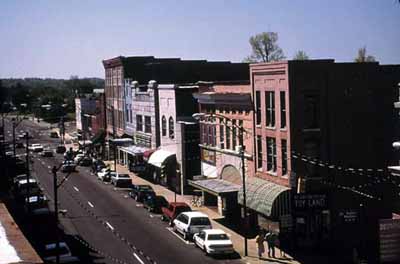 Photo at right: Downtown Mount Airy
Related stories:
Sharing Surry's simple living with a national TV audience
800 volunteers enrich the schools

Saying Yes to Needs
Surry County, nestled in the cradle of the Blue Ridge Mountains in the northwestern section of North Carolina, offers an abundance of what many communities can only dream of attaining. Throughout the county in addition to scenic views seldom seen elsewhere is the omnipresent atmosphere of wholesome lifestyles thriving on multiple small town advantages, clean water and air, a quality education system, and steady — albeit changing — industrial and economic expansion.

"If you can't do it here, you are not far from where you can do it," says Tanya Rees, Mount Airy's enthusiastic arts council director.

That's a theme visitors hear often, and not just from those whose jobs is to promote the area.

"People (in the county) practice fiscal responsibility, environmental stewardship and community involvement," says Wanda Urbanska, who tossed California life in the Pacific Ocean 15 years ago and moved to the area. "This is a community where people just say yes to needs. The community pulls together for the kind of quality of life that sells the area. I came here unsure of how I would react, but I have become a shameless booster for this community."

"We're in a transition in our economy and we've lost some things, but there are lots of small successes that most folks don't know about," says downtown Mount Airy merchant Gene Rees Jr., a second-generation clothier who owns F. Rees Co. "We are doing the right things the right way."

Surry economic advocates grin at and grasp onto such unsolicited endorsements that frequently flow from all sections of the county.

"We are holding on even with downturns in some areas and are doing fine as we diversify from textiles to small businesses, computer networking and expanded health services," says Theresa Osborne, president of the Elkin Chamber of Commerce. "It has been a rather natural transition; for example, from tobacco to grapes and vineyards. We are proud of what is happening here."

"Environmentally, we would be hard pressed to pick a more beautiful or appealing place to live and work," says David Bradley, president of the Mount Airy Chamber of Commerce. "So many communities whose foundations, like ours, are based on textiles and tobacco have glasses that are half empty with a crack in them. With our natural resources, we feel our glass is half full and it is up to us to determine how to turn the spigot.

"We have ample and clean supply of water. We are 15 minutes from the Blue Ridge Parkway, 45 minutes from Winston-Salem, 90 minutes from Greensboro and an hour from Charlotte. Sometimes we don't see our many blessings and our potential until we go somewhere else and then realize the unbelievable treasure we have in this county.

"What we must do now is not jeopardize what we have as we move forward. We have lost a lot of jobs in our traditional industries, and while that's not pleasant to watch, without the demise of textiles and tobacco, we would have been reticent to move toward other industries. We're not high tech yet, but we're becoming mid tech and can move up to high tech. We are working to tear down walls that have separated us. We can succeed cooperatively, but not competitively."

That's the same banner the Surry Economic Development Partnership is waving. The partnership was created six years ago with offices in Dobson to help the county shift economic paradigms. The result is that territorial turf wars are being replaced with regional realities. Countywide zoning and land use planning are now in place. Water lines have been extended from Mount Airy to other parts of the county. Local government leaders that once shunned colleagues in other towns are now aggressively working to complement each other, convinced that what is good for one is beneficial to all economically and geographically. While Surry is still considered a rural county, towns within the borders are all within roughly 20 minutes of each other.

"The answer to economic needs lies in the region, not any single area," says Crystal Morphis, president of the Surry Partnership. "This office was created because the private business people saw the need for area cooperation. They wanted to maintain our character and our social capital even as we changed and grew."

Cooperation in words has also been backed up in deeds. Corporate dollars pay for 65 percent of the EDP costs as the staff concentrates both on assisting established businesses and bringing in new economic opportunities.

A Proud Heritage
This new allegiance to regional cooperation, while considered important and essential as the county emerges from the grip of dependence on old economy industries, is not part of the area's generational history. On the contrary, the county was formed out of a series of fiercely independent actions where personal self-sufficiency and individual actions were admired and, at times, promoted.

The county's historical records predate the formation of what are now North Carolina's boundaries. Surry County originally was part of the land owned by the Lord Proprietors of England before the newly formed state took it from England's Lord Granville heirs in 1777. While there has been some dispute among the county's historians on exactly how the county got its name, the general consensus is that the name was chosen to honor Lord Surrey, a prominent member of the British Parliament who protested the burdensome taxes imposed on the colonies by England. The county was formed from what was once Rowan County in 1770, although current boundaries of 538 square miles and more than 342,000 acres were not established until 1850 when what is now Yadkin County was created.

The county was settled primarily by second-generation Americans of English, Scotch-Irish and German descent, most from nearby Virginia, who came to this country before the Revolutionary War. Most were Protestant. The Quakers were the first to formally organize a church in 1772.

The county's earliest settlers first showed their independent streak during the Revolution as residents split their loyalties, some fighting for the Tories and others for the Patriots. Historians, perhaps displaying their own loyalties, have written that the Tories displayed acts of lawlessness and harassment while the Patriots practiced deeds of bravery on the battlefields.

The first settlers in the county located in a section called the Hollows, near what is now Mount Airy. The first attempt at public education, albeit limited, was started in the 1790s when two schools were opened in the Hollows. From there, settlers moved to other remote areas of the county and created a local government structure as they forged livelihoods from the forests, tanneries and what has since become the world's largest white granite mine. Cotton didn't become a stable crop until the 1830s near Mount Airy and Elkin, leading to the evolvement of textiles as a major industry.

Dobson became the seat of government, because it was in the geographic center of the county, in 1850 after temporary local government headquarters in two other sections of the county. The new county seat was named for a prominent citizen, William Polk Dobson.

The Civil War again produced divided loyalties in Surry where neighbor fought against neighbor. While most of the county's men joined with the losing Southern armies, some chose the other side and fought with the victorious North.

It was after the war that a new money crop — tobacco — began to flourish and joined cotton as a source of employment and income. Railroads came to the county in 1888. The growing agriculture economy helped finance expanding public education that spread across the county in the late 1880s.

Mount Airy was incorporated in 1885. Elkin was incorporated in 1889, 60 years after the first cotton mill was opened there.

The Spirit of Mayberry
From those early struggles, Surry grew slowly but steadily over most of the last century with the bedrock industries supplying the livelihoods of most residents and those who came in from surrounding counties to find jobs. Tourism became a significant industry during the last few decades, thanks primarily to the popularity of small town icon and Surry native Andy Griffith, whose mythical Mayberry spawned a television show and an admiring legion of fans across the United States.

While Mayberry does not and has never existed, the spirit of that fictional town is very much alive in the county. Tourism in Surry last year generated $58 million and brought some 50,000 visitors to the area. The Mayberry craze gets most of the credit.

The Mount Airy Arts Council, while not limited to Mayberry mania, uses The Andy Griffith Show as a foundation for much of its efforts. The council offices are in the basement of the old Rockford School, where Griffith once studied, and the building is now named the Andy Griffith Playhouse. The council has an annual budget of $900,000 and is a major player in the county's tourist industry. Elkin has a separate arts council to promote that part of the county.

The county's population has remained steady, with growth of about one percent a year since the demise of old-time industries began. The county a decade ago imported up to 10,000 workers a day from nearby counties as production workers in local factories. That rate has dropped, but there is still an abundant supply of workers, many of them going through retraining at Surry Community College in Dobson where new courses have opened up new opportunities for workers and brought on a new vitality in the economy.

Surry now has a population of 71,200, ranging from a high of 8,500 in Mount Airy to a low of 1,300 in Pilot Mountain. The county's labor force stands at 38,000. The average weekly wage in 2000 was $429, per capita income was $23,465 and the median family income was $37,500. The county tax rate is $0.57 cents.

The fastest growing industry in the county is now the service sector, with special emphasis on health care. In Elkin the name Chatham is still a household word, but the focus is shifting from textiles to health services. The Hugh Chatham HealthCare Services, privately owned and nonprofit, is now the second-largest employer in Elkin (behind the textile plants). The hospital provides 221 beds and offers services ranging from maternity to Alzheimer's care. A recent addition is an oncology unit.

Northern Hospital of Surry, in Mount Airy, recently has expanded and has state-of-the-art facilities designed to help prevent as well as treat illnesses. Surry leaders say few counties the size of theirs offer the health care opportunities that are available here.

Surry Community College is directly aiding the health care industry by offering programs to retrain those who have lost jobs in the declining textile industry.

One of the most exciting and vibrant new industries in Surry is Shelton Vineyards, a winery opened in the summer of 2000 by brothers Ed and Charlie Shelton. The Sheltons, who grew up in the county, have established themselves first in Surry, then Winston-Salem and now Charlotte as masters of development and progress in residential and commercial construction, as well as behind-the-scenes political influences.

Shelton Vineyards near Dobson has become a tourist stop as well as a growing industry where eight varieties of wines are produced from 14 different grapes grown on 200 acres. Shelton Vineyards is the largest and best-known winery in the county, but not the only one. Land across the county that once grew tobacco now grows grapes as vineyards become increasingly popular and profitable, particularly in the Elkin area.

Development of vineyards has also spawned a new academic program at Surry Community College where the Southeast's only viticulture course, with 40 current students, is offered in the school's continuing education program. The Shelton brothers provided $50,000 to get the viticulture courses started.

Surry industrial recruiters estimate that more than a third of the county's former textile, tobacco and furniture workers are now engaged in retraining programs at the community college, which offers a free course for any students who complete work for a GED as part of their studies.

The county still supports three separate public school systems, a fact that some point to as administratively expensive, but the schools continue to maintain high marks in academic standings in the state tests. Surry students scored above the state average last year when SAT scores climbed 17 points. Elkin school students produced achievements of exemplary and distinction on state scores, as have schools in the Mount Airy system. Community support for schools is high.

Excellent Highway Access
From this solid educational foundation in public schools and the community college, even in the slipping old economy industries, has come significant advancements with new companies in recent years. Among the industrial growth are these examples: Candle Corp. of America invested $19 million, Sara Lee Socks $10 million, Chatham Borgstena $14 million, Ferguson Enterprises $3.5 million, ASMO Appalachian Corp. $5 million, L.S. Starrett $3.5 million, and Chatham Inc. $9 million. These and other economic enhancements have added approximately 1,000 jobs and millions to the county tax base.

Much of the business expansion has come in carefully selected and newly created industrial parks, leaving much of the county's open land in its pristine habitat. Driving along most of the county's roads, including Interstates 74 and 77, and you are still able to see mountain ranges and gently rolling farmland instead of cluttered intersections and traffic jams.

"This is what helps make us so ideal," says Bradley, the Mount Airy chamber president. "This is what we are all about. Our only trepidation in telling our story is that if we tell it too loudly or often we risk losing some of it."

Surry residents like to brag about their climate and culture as much as their work ethic and desire to adapt to changing economies.

And with good reason, too. Average temperature in the county hovers on 61 degrees, from an average low of 41 in winter to a high of 76 in summer. The elevation of most of the county provides comfortable days and nights and although the cities are located on the edge of the Blue Ridge, snowfall is no higher than in counties at lower levels. The mountains provide moderate climate, but shield the county from heavy snows.

There is no shortage of things to do and places to see in the county, starting with the scenic views, and stretching from the spirit of Mayberry in Mount Airy, to the historic granite mine nearby. Granite from that mine helped build the Wright Brothers monument at Kitty Hawk and Arlington Memorial Bridge in Washington, D.C.

There are historic villages restored from Elkin to Rockford, once the county seat. There is the downtown history museum in Mount Airy, which among its complete coverage of the county's history gives the story of world-famous Siamese twins Eng and Chang Bunker, who lived and died here.

There is the aging courthouse in Dobson and the living historical farm and restored historic homes in rural areas. Pilot Mountain sits 1,500 feet above the Piedmont plateau. Pilot Mountain and Stone Mountain parks provide hiking trails that are as prevalent as walking boots.

While Surry residents can embrace their wholesome quality of life out of the fast lanes of major cities, the county is served by two interstates and two other interstate highways are less than 30 minutes away.

From that traveling preacher's pronouncement a century and a half ago to the summation of the returning native son, Surry then had and still has a lot of what makes communities thrive.

Return to magazine index