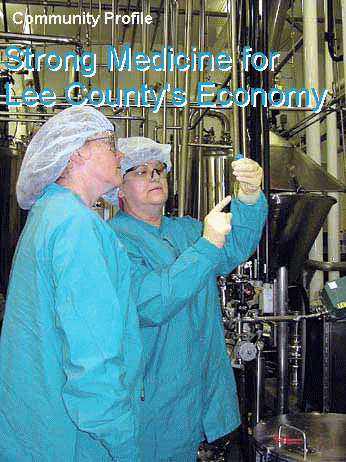 Right: Workers examine a vial at
Wyeth-Lederle Vaccines in Sanford

Learn more about Lee County:
Pottery Studio Helps Mold Downtown Sanford
Why Kids Love Wyeth Vaccines



The arrival of several industrial
and biotech companies invigorates
Lee County's traditionally robust economy
By Heidi Russell Rafferty
W
hen

Wyeth-Lederle Vaccines decided to call Lee County home, it found a host of benefits: a bountiful supply of trained employees, convenient access to Research Triangle Park and other metropolitan centers, positive cooperation with local officials — and plenty of room for growth.
With an expansion plan under way and the addition of 250 employees by the end of this year, Wyeth is now poised to become the fourth-largest biotech employer in North Carolina. Company officials credit their host county with creating an environment that fosters achievement of their business dreams and goals. The facility produces components of three vaccines for children.
"The county is very, very interested in our success and working with us," says Brad McNickle, the human resources director at Wyeth. "Absolutely, the staff is first rate on doing what it needs to do in order to secure good corporations to come down here and set up shop."
Officials at other companies agree that Lee County provides all the support they could ask for — training programs at Central Carolina Community College for their employees, tax incentives for plant expansions and new jobs, infrastructure for growth and a homegrown labor pool with a strong work ethic. In addition, the county is centrally located in the state, a short drive from Raleigh, Durham, Cary, Greensboro and Fayetteville. Transportation is supported by a network of highways and railways as well as an airport for corporate jets.
It doesn't stop there. The county seat, Sanford, has undergone a downtown renaissance in the past few years, drawing in urbane crowds in quest of a new hot spot for cuisine, pottery and other arts. With the added presence of a professional theater and the renovation of a number of historical buildings, the downtown has evolved into a thriving business district. Coupled with the open rural spaces, Sanford makes a nice place to call home, say newcomers and natives alike.
"I always look at it as a nice hub of a wheel," McNickle says. "We have the opportunity to draw from quite a large area."
Wealth of Resources
L
ee County, which is at the southern base of the Research Triangle Region, may be in RTP's shadow but it's no bedroom community, say spokesmen from various companies and economic development officials. In fact, they predict that within the next 10 years industry will continue to balloon and people will call the county home in growing numbers.
Sanford was named the seventh-best town in America for corporate facilities, according to a survey recently released by Site Selection magazine. Its rankings were based on the number of new and expanded corporate facilities that had been established since 1998. That's impressive for a county with a long history of successful enterprises, most notably in brickmaking. Two major brickmakers have long called Sanford home – General Shale, which was founded as Cherokee Brick in 1913 and boasts two Lee County facilities; and Lee Brick and Tile, which was founded in 1946. Together, they produce in excess of three million bricks annually for commercial and residential use.
Lee County's population is projected to grow 12 percent over the next few years, from 49,040 in 2000 to an estimated 54,933 in 2005. Besides its steady workforce, Lee County offers all the quality of life that one would find in a metropolitan setting with a rural flavor.
It's easier now than ever to get to the capital city of Raleigh from Sanford, thanks to the completion of four-lane improvements to U.S. 1. Improvements are under way to N.C. 87 south to Fayetteville, and the area also connects to other parts of the state via U.S. 421 and 15/501. The proximity to RTP, in particular, makes it easy for employees to move their families to Lee County, says Nagib Nasr, plant manager of Moen Inc., a plumbing fixture manufacturer.
"It makes us be able to attract a lot of working couples, where one person is at the Triangle and the other is down here. My wife is a physician and works at Rex Hospital. I work here in Sanford, and we live halfway in between," Nasr says.
Golf enthusiasts tout the county's proximity to Pinehurst. In addition, five highly rated golf courses, all open to the public, are in Lee County or in the immediate vicinity. Nature lovers point to nearby Jordan Lake, Raven Rock State Park, Kiwanis Park and San-Lee Park as their recreational outlets. Canoeists journey down Deep River, whose banks are dotted with historical landmarks.
The essentials of health care and education are readily available. Central Carolina Hospital, with 137 beds, has about 100 medical staff specializing in a number of fields, including everything from general family practice to vascular surgery to oncology. The acute care facility delivers services as far as western Harnett County and eastern Chatham County. The hospital recently affiliated with Tenet Healthcare Corp., a publicly held company based in Santa Barbara, Calif. Tenet owns and operates 116 acute care hospitals that employ 113,750 people in 17 states.
Central Carolina's close alliance with other major healthcare providers, such as Duke University Medical Center and UNC hospitals, enables it to offer services that many community hospitals do not provide. The hospital also owns and operates the Interim HealthCare franchise in Lee County, which offers home health services.
Lee County schools work closely with Central Carolina Community College, as well as local industries, to develop the upcoming workforce. The area is also near the University of North Carolina at Chapel Hill, Duke University, N.C. State University and Campbell University.
The county is rich with entrepreneurial spirit. Residents have launched several well-known, successful entrepreneurial ventures: Golden Corral restaurants, The Pantry convenience stores, Capital Bank, Static Control Components Inc. and J.T. Davenport & Sons Inc., to name a few.
Sanford has never been a one-horse town, says Tommy Mann Jr., president of Central Welding and Industrial Supply. Diverse businesses continue to pump the local economy and encourage more migration, a core philosophy to economic development that has been in place since the 1960s, he says.
Mann, whose company has been in town since 1967, says that when Sanford was largely a brick and textile town, local business leaders had the foresight to seek out a variety of companies and bring them in. The approach has made the area virtually recession-proof, Mann says.
"If automotive was slow, the brick business or some other type of industrial company was still busy, and maybe even hiring. So that diversification — the fact that we were not all automotive or cosmetic or a singular industry — kept us from having huge layoffs," Mann says.
Ray Epley, industrial relations officer at Central Carolina Community College, says that as the traditional industries of brick and textile became more automated during the years, diversification took on an even stronger importance for the workforce.
"They used to have to handle each brick when stacking them. Now they have a machine to make and stack the brick.

. . .

In textiles, you used to go into factories and see 40-50 people. Now with high-tech yarn producers, you have to look long and hard to see a person," Epley says.
Mann says business leaders 40 years ago were very deliberate about their recruitment approach. Former chamber executive Hal Siler formed a group of 11 businesspeople and assigned each a special area of knowledge, such as transportation or education. When company representatives visited, they were treated to individualized tours on each area, according to Mann. "They'd come and get to see the whole dog and pony show," he says.
The local recruiters were careful about the types of industries they attempted to bring in, Mann says. "They didn't want someone to be a water hog or environmentally dirty."
Today, the industrial landscape reflects the diversification the team sought four decades ago, and economic development officials and Central Carolina Community College continue to push for that variety, says Robert P. Heuts, director of the Lee County EDC.
Some of the current companies are: Coty Inc., which produces cosmetics and perfumes; Moen Inc., a plumbing fixtures manufacturer; Tyson Foods, Inc., which makes taco shells and nacho chips; General Shale Products Corp., a brick clay manufacturer; Parkdale Mills, a cotton spinner; Magneti Marelli USA, an Italian carburetor and fuel line maker; Gold Kist Inc., a poultry processor; GKN Automotive Inc., which handles automotive electrical products; and Sanford's biggest employer, Static Control Components Inc., which engineers, designs and manufactures static elimination equipment that is shipped worldwide.
"Ultimately, we look to diversify even further," Heuts says. "We will continue to grow industry to compliment what we have here and in the greater Triangle area."
Mann notes that the original cooperation between government and business also continues to exist today. "Don't get me wrong — we had our fights," he says of the original economic planners. "Everyone didn't want to always do a particular thing.
"But we have had real good working relationships between the city of Sanford and the county of Lee, and it's easy to get your permits, easy to get your site prep.

. . . The county and city agencies did everything they could to expedite the companies' ability to get the ground broken and the building built. We have been very fortunate. It wasn't all roses, but basically everyone had the same mindset."
Epley says that some other counties struggle "like they're herding a bunch of cats in one direction." But he adds, "If you get everyone in the same direction, and everyone is cooperating, it works out great."
EDC Support
B
usinesses that relocate or expand to Lee County can expect to find the infrastructure and land they need, as well as the support of local officials, Heuts says.
The Lee County Industrial Park, which is on the north side of Sanford, has direct access to U.S. 1. Currently, 16 companies — including Wyeth, GKN and Caterpillar — fill up 400 acres in the park. An additional 400 acres, parceled in 10- to 30-acre lots, are currently under development, Heuts says.
South Park, a mixed light industrial and commercial site situated south of town on N.C. 87, was just certified by Lee County and the state Department of Commerce. There are 270 acres available for industrial use, which can be divided into 5- to 125-acre lots.
The park is a "shovel ready" site, meaning that the land is ready for industrial use and that companies will be assured needed services, such as sewer and water. South Park is the only certified industrial park in the RTP region. The EDC wants to target pharmaceutical and chemical companies, warehouses and plastics plants for that site.
Heuts says it was important that the park be on the south side of town because of the topography. While the north side of Sanford is similar to the Triad, the southern side is coastal plain, with a different type of soil for easy development, he says. In addition, companies there can more easily attract workers from Fort Bragg.
Heuts says the EDC tries to make it as easy as possible for a company to locate to Lee County. "Economic development is a game of options. The more options you provide, a better chance you have for success," he says. (See box on tax and financial incentives in Lee County on page 42.)
Dixon-Gibson MS Consultants, a five-person engineering firm in Sanford, handled the engineering for South Park's certification, says Don Sever, branch manager. He says the park already has acted as a magnet to draw interested groups.
He adds that the EDC was receptive and enthusiastic when MS Consultants, a firm in Youngstown, Ohio, acquired Dixon-Gibson Engineering Associates three years ago. Since then, the firm handled the road design and sewer service for the expanded acres in the Lee County Industrial Park. The county approved $2.7 million for the infrastructure, Heuts says.
Dixon-Gibson is also designing the building infrastructure for a new $3 million telecommunications center, which the community college will use for worker training.
The Sanford-Lee County Regional Airport is another added benefit to the area. Located on 705 acres in northern Lee County, the airport offers a 6,500-foot runway, a computerized FAA written test center, a flight school, an engine overhaul facility, complete aircraft maintenance, courtesy and rental cars, a terminal building complete with showers for pilots and conference rooms and a hangar area. An authority, whose members are appointed by the city and county, runs the publicly owned airport.
The airport is one of the county's best-kept secrets and a wonderful recruiting tool, says Joe Clancy, site controller for Wyeth. "It will make access for major corporations much easier," he says. It's a first-rate facility near the industrial park that's going to be dynamite for the county."
Ray Epley (left), an industrial relations officer at Central Carolina Community College,
and Glenn Shearin work among the school's many milling machines

Community College Contributions
C
entral Carolina Community College, which covers Lee, Chatham and Harnett counties, is another chief reason for economic success. Some business managers feel the college is the county's biggest asset.
"I do not know of any other community college that works so closely with a company to provide them with training and background," says McNickle, the human resources director at Wyeth.
Epley, the industrial relations officer who oversees the training programs, says he sees "nothing but growth" in the next decade. But it all depends on the college's continuing commitment to forge strong relationships with companies and meet their training needs, he says. "The future looks bright. There have been community colleges that have discontinued vocational programs. That's the backbone of industrial development in terms of training. Even in times when we have low enrollment, we've tried new recruiting methods in order to get the numbers up," Epley says.
In fact, the numbers are up this year. Last year, overall enrollment in general curriculum programs was 3,809 — currently it's at 3,890, a 2 percent increase. When Epley joined the college in 1967, enrollment totaled 228.
The college has touched virtually every industry in Lee County, offering training programs to countless people. For example, the college will train each new Wyeth employee, and it has done the same for many other companies, Epley says. Training programs are divided to handle production workers and their frontline leaders or supervisors.
Business owners say that Marvin Joyner, the college's president, has crafted the leadership necessary to focus the programs and meet each of their needs. Joyner was a mechanical drafting and design graduate from the old IEC system that preceded the community college system. He worked as a tool designer and supervisor in quality control before changing his career to education. He became president at Central Carolina in December 1983.
"I backed into it," he says of his decision to teach. "I always retained a keen interest in relationships with these colleges and in the reason they were created — to create a trained labor force to attract industry to this state. . . . I'm fortunate to have a great staff that shares that vision of being a first-class institution as it relates to workforce development."
Central Carolina is the first in the state to establish a two-year associate degree program in bioprocessing, which Joyner says was launched to target needs at Wyeth. The college and Wyeth have also developed a one-year certification program in bioprocessing, and about 30 students have participated so far.
"What we try to do is keep very much in tune to what is happening with jobs and to change our curriculum to reflect the changes occurring and to establish new curriculum to train people for jobs that may not have previously existed. We do that all the time, and bio process is one of them," Joyner says.
Besides working with businesses, Joyner says he is targeting local high schools to educate them about vocational career choices. The college has an active arrangement with high schools in all three counties to offer classes, such as industrial maintenance in the telecommunications field. Recently, Joyner invited eighth-graders to campus for staff demonstrations and presentations in various fields.
"Youngsters don't understand business and industry and the jobs that are there," he says. "A good example is bioproces-sing. They have no idea what a person working in that industry does."
The community also has an active job-shadowing program, in which students choose a profession to follow for a day. In another program, business leaders go to the schools to speak. They especially target seventh- and eighth-graders, who are beginning to explore their occupational options, Joyner says.
Epley says that he has been amazed at how many businesses and people the college has touched. Its impact, he adds, is evident in that over time no one company has stood out as the county's most visible. That's because all have varying and important missions.
"It seems like we've always got what you'd call a champion," he says. "We had GKN when they came, and then later on we had Parker Hannifin when they came, and then we had Static Control, and then Caterpillar and now it's Wyeth. All of these are special. They're so different but special."
The civic center in Sanford was renamed in honor of former
lieutenant governor Dennis Wicker, a native of the county

Downtown Renaissance
M
eanwhile, business in downtown Sanford has taken on a life of its own, thanks to developers who have renovated old buildings and tried to give local people a leg up in launching their own enterprises.
A quaint, eclectic mix of artsy shops, coffee bars, antique malls and fine restaurants fill the center of town, just a block off of Route 421, a main thoroughfare filled with fast food chains. Downtown occupants say they are concerned that would-be visitors have the wrong impression of Sanford when they travel through the commercial strip on 421.
Even so, the renovated Temple Theatre, which has regular performances with professional actors, has put Sanford on the map as a destination, which in turn has led to more business openings and more downtown visitors, especially a younger crowd.
Additionally, the city and Downtown Sanford Inc. are working to develop Depot Park, a place for outside events that includes an historic railroad depot. The park will include a splash fountain, benches, decorative lighting, formal gardens and a gathering place for concerts, plays and meetings. An old taxi stand will even be converted into a concession stand.
"It's the heart of the community. It's a good location for a community park," says Sharon S. Spence, executive director of Downtown Sanford.
Early this month the city also hosted the first annual Sanford Pottery Festival, showcasing Lee County's pottery legacy and featuring artworks by more than 60 of North Carolina's finest craftsmen at the Dennis Wicker Civic Center.
Spence says part of the credit of downtown's resurgence goes to developers Clyde Atkins and Progressive Development Co., who have renovated decrepit properties and funneled support to a number of businesses.
In the past three years, Progressive, which specializes in historic restorations, has restored the 1909 Sanford City Hall; a 1907 Coca-Cola bottling plant that had been in disrepair; and the 1907 Sanford Buggy Co., which houses office condominiums. The company also has office condominiums in the 1926 Lee Furniture Building, a structure with many windows and exposed building elements.
Atkins has acquired 35 properties and has had to bring each up to codes, modernizing the structures' heating and air systems. "It's expensive and time consuming," he says. "Every single one needed a new roof." Still, he has helped about a half-dozen businesses get going. "I'm just a bricks and mortar guy — I'm in the real estate business. I'm trying to help with financing as much as I can. If they have a good concept, we'll help them."
With Atkins' help, John Bane and Julian "Jinks" Youngblood opened the Sanford Antique Mall in 1999 and the Java Express Coffee House next door. The mall draws antique enthusiasts from nearby Raleigh, Cary and Durham.
"We feel pleased and fortunate that the community supports us. We have lots of regulars," Bane says, adding that he and his partner opened at a time when business downtown started gaining momentum. "Sanford is this little sleepy community on the verge of breaking open," he says.
Eddie Baker, owner of Floral Designs by Eddie, says his business has benefited from the antique mall's presence, adding that it has given the downtown "a little bit of oomph and class."
"It's cool. I like the small town atmosphere, where I get to know the other store owners," Baker says. "The atmosphere over there is something we've needed for a long time. . . . A younger crowd is here now."

Return to magazine index