Community Profile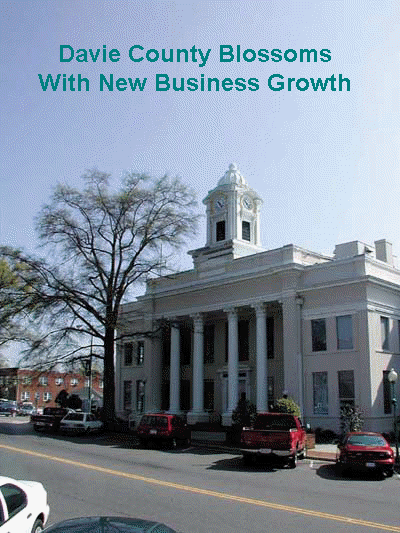 Long overshadowed by its Piedmont cousins,
Davie County finds its own path toward prosperity
Also:
Old mill village weaves a fun new future
Retired executive's second career focuses on kids
By Ned Cline
T
he mighty oaks on the four corners of the square in downtown Mocksville tell the tale. They stand resolutely, strong and tall, their roots firmly embedded in the area's fertile soil and history, their limbs reaching out to embrace a progressive future.

They're a symbol of the best of Davie County, a place where the past and prologue seem to flow together as peacefully as the gentle breeze among the oak leaves on a sunny spring day. Even the county's economic and family-friendly promotional slogan — "A connected community with the stability of the past and the promise of the future" — speaks to the sturdiness of the giant hardwoods that evoke a sense of strength, past and present.

The four giant trees were planted in the Davie County seat of government in 1932. For seven decades they have withstood the elements, often bending but never breaking, and continued to become hearty and healthy as they reached maturity with no signs of weakening, just as the entire county has done.

Davie County lies in the cradle of the western edge of the Piedmont region of North Carolina near where the flatlands around Winston-Salem begin their gradual ascent toward the mountain ranges of the west. Some residents call it sleepy, but that's meant as a compliment rather than a criticism. Economically undisturbed or in a slow growth mode might have been a more apt description for parts of the county until recently, particularly the western portion. An awakening, however, is blowing in the breeze.

Davie, with a proud heritage dating to the earliest days of the nation's founding, has quietly remained in the shadows of the Piedmont's larger counties, but it offers an abundance of what families and businesses are searching for in today's changing economic and environmental climate.

It provides the amenities of a tranquil, rural quality of family life as well as easy accessibility and convenience to metropolitan areas, top-rated public schools, a skilled workforce, a solid industrial base with a strong infrastructure and lower-than-average taxes. In short, the county is a marketer's paradise.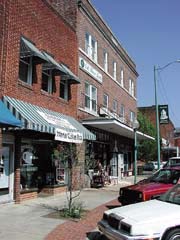 Right: downtown Mocksville

'There Are No Extremes Here'

Davie County sits 12 miles west of Winston-Salem, 35 miles from Greensboro and 40 miles from Charlotte. It encompasses 266 square miles and is home to 35,000 residents. Air travel, from Greensboro or Charlotte, and highway transportation on Interstates 40 and 77, and nearby Interstate 85, is more of a convenience than a hassle. A new business park is being developed that is, in the words of economic promoters, "just one traffic light" off Interstate 40.

The crime rate in Davie is less than half the state' per capita average, and is dropping. More than 50 percent of the county's population, evenly divided between men and women, are in their productive years between 25 and 65. Household incomes are above averages for the Piedmont Triad and continue to outpace the state average. The county tax rate of 59 cents per $100 valuation places Davie in the lower half of the state among county tax levies. Recreational opportunities range from family-oriented antique tractor and auto parades to watermelon festivals and bluegrass conventions to playing one of the county's six top-flight golf courses. A new public park is being developed.



"People here call this a great place to live, but that's not a cliché. They really mean it, and it's true," says Kent Mathewson. "There are no extremes here, no super wealth. There are just good people. You don't need extremes to succeed." He knows of what he speaks, not as a chamber of commerce promoter but as an expert on the topic of viable towns. A native North Carolinian, Mathewson has worked as a city manager and instructor of community planning in his home state and in Oregon, Michigan and Texas. He established and led a community foundation in Detroit and has helped design towns in several states. By choice, he now lives in Davie County's premier and nationally recognized retirement community of Bermuda Run, and serves the county as a volunteer adviser on ways to makes lives better and more productive.

Retired dentist Vic Andrews is even more effusive about the area. "I've lived all over and been on five continents," he said at a Mocksville Rotary Club meeting. "I wouldn't trade any one of them for Davie County."

Unsolicited praise for the merits Davie County is seldom in short supply by those who have come here because their jobs brought them here as well as those who have moved here by personal choice.

"There is just some special element in the people," says Steve Robertson, a successful Forsyth County business executive who has moved to neighboring Davie for the amenities that it offers his family. Robertson is one of several successful or retired entrepreneurs who have or are becoming stalwarts in community advancement simply because they have a growing fondness for the area.

Robertson and Allen Mebane, a straight talker who founded and recently retired as CEO of internationally known giant textile company Unifi, based in Guilford County, are two of what county officials call "crown jewels" among volunteer boosters and leaders. Both now live in Davie and devote much of their energies to promoting enhanced lifestyles, educational advancement and economic development in the county.

They are what might be described as modern day Daniel Boones. Boone, while best known for his adventures and exploits farther west in Kentucky, is one of Davie's favorite sons. He lived in the county during his teenage years and, unintentionally perhaps, was one of the area's first promoters. Boone bragged throughout his adult life as he moved westward that hunting and fishing in and around Davie was the best he had ever seen.


Thinking Beyond County Lines

Davie is, of course, no longer the virgin territory of the Daniel Boone days or even more recent times before dairy farms and cornfields began being turned into golf courses and housing developments. But present-day officials are working diligently to help protect much of the past even as they move into the future. Along with the growth and development of business and economic stimulants, county leaders are mindful of the rich and colorful history, much of it preserved among the 14 sites listed on the National Registry of Historic Places and in museums.

"We want to grow and progress," says Davie County Manager Kenneth Windley Jr., "but we also want to maintain our past character. We want people to ride down the streets and say what they see is what it ought to look like. As we advance, we want to keep the rural vistas."

"Our people are what makes the difference here," says Terry Bralley, an official community advocate, echoing the sentiments of the new volunteer leadership. Bralley, with a personality possessing all the markings of a country boy that overshadows an astute and savvy business acumen, wears two hats in the county. He is the town manager for Mocksville and also chairman of the county's Economic Development Council, managing both jobs from the same office.

"What we are working toward," Bralley says, "is for a company or a family to come here and become whatever it wants to be. But a key piece of our future is to protect our natural heritage. We want what is best for Davie, but we also draw strength from the region. We can never be all things to all people if we limit ourselves to just the county. We've got to think beyond the county lines."

Bralley is one of the strongest advocates in the county for regionalism and cooperative efforts among neighboring counties because he feels what helps the region also helps Davie and its people. "This (regionalism) is nothing new," Bralley says, "but we have begun to think of it differently. We talk about it more now and work at it more. To succeed, you cannot over emphasize cooperation with a positive outlook. We've matured in this area.

"I like to think of us as a can-do area," Bralley continues. "When we see a need as a community, we seek to find solutions. We try to bring the leadership together, to help with the ease of getting things done for business and through a cooperative nature in rural areas."

So far, Bralley has put his words into action. The county's Economic Development Council is a volunteer group of 12 people from both the public and private sector. Funding comes from both sectors, but most of the local financing for business incentives and expansion efforts come from private dollars, leaving public money for arts and education.

Volunteer efforts also stretch beyond the business circles and have become a habit among Davie citizens, especially on projects that benefit the entire community. The county Relay for Life, which supports cancer research, is but one example. The county has raised more than half a million dollars for this cause in the past four years and last year was second in the nation among communities in per capita giving in its population category.

Cooperation through corporate leadership is the way Davie obtained its community college campus in 1993. A new, esthetically appealing branch of neighboring Davidson Community College sits just outside Mocksville, built with a combination of private and public support. Corporate support paid for a third of the original building and a newly formed child care program on the campus is totally privately supported.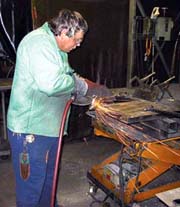 Right: An Employee at Ingersoll-Rand works at
the plant that produces air compressors and generators

A Diversifying Economic Base

Like virtually every community in the state, Davie County has been stung by the effects of the economic slowdown in the past 12 months, but to a lesser degree than many counties. Once an agricultural and textile area with a greater emphasis on diary farming than commodity crops, Davie has predictably been transforming itself, moving more into an industrial and service locale as agriculture has faded away. As part of that shift, however, labor-intensive manufacturing has given way to distribution centers, which have not been hit as hard by the economic recession.

Major manufacturing employers in Davie today are VF Jeanswear (apparel), Ingersoll-Rand (air compressors and generators), Lexington Home Brands (furniture), Jockey International (underwear), and Comfort Bilt Windows & Doors. Included among the new business ventures in Davie are a growing list of foreign-owned companies, and the existing industrial base ranges from small entrepreneurials to internationally known businesses.

Economic developers and business owners in Davie proudly promote the fact that the county is free of organized labor unions and they hope to keep it that way.

Manufacturing and distribution plants today make up a third of the county's economic base, down from 44 percent a decade ago. Growing are retail trade businesses, construction and the service industry. Local government could be a poster child for those who say the public sector just gets bigger and not better. That's not the case in Davie. County government has shrunk three percent since 1990 and remained flat for the last five years, presently representing less than 13 percent of the workforce.

Industrial managers here speak just as highly of the county and its people as do the economic developers and volunteer community leaders.

"It's a pleasure for me to be a part of this community and its industrial base," says Randy Fortenberry, district manager for VF Jeanswear, who moved here from Alabama two years ago. VF employs 575 hourly workers. "The area has an exceptional quality of life. We have a supply of very hard working people who are very quality conscious and caring about each other. It's really a great place to live and work."

Ingersoll-Rand plant manager Bill Jobert, who supervises 500 workers and has lived in Davie since 1993, echoes Fortenberry's assessment and builds on it. "I've lived many places around the country, and this is certainly among the best I've ever seen," Jobert says. "Employees here have a very good work ethic, they're dependable and that makes our turnover quite low and keeps our workforce efficient."

Jobert also adds the value of retraining efforts at the local community college and the cooperation of local leaders to his accolades. "Terry Bralley is very cooperative and we have a good relationship with the towns and county. The leaders and the people at the community college go out of their way to meet our needs. They have retrained some of our people and have even designed new courses to meet our specific needs. I would say I am very fortunate to live and work here."

A relative newcomer to Davie's economic prosperity is Joe Hollingsworth, developer of upscale SouthPoint Business Park. "We look at multiple sites in different states and pick the best we can find. Davie clearly was the winner in North Carolina," explains Hollingsworth who develops business parks in five states from a base in Clinton, Tenn. "We like the economy in Davie and are doing what we can to help the area flourish. It is a lower-cost community with good people who are willing to work hard."

SouthPoint Park so far has four buildings, three already filled, on 110 acres on Highway 601 just off Interstate 40. When fully developed, there will be 10 buildings, all constructed so they can expand to fit needs of tenants. Available utilities include water and sewer and fiber optics lines.

Town Manager Bralley credits SouthPoint with adding a "very positive dynamic" to the area economy, including hundreds of jobs and adding new corporate relationships.



The one weak link in the Davie chain of progress lies in the lack of all encompassing healthcare. Davie's local hospital is essentially an urgent care facility that provides emergency medical service from 8 a.m. to 10 p.m. daily. This limited care became reality last year when the county-owned hospital severed its contract with a large medical corporation. Except for urgent care, Davie citizens are required to travel to nearby Winston-Salem for most medical needs under a new contract the county has with N.C. Baptist Hospital. The Davie hospital, however, is slowly expanding its services.


An Exemplary School System

In addition to the public support for a solid industrial foundation and strong workforce in Davie, a common thread is the success of the public school system. Davie schools are the envy of many areas and rank near the top in state standards of achievement. The written mission of the school administration is to work with parents and the community as well as students to provide a quality education both in classroom knowledge and learning the importance of becoming responsible, productive citizens.

The county supports nine schools serving 5,900 students with 454 teachers and staff. There is one high school, two middle schools and six elementary schools. With increasing enrollment, there has been talk but so far no action on additional physical facilities, pending better economic and political climates. Some school buildings are aged, but one was just opened two years ago and all classrooms are wired for Internet access.

The schools produce high achievers. Five of the county's nine schools have been labeled as exemplary by the state and five also have been identified as schools of distinction (double the state rate).

Davie schools, which are 87 percent Caucasian in student population, consistently rank in the top 10 percent on standards set by the State Board of Education and have ranked in the top two percent in academic achievement. Davie was the eighth-highest ranking school system in North Carolina on SAT scores last year. High parental involvement in schools has been credited with helping the success of students.

Davie School Superintendent Dub Potts, in his post only six months but a native of the county and a veteran administrator in the county schools, credits the school system with creating a strong sense of community for parents and students. "We are proud of the fact that real estate people sell our schools to prospective newcomers," he says. "People move here because of the schools."

There is, however, a downside to the exemplary record of the schools. After reaching high standards, more than 80 percent of the county's high school graduates continue on at either two or four-year higher education institutions. But many don't return, at least not immediately.

"We do a good job of educating our young people, then send them off and many don't come back," Potts says. "The lifestyles here are not what many young people feel they want. They choose to live in larger cities."

Some of that exodus, however, is temporary. Many students move away until they begin families, then return to the things that helped make them successful: good schools and safe lifestyles for children.


Roots in the Revolutionary War

Quality educational standards have a long history in Davie, as does the county itself. What is now Davie County played a large role in this country's beginnings as a democracy as well as economic growth of textiles.

The first school was opened in what is now Davie in 1793, sponsored by the Methodist Church. The first real schoolhouse was built in 1810 and the first free public school was opened in early 1849 when residents voted 364 to 73 to tax themselves for schools.

What is now Mocksville, once known as Old Mocks Field, existed as a small village prior to the Revolutionary War, according to county historian James Wall.

The earliest settlers in what is now Davie, then known only as "The Forks" because of its location along the fork of the north and south branches of the Yadkin River, arrived in the early 1750s. Among the first to arrive was Squire Boone, father of Daniel Boone. Both the father and son boasted of the area's fertile soil, cheap land and good game hunting. Daniel Boone's parents are both buried in Davie's Joppa Cemetery, but once he became an adult, Daniel Boone moved westward and never returned.

Also among the earliest settlers was Revolutionary War soldier Peter Hairston, who bought land for $8 an acre, promoted the Yadkin River for its navigation potential and later built Cooleemee Plantation that still exists. The Hairston family, at one time major slave owners, is still prominent with proud descendents, both white and black.



The first dwellers along the Yadkin described the land as the richest and most beautiful in the state. Some folks say that is still correct.

The area in the Revolutionary years was a hotbed of Tory support where some 800 soldiers favorable toward the British cause did what they could to keep the colonists from winning. Lord Cornwallis led his Army through the county in 1781. Once the war ended, the Tory faithful left the area, presumably for their own safety.

Davie was formed in 1836, carved from the western edge of Rowan County, and named for William R. Davie, a Revolutionary War hero who later was governor of North Carolina, minister to France and a leader in establishing the University of North Carolina. But that didn't happen without political turmoil.

Legislation to create the county, once threatened with defeat in the N.C. General Assembly, passed the state Senate by a single vote, 25-24, during the last week of December 1836. Even the county name was embroiled in political debate. Some lawmakers preferred to name the county in honor of Archibald Henderson, a Rowan County lawyer. But a Surry County lawmaker was said to have been angry with a Henderson relative and refused to vote to create the county if the Henderson name were chosen. His vote was essential for approval, so the name Davie was chosen.

Mocksville was named the county seat in 1839. The town's earliest ventures into the business world included gristmills, sawmills and 55 distilleries that produced 150,000 gallons of whisky every year.

Davie County has produced a number of celebrities who followed Daniel Boone. They include: Hinton Rowan Helper, an abolitionist author who was born in Davie and wrote an antislavery book that influenced the outcome of the Civil War. His fame was fleeting, however, and he died a suicide victim.

Peter Stuart Ney, Napoleon's close ally, was reportedly a schoolmaster in Davie in the 1830s, although some historians contend the man portraying himself as Ney was actually someone else. Joe Gibbs, former Washington Redskins coach and now a NASCAR team owner, was born in Mocksville.

Col. Thomas Ferebee, a Davie native, was the bombardier on the "Enola Gay" that dropped the first atomic bomb on Japan, leading to the end of World War II. Ferebee, a hometown hero following his military service, moved away after the war, but he maintained friendships with his former neighbors throughout his life.

That's the way it is with people in Davie. The ties that bind are strong and the roots in the community run deep, just like those four giant oaks.

Return to magazine index