Community Profile

Middle Ground

Randolph County knows the
proper balance between keeping
traditions and promoting growth

Learn more about Randolph County:
Pottery center, other attractions, boost tourism
Richard Petty races to help sick children


Right: The nationally known North Carolina Zoo in Asheboro is one of the state's top tourist attractions. Below, en employee operates machinery at Asheboro Plastics, which operates four Randolph County plans and has been cited at one of America's fastest growing companies.


If demographers were ever to succeed in shifting the boundaries that outline Randolph County even just a few miles, they would — figuratively speaking — tip the balance of North Carolina.

Randolph sits squarely in the center of the state, making it as convenient as it gets to touching the far-reaching stretches from Manteo to Murphy and points between. Not only that, but the county seat of Asheboro sits dead center of the county, having been established in its present geographic location for that specific reason.

If convenience, then, is one of the cornerstones of community cooperation and progress that the real estate industry representatives like to brag about, Randolph has dandy dibs on virtually all the competition. Business leaders and blue-collar workers who call Randolph home say that's just one of many attributes that abound in the county and its nine municipalities.

Asheboro and most parts of Randolph County are little more than 30 minutes from Greensboro, the closest major city, and no more than 90 minutes from the state's two largest cities, Charlotte and Raleigh. Highway improvements will cut some of those driving times to even less in future years.

"From here," says George Gusler, "I can put my toes in the sands of the Atlantic Ocean in the morning and be skiing or relaxing in the Blue Ridge Mountains in the afternoon. Not many places have that kind of convenience and accessibility." Gusler, executive vice president of the Asheboro/Randolph Chamber of Commerce, chose this area to live and work in community promotion and economic development after years in half a dozen other cities across the country. No community in which he lived, he says, is as pleasant or offers so many of the right things as Randolph County.

"This is just a great place to live, work and raise a family," Gusler stresses. "We have great schools that are innovative and forward-thinking. We are willing to just step out and make changes and be creative in how we educate our children, both in public schools and in our community college. Our crime rate is low. People from other places keep moving here. We are one of the fastest growing areas in the state because we are so close to so many things and places and the quality of life here is so refreshing.

"We are blessed with dedicated workers. People here have strong loyalties, both employees and employers. They appreciate each other and realize the benefits of good jobs and a growing economy. People here just get up in the mornings and go to work. You can train people to do certain functions of a job, but you can't train them to be dedicated and have the right attitude to be part or an organization. That's just part of the nature of people here. Folks here also just reach out to help each other. When there is a need, this is one of the most generous communities I have ever been associated with."



Growing Despite Tough Times

Randolph's population has climbed steadily in the past decade, rising from 110,000 to more than 130,500, even in the face of the economic slump of the last several years. The county's growth has outpaced the region since 1990 and several small municipalities in the county have seen population spurts in excess of 70 percent. Manufacturing jobs have fallen off, but new and expanded workforce opportunities in retail and service have resulted in overall increases in employment. The county had a labor force in excess of 69,500 at the beginning of this year, with an unemployment rate of 5.5 percent.

These positive changes haven't all come easily in light of the slumping state's economy so dependent on stagnant industries of textiles and furniture. Rather, they've been achieved through a determined economic development initiative and efforts among area industrial and business leaders and the local community college. Randolph's economic units function as a team.

New industry is worthy and essential for a thriving community, in the view of local economic growth officials, but success is more than just adding on. Existing industry, the backbone of past successes, is equally important. "Our purpose is to recruit new companies and to help them select our county as a choice location, but also to work with existing businesses and industry in ways to help create a competitive advantage so they can maintain and grow their businesses and remain profitable," says Bonnie Renfro, president of the Randolph Economic Development Corp.

The Randolph EDC, formed almost 20 years ago, was one of the first in the state to focus on existing industries. The formula seems to be working well. Employment opportunities have improved here in the last two years even as the number of manufacturing jobs has fallen by eight percent to 40 percent of the county workforce.

"We sell our location and some people come here because the area is so beautiful," Renfro says, echoing comments from Gusler at the chamber. "We're in the middle of the state, halfway along the Atlantic Seaboard. We have an excellent transportation system, roads and rails, and have convenient access to airports. The cost of doing business here is favorable. We have a good business environment and are obviously a place that works well with manufacturing because we have been successful. People here are used to that kind of environment and we get constant praise for our work ethic. We've had some losses in some job sectors in recent years, but the upside of that is that have added in other areas and still have a wonderful pool of available workers."

Economic bumps of the last few years also have brought out enhanced educational and training programs through cooperative public-private partnerships among leaders in business, the public sector and education. "Our community college is our very best ally," Renfro says. "The college is the reason some companies selected our county and why some have continued to be successful. We have partnered with the college from both ends, not just in training for jobs when new companies come but also taking it to the next level by creating programs that provide for displaced workers and young people looking for first jobs."

Richard Heckman, president of Randolph Community College, has more than just words to show the effectiveness of the campus programs aimed at fostering new and existing business training in the county. In 2000, the chamber chose the college as the county's outstanding business of the year for its efforts in job training. "Historically we have been tied to economic development," Heckman explains. "We see our traditional enrollment shifting to continuing education courses where we offer more rapid training as well as more flexibility. We are phasing out outdated programs and changing our curriculum to meet current needs."

The college, which had an 11 percent increase in enrollment last fall, now offers 22 associate degrees among its 2,200 full-time students and has courses in hundreds of non-degree programs. Many of the associate degrees are directly tied to market needs of some new industries that industrial recruiters helped bring to the county or to changing workplace needs of existing companies. Upwards of 10,000 students a year enrolled in at least one occupational extension class last year. Among the more recent degrees are those in radiology technology in partnership with hospitals in Randolph and Davidson counties.

Randolph Community College, located on 14 acres just off Highway 220 southeast of Asheboro, is in its 40th year of job training in the county. The school has 55 full-time faculty members with another 100 part-time instructors in specialty fields. The school has a satellite campus in the southwest community of Archdale. The college is rapidly expanding its online instructional courses and is focusing on strengthening its fund-raising and endowment efforts. "We change to meet the needs of our people," Heckman says. "We exist to serve the citizens and employers."


Industrial Park Opens

The county's EDC efforts, while based in Asheboro, are inclusive of the entire county, which covers approximately 800 square miles and includes the nine incorporated towns ranging from the 250 residents of Seagrove and 350 in Staley to 21,675 in Asheboro.

The EDC recently entered into industrial product development efforts by buying land and partnering with private developers to open a 130-acre industrial park with shell buildings available to prospective tenants. One building had been sold and one was on the market earlier this year.

The park is in Liberty, a town of 2,660, in the northeastern section of the county. The area has available rail, water, sewer and natural gas lines. The park is being developed with a federal Economic Development Agency grant that is matched by the town of Liberty.

The Archdale-Trinity section of the county also has reaped benefits from the county EDC successes. The largest single industrial development in 2002 in the county was the opening of the Thomas Built Buses plant in a joint effort with neighboring Guilford County. The plant literally is split between the two counties, half in Randolph and half in Guilford.

Archdale-Trinity also secured 400 new jobs last year when Sealy Mattress moved its headquarters to the community. "We're close to so many places that sometimes it makes it harder for us to draw new business," says Archdale-Trinity Chamber executive Beverly Nelson. "But we're growing, we have secured some new and expanding businesses and we see good things ahead as we plan for new endeavors to make our community even better." New projects include a YMCA, an upgraded municipal sewer system and a new community resource center to help citizens with human needs.

Randolph's economic growth efforts, in fact, stretch beyond the county line for things in addition to jobs. One example of regional cooperation is the development of the Randleman Dam, currently under construction, that will serve parts of Randolph and neighboring counties and be a major water source that will produce 10 millions a day. It also will be a recreational area for the entire Piedmont region. The dam itself will be in Randolph County, but the water reservoir will stretch over the county line and include a 3,000 recreational lake and water supply with a 6,000 buffer surrounding the lake.

"The dam is another great opportunity for our economy and our people," says Darrell Frye, a Randolph County commissioner and longtime community and regional development advocate. "This is just another way of showing we are being good stewards of our environment and economy. The best things about this area are our people and our work ethic that go along with our natural beauty. We benefit so much from where we are as well as the willingness of our elected officials to do the right things and stick to them."

Among the county's highlights and success stories, of course, is tourism. Randolph is home to the highly regarded North Carolina State Zoo and is home base for the state's pottery industry (with tourist and business benefits). The county has multiple museums, including the home of auto racing icon Richard Petty (see accompanying story).

A list of other successes, for current residents or future ones, should include an improving school system, enhanced healthcare and the ability to turn potential losses into economic and community gains.

One industrial success story lies inside the walls of what was once an abandoned hosiery mill on North Park Street. Keith Crisco and three partners pooled resources in 1986 to form a start-up elastics manufacturing company in that abandoned hosiery plant, despite naysayers who predicted a new company with so little capital and so few customers would never succeed in such an aging industry.

Crisco says they started at "ground zero" with no employees and no machinery. Crisco's partner, Warren Knapp Jr., told a textile publication recently that the business was built on faith, honesty and integrity.

Asheboro Elastics Corp. has been a success from the beginning and shows that perseverance pays off. Since its initial shipment in 1986, the company has received the Inc. 500 award as one of America's fastest growing corporations and now operates two plants in Asheboro and two in nearby Franklinville. It has distribution locations in the Dominican Republic, Honduras, Mexico, and Texas and has purchased an elastics plant in Pennsylvania.

"We think we've adapted well to the changes of a local world economy," Crisco says, "but we need to get better." Even as his own company thrived, Crisco is well aware that other manufacturers haven't been as fortunate as he has. He called the general economic slump of recent years a total manufacturing slump, not just a textile and furniture problem.

"There is no one panacea for existing problems," he says. "It will take leadership. We have (in Randolph) a high influx of locally grown people and leaders. We need a small business focus and need to use the resources we have on hand."

Among friends, Crisco uses a sense of humor to describe his elastics business, which employs 142 workers. "We say we are important to you," he says with a grin. "We hold your underwear up and keep the sheets on your bed." His company holds up a lot of underwear. Asheboro Elastics shipped 500 million yards of elastic material last year.

EDC president Renfro, who promotes annual tours to showcase local manufacturing plants, calls Crisco's company just one example of the ingenuity of Randolph leaders.


Doing More Things Better

Other examples abound of Randolph's ability to turn a sow's ear into a silk purse. The town of Seagrove, once home to Luck's Foods, lost 120 workers after ConAgra Grocery purchased the Luck's plant in 2000 and closed it last May. In early February, EDC officials announced that, with their help, Yankee Commodity Foods had purchased and will reopen the plant to create 94 jobs. Seagrove will use a N.C. Rural Center grant to purchase the plant's wastewater treatment system and will apply for a Community Development Block Grant on behalf of the new plant owners to finance upgrades to the sewer system to be operated by the town.

Yankee Commodity, which will operate a canned vegetable factory, plans to purchase fresh field crops from state and local growers, adding new markets to the local economy. "Yankee Commodity Foods in Seagrove is an exceptional project," Renfro says. "It brings needed jobs and investment to a small rural area, but also brings much more. "It's a catalyst for a new sewer system that will benefit Seagrove's pottery industry and will be a platform for future growth. And it brings new markets for North Carolina growers. It is truly a win win project."

Healthcare enhancements and educational advancements are also examples of how Randolph has moved forward in a changing economy to meet the needs of citizens.

"We are doing more things and doing them better," Randolph Hospital president and CEO Robert Morrison says. "We are in a growth trend because we provide quality care as good as any, we provide services that people need when they need it and we provide value by doing it all at the best prices. We are investing in physician recruitment and staff and are making constant process improvements."

The hospital represents an annual $77 million economic impact in the county and has added $65 million in capital improvements in the last decade. It also offers indigent care and in the past nine years has provided some $62 million in uncompensated care to local citizens.

Eighty-five active physicians serve Randolph Hospital, with a staff of 920 and beds for 145 patients. Another 41 consulting physicians, most who come from other medical facilities upon request, also assist with patient care. The hospital has a staff of five doctors who work solely with patients who have no regular family care physician, the first in the state to adopt that practice.

Improved care services added in recent years include cardiology, pediatrics, and medical oncology and an emergency room department. The hospital also partners with the county health department and the United Way in efforts at preventive health services. "Our citizens have a growing confidence in our facility," Morrison says.

High academic achievement is more than a goal in local schools; it's a habit. While raising test scores are important in the eyes of Asheboro Superintendent Dr. Diane Frost and her counterpart, Randolph Superintendent Dr. Robert McRae, they readily agree that a good education is more than that and involves more than just students. Both school systems have a high degree of parental participation and the total teaching efforts include the importance of student safety and family support.

Frost recently invited more than 375 members of the community to participate in a long-range planning process for city schools as a means of seeking new ideas that would help create the best schools possible. "Every year we want to examine ourselves and look at what we can do better and differently," she says. "Ninety percent or our graduates go to higher education, half of them to four-year schools. This speaks well of our system and our parents. We want to make continuous improvements in what we do." Success is apparent. The student dropout rate is declining, as are discipline problems, while classroom achievement and student self-esteem are rising.

McRae, whose school system is the county's largest employer, says his intent is to "do what it takes" to make schools better, including the continuation of parental involvement and rigorous academic standards to meet state goals and encourage total learning.

Randolph schools send 84 percent of their high school graduates onto higher levels of learning and last year the county's graduating seniors earned $6.2 million in college scholarships. Two city schools last year earned academic achievement recognition from the state as three others had done in recent years. Eighty percent of the students achieved proficiency in both reading and math last year. Two county schools earned state excellence awards and 10 others were labeled as schools of distinction.


Pro-Business Governments

Randolph County's record of achievement, growth and economic opportunity stretches to government as well as private industry. The county's credit rating has been increased twice in recent years, indicating a wise use of public monies. Further, government involvement in the local economy seems to be designed to make it easier for businesses to flourish in a friendly atmosphere. Tax rates are favorable, water supplies are ample or surplus and labor unions are virtually non-existent. Among Randolph's 370 manufacturing or distribution companies, not one is unionized.

EDC officials carefully screen economic incentive requests and approve them prudently. There was more than $33 million in new industrial development in the county in 2002 that added 550 new jobs. "We offer incentives, but sparingly," EDC president Renfro explains. "We are judicious and don't give away the store. We feel we make good, strong investments that best serve the public. We want to keep the tax burden as low as possible for everyone to share, just to make it easy to do business here."

Taxes in Randolph are relatively low, certainly below the rate in the state's larger counties. The county tax rate is 48 cents. No town in the county has a rate above 50 cents for each $100 valuation. Two towns have rates below 40 cents.

All these factors add to the healthy business climate in the county, but one little-noticed aspect of the economy is the importance of agriculture, which is a $188 million part of the county's economic base. The county leads North Carolina in beef cattle production, is second in dairy farming and third in poultry production. "Agriculture is a significant part of our economy," Gusler says.

That, too, also is beginning to change. Livestock extension agent Barry Foushee is seeing family farms that have existed for three or four generations slowly fading away as development continues and land prices rise. The average age of farmers is 55 and the next generations are looking to other forms of job security.

This is the pattern in other areas of the state as well, of course. Randolph, however, appears ready to adapt to the trend and has planned to meet the challenges. "We realize we are becoming a more diversified community," local banker and chamber president Richard Brooks says. "We want to expand, to build on our positives. We care about how we make changes and take the long term approach."

That seems to be the theme in Randolph, past, present and future. Given the county's location, you might say that theme is central.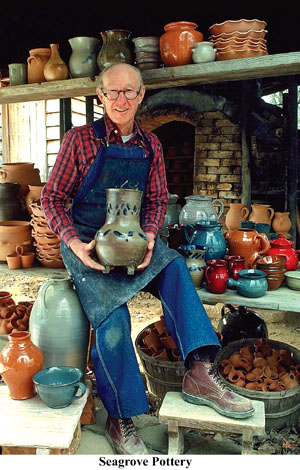 Come to See the Zoo But Why Not
Stay to See More, Including Whynot?
Below: Seagrove is famous for its potters and is home to the nation's only state pottery center

All roads in North Carolina don't lead to Randolph County, but a lot of them do. And soon better ones will, too.

It is a substantial and growing network of transportation links that have helped Randolph evolve into a thriving yet friendly and family-oriented community during the last century. The area has long been recognized as a hub of both highway and rail service because of its central location in North Carolina.

Good roads and geography, in fact, have been primary factors in the success of Randolph becoming a key component of the state's earned title of Variety Vacationland as a tourism haven.

Randolph is home to the North Carolina Zoo, one of the largest and arguably one of the best in the nation. The zoo, located on 1,400 acres with 500 acres for exhibits, drew in more than 700,000 visitors last year, easily the largest single attraction in the Triad section of the state. Zoo officials calculate that on average each visitor will have spent more than $50 while in the county, adding considerably to the local economy. Zoo business manager Mary Joan Pugh estimates the zoo has an annual $30 million economic impact on the Triad through recycling dollars from its $14 million budget and $8 million payroll and visitor spending.

The central location of Randolph County was one of the strong selling points in the state's decision to locate the zoo in the county. Politicians and other proponents argued successfully that easy access from various points across the state would be essential to the zoo's success. They have been proved correct, although a quality product has been as much of a crowd pleaser as convenience.

The county also is home to the Richard Petty Museum in rural Level Cross north of Asheboro. Thousands of racing fans visit the Petty facility each year, most hoping for a glimpse of the auto racing legend.

The state's high-quality pottery industry is based here, with approximately 100 potters in the county. A new privately supported Pottery Center displaying wares and history, with a focus on education and preservation, is a major tourist attraction.

There is a lot more to see and do in the county, almost everything just a short hop off a major highway. The county is home to the N.C. Aviation Museum, where all the vintage planes actually can fly, and the American Classic Motorcycle Museum that contains one of the South's largest and finest collections of antique Harley Davidsons.

The town of Liberty hosts a weekly musical jubilee. The Rand Ole Opry is a regular event for country music fans. The Goat Lady Dairy, much of it housed in 200-year-old buildings, is a tourist favorite. So is the Pisgah Covered Bridge, one of only two such bridges that survive in the state. Picturesque Tot Hill Farm Golf Club is one of the most talked about courses in the state — people visiting the county call the Tot Hill club and residential community, which is carved from a family farm, "spectacular."

The volume and variety of entertainment attractions in the county is causing tourism officials here to change their marketing strategy because they feel they have been shortchanging the county. There is too much here for a one-day trip, which has been the norm, so the tourist staff is working on adding visitor stays.

"We want to put heads in beds," says Tourism Development Authority marketing associate Tammy O'Kelley. The authority is funded by a local motel tax of three percent and the goal is to get more people to spend several days and nights in the county. Marketing plans include convincing tourists to spend one day at the zoo, another at other museums and musical events and perhaps a third touring the pottery centers.

"There is a lot here," O'Kelly says, "and most people who just come for a day don't realize all we have. The zoo is greatly underrated and our challenge is to give it the respect it deserves. In addition to the zoo, this is just a wonderful place to spend several days. It's the kind of place where you can just pull up at a traffic light and wave to other drivers even if you don't know them. Our goal is to package what we have in ways to promote the area as a friendly and warm weekend destination."

Randolph was in the top third of North Carolina's 100 counties last year in tourism traffic, ranking 22nd. That was up from 31st just one year earlier.

These many recreational and family amenities are all aided by the easy access of getting here. Highway 220 is a major thoroughfare leading from Virginia through the heart of Randolph toward the coast. Temporary Interstate 73-74 lead through the county. Highway 64 is four lanes heading east from Asheboro to Raleigh and will soon be four lanes heading west to Interstate 85 at Lexington. Planning is in the works to make Highway 49 four lanes from Asheboro to Charlotte. Rail service is abundant and three major airports are within roughly an hour's drive from any of the Randolph tourist centers.

Convenience has been a key to Randolph from its earliest existence. Early settlers — Scotch-Irish, German and English Quakers — were insistent on having things close by. The county was formed in 1779, carved from Guilford, when a handful of residents paid 10 shillings for two acres and erected the first public buildings. The county seat was located at the center of the county because people in the outer reaches didn't like to travel far.

The county is named for Peyton Randolph, a member of a prominent Virginia family and the first president of the Continental Congress. Asheboro was named in honor of Samuel Ashe, a distinguished soldier in the American Revolution.

The arrival of the railroad in 1889 was the beginning of the county's growth pattern. Textiles and furniture were the dominant industries, along with agriculture, from the 1950s through the latter part of the last century.

In the last two decades of the 1900s, new industry began to arrive, thanks again to easy access and an available labor force. Newer and larger industries now include Klaussner Furniture, Energizer Battery (formerly Union Carbide), Goodyear, Ramtex (fabric), Timken (roller bearings) and textile plants of Acme-McCrary and Sara Lee.

Part of Randolph's interesting folklore lies in the names attached to some of its towns and communities. The neighborhood of Erect got its name from a native of the area, who always stood tall and straight. Central Falls was named for a waterfall on the Deep River. Liberty was chosen because Union soldiers camped nearby during negotiations that helped in the surrender of the Confederate Army.

The best name, apocryphal or not, is attached to the community of Whynot. As the story goes, residents there argued long and hard one evening over why not naming the place this or that, without anything even close to agreement. That's when one weary fellow who was tired of the wrangling stood up and said "Why not name the place Whynot so we can all go home?" So they did. — Ned Cline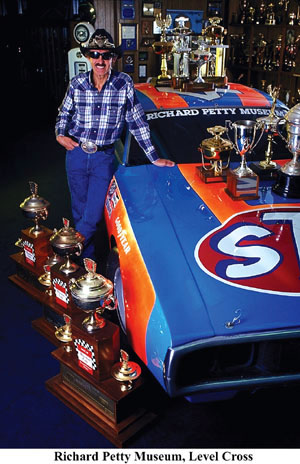 Richard Petty, a Local Boy Who Made Good,
Races to Complete Camp for Sick Children

When Richard Petty wraps his lanky body over the seat and arms of a chair and leans back, you know you're in for some telling tales. Chances are his syntax will be a bit fractured, but the result will be revealing and rewarding, especially if he's reliving a race track scenario.

Petty is the icon of auto racing, the poster boy for how to win races with a heavy foot and friends with a charming, country-boy personality. He's to NASCAR what Michael Jordan is to basketball and Babe Ruth was to baseball. Among his many victories on the fast oval or in the high profile field of marketing, however, nothing is more important to him than home. And to King Richard, Randolph County is home. "I reckon I've been about everywhere," Petty says, "but I never was anywhere that I liked as much as here. This is the best place for me to be. I can get to town (large cities) easy, but I like living here."

Petty is the kind of goodwill ambassador that any community would love to hire if it could afford him. He loves to promote the county's economic stability and quality of life for families.

The latest Petty project, however, may be one of his best. The Petty family is creating a camp for chronically ill children near the family home in rural Randleman, just off Highway 220, and a stone's throw from where Petty and his wife Lynda live.

Petty has donated some 80 acres of his farm property for this inspirational undertaking and he and his family are spearheading the fundraising campaign with a goal of $24 million — half of it already committed — for the camp to be open by June 2004.

The facility, named The Victory Junction Gang Camp, has a specific mission of enriching the lives of children with chronic or life-threatening illnesses by creating a camping experience that will be memorable, exciting, fun, empowering, physically safe and medically sound.

Petty's son Kyle and his wife Pattie conceived the idea of a camp for ill kids after visiting one in Florida started by actor Paul Newman. They enlisted the willing support of Richard and Lynda Petty in the project.

The camp — free to participants — will accommodate up to 125 chronically ill children each week during summer months and will be fully staffed by physicians, nurses and others to serve in the absence of parents. Parents will not be permitted to stay at the camp while their children are there, because they need the rest and won't be needed, but the camp will also have facilities for parents and children to stay together on the site at other times.

The county's tourism authority is planning events for parents while their children are attending the camp and the staff at the N.C. Zoo is scheduling educational programs for campers.

The camp idea was formed several years ago, but was put on hold for a year following the death of Richard Petty's grandson, Adam, in May 2000 in a race track crash. Adam, son of Kyle and Pattie, was 19 when he died.

The Pettys then decided to move forward with the camp in memory of Adam, who had been supportive of the idea. "I just knew it was the right thing to do, to create this camp and to help children," Pattie Petty says. "It will be a place of love where everyone heals. Adam was all about having fun and that's what this place will be for every child who comes into the camp."

Kyle Petty offers similar thinking, alluding to his son's death. "Our loss was so sudden, you didn't have time to prepare for it," he says. "I find these (ill) kids and their parents to be some of the strongest people I've ever dealt with. They are dealing with life and death every day."

Children will be chosen based on certain criteria, including severity of illness that prohibits attendance at any other camp, the need for complex medical care and the mental ability to participate and benefit from the camp program. Children aged 7 to 15 will be eligible. The camp will serve children with multiple diseases relating to asthma, cardiovascular problems, cancer, sickle cell, kidneys, HIV/AIDS, genetic disorders, diabetes, epilepsy and spina bifida. Parents or others interested in learning more about the camp and its program can get details at camperapplication@victoryjunction.org or writing to the camp at 311 Branson Mill Road, Randleman, N.C. 27317

Richard Petty calls the camp just one of the things his family wants to do to give back to the county. "It's just something we thought would help, to give parents of these kids a week off, all free to them," he says. "We're part of this community and it's part of our upbringing. We just wanted to give something back, to do what we can."

This is the kind of giving that any community would appreciate. While Petty's involvement will doubtlessly help the camp succeed, without him it wouldn't have become a reality. This is just the latest in a series, albeit one of the best, of his gifts to the place he loves to call home. — Ned Cline

Return to magazine index