When it comes to his vision for what North Carolina's Research Triangle Region ought to be in the 21st Century, Charles Hayes isn't given to minimizing expectations. "Our goal, quite simply, is to be No. 1 in the world," explains Hayes, president and CEO of the Research Triangle Regional Partnership (RTRP), a public-private entity that markets the 13-county region.

In drawing new companies to the region and helping foster the success of those already there, Hayes and other leaders aren't vying against other North Carolina communities or even neighboring states. "We're competing with (high-tech, high-growth areas) like San Jose, Austin and Boston," he says. "What's more — we're winning."

Stretching from the Virginia line to the Sandhills, the Research Triangle Region is far more than the 7,000-acre technology park that sits between Raleigh, Durham and Chapel Hill. But it is not inaccurate to suggest that Research Triangle Park, home to 45,000 professional-class jobs, remains the region's vortex — and inspiration. The transformation of the once staid pinelands into a technology Mecca that has drawn industrial titans like IBM, GlaxoSmithKline, Cisco, Nortel, Bayer and others is a success story that continues to capture the imagination of many around the world.

Accolades continue to rain down on the park and the region. In 2003, for the second straight year, Raleigh-Durham-Chapel Hill earned the top spot on "America's Best Places to Live and Work," an annual ranking by Employment Review. It took No. 3 honors in Forbes' list of best places this year. Organizations ranging from the Brookings Institution to AARP have praised the region for its commercial appeal and livability.

Those in the site-hunting trenches don't dispute the media superlatives. "The region has a worldwide reputation," according to Dennis Donovan, director of global site selection for the Wadley Donovan Group in Edison, N.J. The company, now part of Grubb & Ellis, advises corporations on location and relocation matters. "Japanese and Europeans view the region very favorably for its quality of life and business climate."


Charting a Global Strategy

Despite a storied past and an enviable present, regional leaders are not standing still. Far from it. They've gathered top minds from across business, academic and nonprofit circles in an effort to chart out a strategy for making the Research Triangle Region better still, ensuring its continued dynamism into the next 25 years. They hope to grow jobs in the core urban communities, as well as in rural counties stung by structural economic dislocation.

"Our past success does not ensure continued prosperity down the road," says RTRP's Hayes, whose partnership organized a 36-member Future Competitiveness Task Force to identify target industries for the region along with recommendations for cultivating them. The group began meeting in early January, issuing its report last month. Its task was to maintain the momentum derived from a mammoth study conducted in the region two years ago by Michael Porter, a Harvard Business School professor whose name has become synonymous with the "clusters" theory of regional economics. Porter's paradigm stresses the vertical and horizontal synergies that can be sparked when companies in related industries are grouped in convenient proximity to each other.

The Porter study, while seizing the attention of the region's top leaders, didn't hint at what the most promising clusters might be in the near future. Nor did it include any hard advice on what the region could do to position itself for future prosperity. That's where the task force comes in. "We've had terrific participation," says former Gov. Jim Hunt, chairman of the task force, which reads like a "Who's Who" of regional and state leaders. "Our plan will identify the ideal clusters and the conditions necessary for growth and progress."

In issuing the task force its charge, Hunt suggested they act as though they had to develop Research Triangle Park all over again. "We wanted to really throw ourselves into this process," according to Hunt. He is encouraged by the collaborative spirit he has seen among the group's disparate members, which must be sustained if the region is to succeed with its clusters strategy. "They've worked without turf issues coming up," he says.

Collaboration is a major part of the Triangle region's new leadership lexicon. While the region doesn't suffer the level of parochialism that plagues some hyphenated markets, facilitating cooperation and coordination between Raleigh and Durham, its two primary municipalities, takes work. Toss in the region's 40 or so smaller cities and towns — ranging from button-downed Smithfield to tie-dyed Chapel Hill — and the challenge of arriving at a unified vision becomes evident.

But it can also be an asset. "We're a family of communities," says Harvey Schmitt, president of the Greater Raleigh Chamber of Commerce and a member of the task force. His organization's research found that business people in the area appreciate the diverse and distinct character of the region's communities. "Just because our last name is 'Triangle' doesn't mean every community here has to have a single personality," says Schmitt, who has led the chamber for the past decade.

Carrying the family metaphor a step further, Schmitt describes the Future Competitiveness initiative as a valuable dialogue about the direction of the family business. "We can disagree on many points, but we share a common commitment to the survival of the family business," says Schmitt. During the go-go years of the 1980s and 1990s, the region's feverish growth provided little incentive for individual economic development programs to pool strategies and resources. Today's economy is different. "What we're really talking about is getting a shared sense of direction and a shared sense of purpose," Schmitt says. "And I think everybody's very open to that."

Weaving together economic development strategies is only one example of how Raleigh, Durham and neighboring communities are putting provincial interests aside to solve common problems. YMCAs in Durham and Wake counties merged last year, and the region now has a single United Way. Chamber of commerce officials from Raleigh, Durham, Chapel Hill and Cary meet quarterly to discuss common problems and opportunities. "We're not talking mergers yet," says Peter Anlyan, chairman of the Greater Durham Chamber of Commerce, "but we are comparing notes on all things regional."

Anlyan, a real estate executive with Capitol Broadcasting Co., has watched as regional thinking has evolved and hopes the momentum can be maintained. "It used to be 'us' and 'them'," the Durham native recalls. "It's all 'we' now." A member of the task force, Anlyan hopes the Future Competitiveness effort can find effective ways for urban and rural communities in the region to build synergies with each other.


Strength in Rural Counties

It is understandable that many would think of the Research Triangle Region and envision only high-tech office parks and leafy suburban neighborhoods. Parts of the region, however, are dogged by plant closings, job losses and eroding tax bases. In August of this year, for example, the unemployment rate in Vance County swelled to14.5 percent. But the steady stream of bad economic news actually has helped the task force get focused and remain committed. "As the weeks and month unfolded since January, attention of business leaders has been riveted as we see more and more jobs leaving not only North Carolina, but the shores of the United States," says Molly Broad, president of the University of North Carolina System and a chief organizer of the task force.

Broad, an economist by training, says the task force is focused on improving economic prospects across the entire region, not just the urban core. Rural counties have an important place in the clusters methodology, she says. A rural development working group, one of six panels organized by the task force, surveyed business, education and community leaders from the region's rural communities in an effort to assess human, financial and infrastructure needs. Its findings will become part of the task force's ultimate recommendations.

In addition to the task force's plans for cluster development, five rural counties in the region are working to build a "mini hub" that would leverage proximity to Research Triangle Park in channeling job growth into more remote communities. Leaders in Frankin, Granville, Person, Vance and Warren counties are narrowing down a list of sites to one that might be the ideal location to pool resources for a "mid-tech" commerce park.

"The mini-hub idea had been discussed inside and outside this region for years," says Michael Luger, director of UNC's Office of Economic Development and author of a recent study that found the idea has merit. By sparking a "secondary growth impulse" elsewhere in the region, the mini-hub would not only replace lost textile and tobacco jobs with more promising opportunities, but also alleviate growth problems in urban counties, Luger explains.

"This isn't going to be a quick fix," says Neil Mallory, executive director of the Kerr Tar Regional Council of Governments, which is lending organizational support for the initiative. "It's a long-term solution. It's important that everyone understand that this won't provide jobs here next month or new tax base next year."

"The closer we get to site selection, the more details we have to tackle," says Ronnie Goswick, economic development director in Franklin County. Aside from identifying physical space for the mini-hub, project leaders must also agree upon its functional mission and then hone a marketing strategy. To do that, Kerr Tar officials will look to the recommendation of the Future Competitiveness Task Force. "If we play our cards right, the clusters study will help us identify our strengths and weaknesses and zero in on the right industry group," says Goswick.


Universities Join the Team

Support from UNC's Office of Economic Development on the mini-hub effort is just the latest sign that the region's colleges and universities are assuming a central role in positioning its economy for success in the Knowledge Age. Along with research assistance from Luger and his colleagues, the Future Competitiveness Task Force has enjoyed considerable technical and organizational support from consultants with the North Carolina Small Business and Technical Development Center (SBTDC), a unit of the university system.

"One critical decision of the task force was to build an analytical capacity here in North Carolina instead of hiring an outside consulting firm to come in and help us," Molly Broad explains. With groups such as SBTDC and Research Triangle Institute involved in the strategic planning process, other regions in the state can benefit from their experience and expertise in launching their own cluster-based initiatives. "The UNC System feels a special responsibility to play a leadership role in the state's economic transformation," Broad says.

The region's three research universities, along with North Carolina Central University, Campbell University and a host of smaller institutions, always have been a prominent feature of the region's economic landscape. IBM Corp., RTP's first and largest tenant, counts more N.C. State University graduates among its global workforce than any other source, according to Barry Eveland, senior state executive at IBM. "One of the reasons IBM came here was access to research universities," explains Eveland, whose first posting to the region came in 1970. "We have close ties with all three universities," he says, pointing to a list of sponsored research programs and leadership exchanges.

Eveland, currently first vice chair of NCCBI, is a member of the Future Competitiveness Task Force, along with top executives from the region's other major technology firms. "It's been a good discussion of the right issues by the right people," he says. His company, which employs 13,500 throughout the region in a variety of engineering, product development, marketing and consulting positions, offers tangible evidence that the clusters theory has merit. "We've got strategic relationships with Nortel, Cisco, SAS and Red Hat, among others here," Eveland says, "and many of the park's tenants are our customers, too." What's more, a critical mass of technology firms and professionals helps IBM in recruiting, hiring and skills development. "Many of the benefits of being here are in the exchange between employees of different companies," he says.

In decades past, the region's excellent higher education helped obscure nagging weaknesses in its elementary and secondary schools. Not anymore. "K-12 education is not an issue we run away from at all," explains Ted Abernathy, executive vice president at RTRP. He points to data showing public school systems in Raleigh and Durham outperforming those in comparable cities such as Austin, Nashville, Tampa and Richmond.

Qualitative improvements in the region's public schools have not gone unnoticed by top site selection professionals. "From everything we've heard, the school systems there are very good," says Mike Henderson, a Manhattan-based consultant with Cushman & Wakefield, a corporate real estate services firm with clients worldwide.


Improving Amenities

Overall, the Research Triangle Region is viewed favorable by global industry leaders, Henderson says. "It's always been a great location to investigate for any number of projects." When compared to other top business destinations, the region's affordability, fine workforce and strong transportation infrastructure stand out. The availability of quality housing at reasonable prices is something Henderson's clients like about the region, along with modest commute times. On the flip side, he does hear occasional grumbling about the inconsistent passenger service available at RDU airport. "Air service has always been an up and down thing in Raleigh," Henderson says.

But few complain about RDU's central location or its competitively priced fares. "People from as far away as Charlotte, the coast and southern Virginia will drive here in order to fly out of RDU," according to Mindy Hamlin, communications manager for the Raleigh-Durham Airport Authority. Ironically, the airport's on-again, off-again hub status has helped keep fares in check. With the exit of major players like American Airlines, which abandoned a regional hub strategy that included a major role for RDU, and Midway, which faced serious financial woes, a handful of other carriers have stepped in to vie for routes and local marketshare. Currently, 16 carriers offer 204 daily non-stops from RDU to 38 destinations.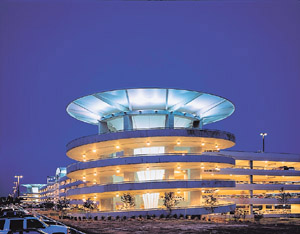 "We know we need non-stop service to Denver and San Jose," Hamlin says. Authority officials are working with chamber leaders and RTRP staff in convincing an airline to restore those routes, which were lost in the wake of Midway's restructuring, and launch service to cities in Florida and Germany. The airport is also completing a major expansion of its parking garage (left), which now offers 11,000 spaces within walking distance to its terminals. Responding to user surveys calling for better retail and dining choices, the airport created space for 35 new vendors in 2001, just in time to accommodate the passengers needing to arrive earlier to clear beefed-up security. "We listen to our business community and do our best to meet their needs," Hamlin says.

Across the board, business officials remark positively about the sincere interest they receive from government entities in the region. When human resource officers at Bayer Corp., Novo Nordisk and Fresenius Kabi were asked about their future needs by economic development leaders in Johnston County, they answered with industry research forecasting significant new demand for workers with specialized life sciences training. Soon thereafter, an assortment of local, county and state officials began working with the three companies on plans for a 30,000-square-foot training center that would be convenient to their Clayton plants. "Our people have had input into the facility's physical and curricular design," says Neil Coles, a business development liaison with Fresenius Kabi, a German-based contract manufacturer employing 120 in the community. Set for completion by fall 2004, the workforce center will offer special life sciences classes for high school students, two relevant associates' degrees and upper-level undergraduate coursework in chemistry.

"The way the state is involved with business is very unique," says Lin Wu, president and chief operations officer at Fresenius Kabi. Since arriving in the region in the spring of 2002, he has taken advantage of programs at the North Carolina Biotechnology Center and the Council for Entrepreneurial Development (CED). Wu, who previously has lived in Canada, Seattle, Philadelphia and Salt Lake City, says he has seen nothing that compares to the support resources he has access to in the Triangle Region. The quality and loyalty of his workers, whose average tenure is 10 years, helps make the Clayton facility one of the companies most productive.

But the region also offers a livability that cannot be easily replicated elsewhere, Wu says. He and his family regularly take advantage of their close proximity both the beach and mountains, enjoy the numerous Broadway shows making their way to Raleigh's BTI Center for the Performing Arts and frequent the Streets of Southpoint, the airy 1.3-million square-foot retail and entertainment complex in Durham. "We enjoy living here more than any place we've been," Wu says.

With recreational amenities stretching from Warren County's Lake Gaston to equestrian tracks and golf courses around Pinehurst and Southern Pines, the Research Triangle Region's quality of life cannot be overlooked. Outdoor attractions are complemented by a rich calendar of artistic and cultural events to suit any taste. Fans of minor-league baseball, NHL hockey and NCAA athletics of all kinds — particularly football and basketball — have no trouble finding something to get excited about.

"When people come to the region, we take them to Pinehurst," says Monica Doss, president of the Council for Entrepreneurial Development (CED), which sponsors venture conferences and networking programs in support of high-growth firms in the region. "That's a first-class recreational area."

The chance to relax, reflect and absorb history is the reason thousands flock each year to Warren County, at the region's northern extreme. Visitors from inside the region and beyond enjoy Lake Gaston, tour picturesque 19th century homes in Warrenton, a one-time haven for wealthy planters, or browse the county's burgeoning roster of antique shops.

Stung by losses in textile losses, Warren County is eager to see regional development initiatives like the Future Competitiveness Task Force and Kerr-Tar Mini-Hub take flight, though results are unlikely to occur overnight. "These are long-term ventures," says Allen Kimball, executive director of the Warren County Economic Development Commission. "All of us want to jump right in and make this happen immediately," Kimball says. "But it could take years." See page 26.

Nonetheless, Warren County, one of the state's least industrial communities, has an important place in the region. Kimball would love to see Triangle tech firms create satellite outposts along Lake Gaston to take pressure off the numerous creative-class professionals who live in the county and make the hour-long commute to Raleigh-Durham. Such facilities could also accommodate city-based workers craving a temporary change of scenery. Explains Kimball: "The core can provide the jobs, but the outlying counties offer the quality of life and a place to relax."



Downtown Redevelopment Gives Region a New Buzz
Progress Energy is constructing Progress Plaza (above left) in downtown Raleigh, while downtown Durham is undergoing the largest historic preservation project in the state with the American Tobacco Campus (above right) across from the Durham Bulls Athletic Park.
When comparing the Research Triangle Region to destinations such as Phoenix or Atlanta, visiting industry leaders are occasionally thrown for a loop. "We've had clients visit us and say they're impressed with what they've seen, 'but where's your downtown'?" says Ted Abernarthy, executive vice president of Research Triangle Regional Partnership. "The problem is we were sitting in the middle of downtown."

In today's "creative class" economy, with youthful technophiles breaking for lattes and coffee house gossip between projects, a vibrant city center is a definite plus. That helps explain the noisy din of construction activity in formerly docile downtowns in Raleigh and Durham.

Restoration and redevelopment of the Bull City's American Tobacco Campus is currently the largest historic preservation project in North Carolina, according to Bill Kalkhof, president of Downtown Durham Inc. "This is the tipping point in a positive direction for downtown Durham," Kalkhof says.

During the first phase of its transformation, the historic site, which sits across the street from the Durham Bulls Athletic Park, is being remade into 470,000 square feet of office, retail and restaurant space. Leading the $100 million effort is Capitol Broadcasting Co., owner of the Durham Bulls. Plans call for GlaxoSmithKline to occupy 90,000 square feet of space in the campus's Crowe and Fowler buildings. Compuware, a Detroit-based software services firm headed by Carolina Hurricanes owner Peter Karmanos, will move into a 50,000-square-foot portion of the Fowler Building. McKinney + Silver, the 140-person advertising firm now based in Raleigh, will relocate its headquarters into a 43,000-square-foot space in the site's century-old Reed Building.

Plans also call for Duke University, a key player in the venture, to move 1,400 of its employees to the America Tobacco District, which is a legacy of Washington Duke's cigarette production empire. Most of those jobs will be medical center personnel and staff of the university's Office of Information Technology, according to Peter Anlyan, general manager for Capitol Broadcasting's Durham real estate operation. "Duke was there from Day One," says Anlyan, who also chairs the Greater Durham Chamber of Commerce. "They were a lynchpin."

Anlyan, a Durham native, remembers the energy that once lived in downtown Durham: department stores, pharmacy lunch counters, Amos and Andy hotdogs and the ubiquitous aroma of cured tobacco. "I hope we can bring some of that excitement back," he says. The first phase of work at American Tobacco is set for completion by spring 2004 — in time for baseball season.

Raleigh is undergoing a similar downtown renaissance, driven along by the leadership of another of the region's most prominent corporations, Progress Energy. Now under way is construction of two mixed-use towers that will enable the company, which now leases office space across four downtown buildings, to consolidate its 2,300 Raleigh employees under a single roof. But the complex also will include 25,000 square feet of retail and restaurant space. Progress Energy's mixed-use towers are the latest evidence of a new buzz in downtown Raleigh that has included the opening of the BTI Center for Performing Arts, three new museums, several multi-unit residential buildings and a rejuvenated Glenwood South.

"The key to any successful downtown initiative is a good, strong public-private partnership," explains Harvey Schmidt, president of the Greater Raleigh Chamber of Commerce. "Someone has to lead, and Progress Energy has done that." -- Lawrence Bivins





Wealth of Female Leaders
Enriches RTRP Region

Gaze out at the faces comprising the Research Triangle Region's Future Competitiveness Task Force and listen for a while. Something soon strikes you. Much of the region's most forceful leadership is now coming from the ranks of women.

"This region has always enjoyed strong leaders," says former governor Jim Hunt, chair of the Task Force. "But clearly many of the most innovative ideas about what we need to do and how to accomplish it are coming from women leaders." Hunt credits UNC System President Molly Broad (left) and Duke University President Nan Keohane for much of the progress made by the task force over the past year. "They've actively positioned the region's universities to be partners and participants in this process." The increasing prominence of women among the region's leaders bodes well for the future, Hunt believes. "Leadership in the coming years will involve networks of diverse people," he says.

Having so many women in leadership roles sends a positive message about the region to the rest of the world, according to Joan Myers, president of the North Carolina Electronics and Information Technology Association (NCEITA), an increasingly visible industry group based in Raleigh. "It's a sign that the region embraces the best possible people for the job," Myers says. The region possesses one of the nation's most respected technology advocates in Marye Anne Fox, chancellor of N.C. State University. Fox, a member of the Future Competitiveness Task Force, serves as a science and technology adviser to the Bush Administration, among other national roles.

Last year, when Leslie Alexandre pondered her interest in the top position at the North Carolina Biotechnology Center, she carefully weighed the potential obstacles that might arise for a woman in that position. "Then I looked at the center's board list and was impressed," recalls Alexandre, who previously divided her career between Boston, California and Maryland. The list included female CEOs with several of the region's top life sciences firms. "It was instantly clear to me that there were no barriers to women here," says Alexandre. Despite their reputation for being fervently liberal environments, places like California lack the cadre of vocal female leaders that Alexandre has found here. "I think it speaks very well of North Carolina," she says.

The value of the region's female leaders is far more than simply promotional, says Broad. "They're bringing talent, experience and a commitment to collaboration," she says. While many people coming to the state are surprised to see so many women in prominent positions, Broad says the pattern is consistent with North Carolinians' innate decency and receptiveness. "There is a tradition of civility here that makes it easier for women to sit side-by-side with men and not feel incompatible," she says. — Lawrence Bivins



Stellar Cast Composes Task Force

The Future Competitiveness Task Force was formed in the fall of 2003 by the Research Triangle Regional Partnership to to identify target industries for the region along with recommendations for cultivating them. Chaired by former Gov. Jim Hunt, now of Womble Carlyle Sandridge & Rice, its mission "is to translate and amplify studies into a new strategic economic vision for the Research Triangle Region; to develop a tactical action plan to ensure future economic growth and a rising standard of living; and to create a template that can be used by other areas in North Carolina."

The 36 members of the Task Force, many of whom are NCCBI board members, are listed alphabetically below, with their employer, if applicable, in parentheses:

Leslie Alexandre (N.C. Biotechnology Center); James Ammons (N.C. Central University); John Atkins (O'Brien Atkins); Molly Broad (UNC System); Shauneen Bruder (RBC Centura); Bill Coley (Duke Power); Pat Corso (Pinehurst Resort); Fred Day (Progress Energy); Barry Eveland (IBM); Marye Anne Fox (N.C. State University); Kip Frey (InterSouth Partners); and Dennis Gillings (Quintiles Transnational).

Also, Jim Goodmon (Capital Broadcasting); Jim Goodnight (SAS Institute); Bob Greczyn (BCBSNC); Andrea Harris (N.C. Minority Institute); Victoria Haynes (RTI International); Jim Hyler (First Citizens Bank); Bob Ingram (GlaxoSmithKline); Nan Keohane (Duke University); Martin Lancaster (N.C. Community College System); James Moeser (UNC-Chapel Hill); William Muse (East Carolina University); and George Perkins (Frontier Spinning).

Also, Frank Plastina; Hal Price (Biogen); Orage Quarles (News & Observer); David Rizzo (MCNC); Jim Roberson (Research Triangle Foundation); E.C. Sykes (Flextronics); Raymond Stone; Matthew Szulik (Red Hat); James Talton (Impact Design-Build Inc.); Krista Tillman (BellSouth); Max Wallace (Cogent Neuroscience); and Lee Yarbrough (Novozymes North America Inc.).




Looking 'Round

the RTP Region
Each of the 13 counties in the Research Triangle Region brings unique assets to the table, as captured by artist V. Cullum Rogers in the cover illustration for this special section. He personified the counties this way: Starting from the lower left and working more-or-less rightward and upward, in Moore County (1), a golfer lofts a drive down a Pinehurst fairway. Charham County (2) is famous for Fearrington Village's distinctive Oreo cows. In Lee County (3), a lab-suited Wyeth Vaccines technician holds a vial. In Harnett County (4), a climber scales a rockface at Raven Rock State Park. In Orange County (5) a Carolina student reads a book while sitting atop UNC's Old Well. In nearby Durham County (6), a Duke Blue Devil wears a doctor's coat at Duke Hospital. In Wake County (7), the RBC Center welcomes sports fans. In Johnston County (8) busloads of tourists pile into the Carolina Outlet Center beside I-95. In Person County (10), a GKN Automotives worker makes car parts. In Granville County (11), a lion drives a forklift at the big Food Lion distribution center. In Vance County (12), a sailboat glides across Kerr Lake. In Warren County (13), a couple canoe on Lake Gaston. Interstate I-95 forms the region's eastern border, while I-40 and I-85 bisect the RTRP.