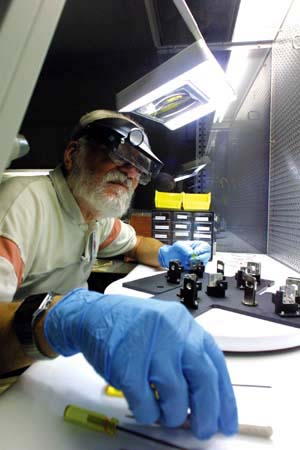 I
n the land of North Carolina's tallest office towers and its largest business centers, bankers count their assets in trillions, local celebrities drive the fastest cars (NASCAR) and the preachers take their message well beyond the church doors (Billy Graham).

Yes, Charlotte and Mecklenburg County have all of the ingredients of a major metropolitan center. Charlotte is second only to New York as a major financial center, and seven Fortune 500 companies now make their homes here. The powerful economic engine that is Charlotte created almost 80,000 jobs over the past 10 years.

Beyond the big numbers, Charlotte still has a friendly atmosphere, where a stranger is just as likely to ask you where you attend church as for directions to the shopping mall.

There's a special sense of community at work in North Carolina's biggest city that has led Charlotte on a path to become a dramatic example of all that the New South has to offer.

"I tell people who are considering moving here that Charlotte has a small-town feel yet all of the attributes of a large city," says Graham Denton, North Carolina state president of Bank of America and second vice chair of NCCBI. "It's also an open community with newcomers encouraged to take an active role, not just people who've been here a long time."

There is a strong philanthropic ethos, with the tone set by those at the top. Charlotte's gleaming center city — that's downtown to those not from here — is in part attributed to the vision of former Bank of America chair and CEO Hugh McColl Jr. McColl used his influence and his bank's money to build a place where businesses wanted to locate and people wanted to live. Venerable retailer John Belk, whose family department store is a North Carolina icon, was elected to four terms as Charlotte's mayor in the 1970s. His vision, in part, led what was Douglas Municipal Airport on a path to become one of the nation's busiest.

Today, that tradition is still carried on by Ken Lewis, CEO of Bank of America; Ken Thompson of Wachovia; Ruth Shaw, president of Duke Power; and others who lead their enormous corporations while also leading the boards of such organizations as the United Way of Central Carolinas and the Charlotte Chamber of Commerce.

"My predecessors taught me that we welcome everyone with open arms," says Pat McCrory, Charlotte's mayor for the past nine years. "But we tell people once the come here they have to get involved. You can't just come here to make money."

The spirit of giving back extends beyond the city's business brass to its citizens who have provided the manpower to accomplish some amazing tasks. Mecklenburg County hosts the largest Crop Walk in the country and is home to one of the biggest chapters of Habitat for Humanity, which has built more than 500 houses in 18 years.

"Clearly our strengths include the pro-business environment, coupled with the fact that Charlotte is the most caring community I've ever lived in," says Tony Zeiss, president of Central Piedmont Community College, who has lived here 13 years.

Says Krista Tillman, North Carolina president for BellSouth, "In a large city people can hide and stay on their campus. Charlotte has a way of reaching out and insisting that you get involved."


Fifth Largest Urban Region


If you look at a map of Mecklenburg County, it looks a bit like a wheel, with Charlotte's central business district — known as center city — at the hub.

Charlotte is at the center of the nation's fifth largest urban region with 6.8 million people within a 100-mile radius of the wheel's hub, though the city itself is mid-sized with a population of almost 600,000.

Charlotte takes up most of the land of Mecklenburg County, which has a total population of just over 800,000, including the city. Ringing Charlotte are the county's six other incorporated towns of Pineville, Huntersville, Cornelius, Davidson, Mint Hill and Matthews.

Charlotte owes its name to German-born Queen Charlotte, wife of England's King George III; the county takes its name from her birthplace of Mecklenburg. Legend has it that locals chose the names in hopes of smoothing tense relations with the king over taxation.

But Charlotte had an independent streak from the start and became the first town and county in the nation to declare itself free and independent of England. That independent spirit continues today.

Fortune 500 Companies
Headquartered in Charlotte


Rank


Company

Revenue
($ millions)

20
Bank of America

$45,732.0

60
Lowe's*

26,490.9

70
Wachovia Corp.

23,591.0

118
Duke Energy

15,663.0

253
Sonic Automotive

7,414.6

328
SPX

5,045.8

342
Nucor

4,801.8

385
Goodrich Corp.

4,199.7

388
Family Dollar**

4,162.7

Source: Charlotte Chamber of Commerce data as of 2003.

*Lowe's is included due to its plans to relocate its corporate headquarters to Mooresville. Lowe's is not counted when ranking Charlotte against other cities.

**Family Dollar's headquarters is in Mecklenburg County but not within city limits of Charlotte. Family Dollar is not counted when ranking Charlotte against other cities.
"We don't have a legislature bragging about us. And South Carolina sees us as competition," says Charlotte Chamber President Carroll Gray. That sense of standing alone has pushed Charlotte to stand tallest. There's something alluring about a city that attracts 50,000 new residents every year.

The region grew up around the crossroads of two Indian trading paths known today as Trade and Tryon streets, the intersection everyone knows as The Square. Fittingly, that's where Bank of America's 60-story tower now rises as a symbol of the New South's rise in commerce.

Uptown Charlotte evolved over the past decade from a strictly 9-to-5 business center into a vibrant place for living, eating, shopping and world-class entertainment. Public and private investment in the center city has been astounding, with $500 million in projects under construction now. They include a new NBA basketball arena, a new county courthouse and parking garage, a new children's library and theater, and numerous other projects.

Not just a place to work or go for entertainment, Charlotte's center city has burgeoned with homeowners over the past decade, growing from 5,500 residents in the mid-1990s to more than 8,500 today. Uptown neighbors range from NASCAR star Jeff Gordon and Bobcats owner Bob Johnson, who live in million-dollar condos, to first-time homebuyers who've purchased more modest lofts in the growing Garden District.

Living in uptown is all the rage, and the trend continues. A new 16-story condo tower called Courtside, located near the NBA arena, has already nearly sold out, as has The Park, a 21-story building being planned with 107 units.

Center city, the nexus of Charlotte's business community, also provides its arts and entertainment district and its government core. "A strong center city is critically important to the growth of the area," says BellSouth's Tillman, who is a board member of Charlotte Center City Partners, a spin-off group of the Charlotte Chamber that advocates uptown growth. "If you think of the region as a wheel, center city is the hub, and as the hub gets stronger the spokes get longer."

One of the center city's most recent achievements is the opening of Johnson & Wales University, a prestigious culinary and business school that has turned out chefs such as Emeril Lagasse.

With an $82 million investment, the school opened its Charlotte campus in September. Outpacing expected enrollment, it interjected the energy of thousands of college students into the uptown's pin-stripped business environment. By 2007, JWU is expected to enroll more than 4,000 students.

JWU came to Charlotte after announcing two years ago that it would close campuses in Charleston, S.C., and Norfolk, Va. Food service company The Compass Group contributed at least $12 million to attract the school to Charlotte, while another $17 million came from public incentives.

"We recognized a few years back that to be a top-notch city we needed a university uptown," says Tillman. "It was quite fortuitous that at the same time we recognized the need Johnson & Wales was looking at moving their campus. Having college students in the city means that many more pizza parlors and laundromats. There's a liveliness that comes from their 24/7 presence."

Office development in uptown has been brisk — to say the least — over the past decade. The Hearst Tower, the state's second tallest building at 46 stories, opened in January 2002. It was the latest contribution by Bank of America in a decade-long investment in uptown Charlotte that totals more than $2 billion.

Now Wachovia is considering a mixed-use project in uptown that could be as tall as 25 stories with 700,000 square feet. It would house the bank's offices and also create a new uptown presence for Wake Forest University's prestigious Babcock Graduate School of Management, currently in SouthPark.


Big City, Close Neighborhoods
Even as it emerges as a major urban center, Charlotte and Mecklenburg remain a composite of many smaller communities, each of which has developed its own identity with the common theme of managing uncommon growth and maintaining their character.

To the south of Charlotte's uptown are some of the city's oldest neighborhoods of Myers Park, Eastover and Dilworth, desired for their stately homes and quaint Craftsman bungalows, sidewalks and tree canopies.

Further south is SouthPark, an area named for both the shopping center located there and the offices and homes that have grown around it. An enclave of upscale offices, SouthPark is the second most populated business district in the state.

Here the city shows off some of its finest shopping, including the ever-expanding SouthPark mall, Phillips Place and a host of specialty shops.

To the east of Charlotte in Mecklenburg County are the incorporated towns of Mint Hill and Matthews, which offer a relatively close commute to Charlotte's business centers while affording a more pastoral setting for homes.

That has meant growth in homes and services, including Presbyterian Hospital Matthews, a 102-bed community hospital, as well as plenty of shopping along Independence Boulevard.

To the northeast is University City, home to UNC Charlotte. Although it remains unincorporated, the population of this area of northeast Mecklenburg County doubled during the 1990s to almost 100,000 people. A new outer loop and abundant land made the area ripe for expansion. There are major new corporate players in the area, including TIAA-CREF's southern service center.

Points north of Charlotte, including the towns of Huntersville, Cornelius and Davidson — all served by I-77 — have experienced tremendous growth over the past decade.

Twenty years ago, the area still referred to as Lake Norman was primarily a weekend retreat. Today, more than 60,000 people call the area home.

Northwest Mecklenburg County is growing too, although it remains one of only a few areas with unspoiled beauty. It is the site of Charlotte's drinking water reservoir, Mountain Island Lake.

Charlotte's west side, which boasts Charlotte-Douglas International Airport, acts as a gateway to the city and is benefiting from public and private investment. A new branch of Central Piedmont Community College opened here, as has a $38 million Charlotte-Mecklenburg high school. A YMCA is planned.

To the southwest of the wheel is Pineville, Mecklenburg's smallest town but in many ways a study in contrasts. The town retains its antique shops but is home to a major shopping mall. Mercy Hospital South serves the population here.


Much More Than Banking
Though at first glance Charlotte appears to be a banking capital — and it is — the county's overall strength resides in its balanced economy.

Its banks are among the nation's largest, but Charlotte is home to seven Fortune 500 headquarters, tying the city for fifth in a recent national ranking. The list includes Bank of America, Wachovia Corp., Duke Energy, Sonic Automotive, SPX, Nucor and Goodrich Corp. Outside of Charlotte but in Mecklenburg County, homegrown retailer Family Dollar has its headquarters in Matthews. Nearly 300 of Fortune's top 500 companies have one or more facilities within Mecklenburg County. In addition, Belk Inc. and Compass Group North America each have annual sales in excess of $2.2 billion and are located within the county.

The community is also compatible with small and medium-sized companies. Entrepreneur magazine has cited Charlotte as one of the nation's best large cities for entrepreneurs to start and run a small business.

"The great thing about Charlotte we've seen over the last 10 years is that Charlotte has been very steady in its growth," says Robert Stolz, CEO of the U.S. wood division of The Wurth Company and a member of NCCBI's executive committee. The Wurth Company owns Charlotte Hardwood Center and 54 other locations around the country,. "It's a chamber of commerce kind of town," Stolz says. "If you live in Charlotte you are involved in business of some form."

To say that growth has come to Charlotte in the past 10 years is an understatement. Consider these numbers: In the last decade, economic development in Charlotte and Mecklenburg County totaled $9.1 billion in announced new businesses, according to the Charlotte Chamber. The investment from 8,888 firms created 79,646 jobs.

Through the second quarter of the year Mecklenburg County welcomed 520 new and expanded businesses that created 5,396 new jobs and more than $517 million in investment, says the chamber's Carroll Gray.

Over the past 15 years, Charlotte has grown by 2.5 to 3 percent a year. "Charlotte is in balance," says Gray. "There's a lot of vitality here. Young people are coming in droves."

Charlotte is best known for its banking juggernaut. Bank of America, which grew from NCNB, and Wachovia Corp, which expanded in Forsyth County before moving its headquarters to Charlotte in 2001, have matured the city into the second largest financial center in the country, behind New York. More than 75,646 people are employed in finance and insurance jobs in the county.

Wachovia is the county's largest employer, with 17,000 workers, while Bank of America employees 12,770. The other largest employers are Charlotte-Mecklenburg Schools, Carolinas HealthCare System, Duke Energy, and US Airways. (See chart, page 47.)

Charlotte's other mega-industry is distribution, and it rivals banking in terms of jobs and national status.

The city's wholesale sales volume places Charlotte sixth on the list of U.S. markets. Since 1990, Charlotte has added or expanded 192 distribution facilities. It is home to large distribution facilities for companies such as Family Dollar, Black & Decker, Winn-Dixie, General Motors, Lucent Technologies and TJ Maxx.

The industry fills orders and ships goods nationally, employing some 27,000 people in the region. That's 6.5 percent of the local economy, twice as large as the national average for cities.

Rail shipping sees 270 trains a week coming through Charlotte on Norfolk Southern and CSX's tracks. Norfolk Southern Railway is developing a new intermodal complex at Charlotte-Douglas Airport, which will bring all four major modes of transportation together on one site.

Mecklenburg County is also a major manufacturing center with more than 1,200 manufacturing firms, the most of any county in the state. Charlotte ranks second only to Dallas, Texas, in the number of new factories opened during the 1990s. Charlotte manufacturers work in such fields as non-electrical and electrical machinery, metalworking and chemicals. Others include Lance snack crackers, Continental General Tire and new industries such as Solectron.

Unlike in many counties where a county-funded nonprofit recruits industry, in Charlotte it's a team effort by the Charlotte Chamber, the Charlotte Regional Partnership and elected officials. "I consider the largest portion of my job is recruitment," says Mayor McCrory. "I have a monthly breakfast meeting with people in business and it brings me back to reality about what businesses are looking for."


Investing in Workforce Skills
With so many new jobs, Charlotte depends on a highly qualified and skilled workforce. Producing those learners and eventual workers begins with the public school system.

Charlotte-Mecklenburg Schools serves more than 112,000 students and is the largest system in North Carolina and the 23rd largest in the nation.

The system's numbers alone are impressive, with 148 schools (51 of them magnet schools) and almost 15,000 employees. CMS serves 60,000 lunches a day and manages a fleet of 1,200 buses traveling 132,576 miles a day.

The system continues to grow and the community has supported that growth with continued building. The community passed a $275.5 million bond in 2000 and another $224 million bond in 2002 to renovate older facilities and build four new schools. The system is currently undergoing the largest building program in its history.

The student population is diverse, with more than 80 native languages spoken in the schools, and while the size and diversity can bring challenges as well as opportunities to teaching, student achievement tests are consistently above the national average.

The top 10 percent of CMS graduates had an average SAT score of 1228 and they earned $29.8 million in academic scholarships.

Under the leadership of Superintendent Dr. James Pughsley, the system has posted its highest gains ever in the state's ABCs program, with 44 schools earning either the prestigious School of Excellence or School of Distinction designation.

In 2003, Newsweek magazine ranked four CMS high schools in its "Best in the U.S." list, with Myers Park High School ranking seventh in the nation.

"CMS has made tremendous strides, and a lot of that can be credited to the wisdom of our board of education and the leadership of Dr. Pughsley," says Bank of America's Denton. "Not having a strong education system is a thing that can derail a city long-term, but I think we are headed in the right direction."

And few things in Charlotte that are successful are accomplished without the help of business. Wachovia has developed a WachoviaVolunteers chapter in Charlotte that has made considerable contributions to children's literacy. Wachovia employees also serve as lunch buddies for students.

After high school graduation, students in Mecklenburg County have the opportunity to stay at home and attend one of the leading two-year institutions in the country.

Central Piedmont Community College serves some 70,000 students per year on six campuses and a virtual campus as well as upwards of 100 convenient sites such as churches, retirement homes and high schools at night.

CPCC is the community's link to job training, and in 2002 CPCC was named National Community College of the Year by the National Alliance of Business, which looked at the college's responsiveness to the need for a supply chain of workers. The same year, CPCC was selected by the U.S. Government Accounting Office as one of the top two workforce development colleges in the nation.

"I don't think there's any question that we have the very best community college in the entire system here in Charlotte and one of the best in the country," says state Rep. Ed McMahan, who has represented Mecklenburg County in the North Carolina General Assembly for five terms and is a member of the NCCBI board.

"I'd also say that UNC Charlotte has shown tremendous improvement under the leadership of Chancellor Jim Woodward," adds McMahan, who is chair of Little Diversified Architectural Consulting in Charlotte. "I think UNCC is going to continue to be a major force in the economic development of the region."

UNC Charlotte is the fourth largest in the state's 16-campus system and has gained national prominence in recent years not only for its men's basketball team but also for research in the areas of optoelectronics, bioinformatics and precision metrology.

The university's work in bioinformatics, which is analysis of genetic data, will benefit from a $35 million appropriation from the General Assembly this summer for a new bioinformatics center. It will be located on UNCC's 100-acre research campus, which already includes three buildings under construction.

Charlotte Research Institute partners with industry to transfer technology developed at the university to the marketplace. Formed in 2000, the institute is pushing the university toward its goal of becoming a full research university, much like UNC Chapel Hill and N.C. State, as deemed by The Carnegie Foundation.

"Today, UNC Charlotte is gaining stature for its research prowess in fields whose names we could not pronounce in 1986 when I came to Charlotte," says Ruth Shaw, president of Duke Power and chair of the Charlotte Research Institute. "Jim Woodward's vision to develop research capabilities and doctoral programs at UNC Charlotte has been essential to the progress of this region and it is a critical foundation for the future."

The school has focused in recent years on increasing the number of masters and Ph.D. programs it offers and the graduates it turns out each year. In just the past year the Charlotte Research Institute has increased its research funding by 40 percent, garnering more than $10 million from public and private sources.

UNCC's direction will soon be set by a new leader as the university searches for a new chancellor to replace Woodward, who retires from his position next June.

Other private education opportunities abound for those living in Charlotte. Queens University is in the scenic heart of the Myers Park neighborhood, surrounded by some of the city's most stately mansions. The school was founded in 1857 as a girls' college but became coed in 1987. Among Queens' noted programs are its masters in business administration in the university's McColl School of Business, named for banker Hugh McColl, a school trustee.

Also near uptown is Johnson C. Smith University, which was again named by Black Enterprise magazine as one of the top 50 colleges for African Americans. The historically black college was founded in 1867 as Biddle Memorial Institute. Today it enrolls almost 1,500 students.

Davidson College is a small, selective college of about 1,700 students north of Charlotte in the town of Davidson. U.S. News & World Report consistently lists Davidson as among the nation's top 10 liberal arts colleges. Wake Forest University operates a satellite campus here for its popular MBA program, and about 150 students are enrolled in evening and weekend programs.


Superb Healthcare
When Charlotteans need medical care, they are well served by two large regional healthcare systems — Carolinas Healthcare System and Novant, which have multiple locations across the county.

Carolinas Healthcare System operates the county's largest public hospital, Carolinas Medical Center, which is undergoing its largest construction project in 10 years.

The hospital's current $70 million expansion will include construction of four new floors atop the existing surgery tower and expansion of the hospital's intensive care units for neurosurgery, trauma and surgery. Each floor will have new family lounges and waiting rooms.

At the same time, CMC is planning an $85 million children's hospital. Scheduled to open in 2007, the hospital will be named the Levine Children's Hospital in honor of Sandra and Leon Levine, who have committed a $10 million lead gift to jumpstart the funding drive for the building. Leon Levine is chair emeritus of Family Dollar Stores Inc, a Matthews-based discount retail chain with more than 5,000 stores in 43 states. The goal is to raise $60 million.

The children's hospital will have 230 beds and serve the health needs of 500,000 children in the 28 counties surrounding the area as well as the 95,000 children expected to move to the area within the next 10 years.

CMC has been recognized as Charlotte's most preferred hospital by National Research Corp. It's the seventh consecutive year the 861-bed teaching hospital has earned the designation.

Mecklenburg residents' other top choice for healthcare is Novant's Presbyterian Hospital, a private, nonprofit regional medical center located just a mile from CMC. Presbyterian is one of the largest healthcare institutions in the Carolinas with 593 beds and employs almost 7,400 people, serving 250,000 patients a year.

In September, Presbyterian Hospital opened its $58.6 million women's center, which boasts 35 post-partum rooms, 16 redesigned labor and delivery rooms and 38 neonatal intensive care beds.

"We've got two fine institutions that have attracted outstanding physicians as well as a good specialty base," says Denton.


Big-Time Sports, High-Brow Art
Aside from building businesses and a strong community, Charlotteans like to play. And there are more options than ever for a weekday or weekend excursion.

This month, pro basketball officially returns to Charlotte. After the long goodbye to the Charlotte Hornets, who moved to New Orleans when the ownership and the city were unable to come to terms on a new basketball arena, the NBA expansion Charlotte Bobcats will take the court.

This first season the Bobcats will play at the 15-year-old Charlotte Coliseum — the arena that was the first team's stumbling block — but construction is under way in uptown on a $264 million arena.

Charlotte football fans are still celebrating the 2003 season of the NFC Champion Carolina Panthers and the team's first trip to the Super Bowl. The Panthers' home is in Bank of America Stadium, which opened in the summer of 1996. The stadium has 73,298 seats and 158 luxury suites.

A relative newcomer to Charlotte's sports scene is the Wachovia Championship, which offers one of the largest purses on the PGA Tour and always attracts a top-notch field. The tournament completed its second year this past May at Quail Hollow Club, attracting such stars as Tiger Woods, Phil Mickelson and Davis Love III.

Those who are looking for more contemplative amusements might consider uptown's arts district where there are museums to interest all ages.

Discovery Place is the region's premier science museum and always a favorite with kids who visit over and over. Coming in 2005 is ImaginON, the Joe and Joan Martin Center, which is a joint facility to be shared by the Children's Theatre of Charlotte and the Public Library of Charlotte and Mecklenburg County. Voters overwhelmingly approved $27 million in bonds for the building in 1999 and another $12 million was raised in a private campaign to fund space for popular children's programs.

ImaginOn is an integral part of Charlotte's arts district, which also includes the Levine Museum of the New South, the Afro-American Cultural Center, Blumenthal Performing Arts Center, McColl Center for Visual Arts, Mint Museum of Craft + Design as well as countless private art galleries.

Charlotte's arts scene attracts nearly 2.9 million people annually and is generously supported by the private and corporate citizens. While Charlotte leads the nation in private per capita funding for the arts, needs remain. Thus the arts community has submitted a comprehensive Arts & Cultural Facilities Master Plan to the city council and a task force is looking at ways to fund the plan.

"The master plan is a big idea – the sort of idea that has helped this city move forward over many decades," says Shaw of Duke Power. "This package, combined with the other exciting developments occurring downtown, will truly transform our center city, a magnet for the region."

If it is fully implemented, the city's long admired facilities, such as Discovery Place and the Afro-American Cultural Center, will be renovated and expanded, and a new museum, the Bechtler Art Museum, would be built.

So far Bank of America and Wachovia each have pledged $8 million to the fund, but as yet public dollars have not been committed. "Government hasn't turned its back though," says Graham Denton of Bank of America. "I sense some optimism about getting it done."

Like most things in Charlotte, if it's a worthwhile project and the business community backs it, more often than not the job will get done.


Where to Go, What to See in Charlotte
View and download a map of downtown Charlotte showing
locations of many attractions mentioned in this article
North Carolina has beautiful beaches and majestic mountains. The Charlotte area has neither of those natural features, yet it is the No. 1 travel destination in the state.

Most of the $2.6 billion in annual tourism revenue that comes to Charlotte is due to business travel. But over the past decade the region's recreational opportunities have exploded.

"A few of the sports entertainment options — the Carolina Panthers, the Wachovia Championship golf tournament, the NBA's Charlotte Bobcats and NASCAR — offer one a glimpse into the fun and energy brewing in the city," says Paul Grube, Charlotte executive for Wachovia.

If you haven't traveled this way in some time, you might consider a holiday shopping trip, and be sure to fit in time for a few more cultural diversions.

In uptown there's the Mint Museum of Craft + Design, the sister of Charlotte's longtime Mint Museum on Randolph Road. The newer craft museum features a permanent collection that documents contemporary studio craft, showcasing ceramics, fiber, glass, metal and wood.

The newly renovated and expanded Levine Museum of the New South houses the nation's most comprehensive interpretation of post-Civil War southern history. The core exhibit, "Cotton Fields to Skyscrapers," traces the region from 1865 agriculture to today's banking empire.

If the kids are in tow, don't miss Discovery Place. Each year, more than 500,000 people visit Discovery Place, Charlotte's science and technology museum, with attractions such as the Omnimax Theater, a three-story rain forest, aquarium and other hands-on learning exhibits for kids and adults.

The Blumenthal Performing Arts Center showcases the best in opera, symphony, chorus, dance and theater. It is also home to many of the community's arts organizations. As a testament to the private community's support of the arts, the $55 million center was built with more than half the money coming from private sources.

In the fall, Sundays belong to the NFL Carolina Panthers, who thrilled the city with their first trip to the Super Bowl this past January. Even if they aren't playing, Bank of America Stadium, with its 73,258 seats in the shadows of the city's gleaming banking towers, is a sight to behold. So, too, is Paramount's Carowinds, the state's largest theme park that's just south down I-77 on the South Carolina state line.

And while you're here, don't forget shopping. You didn't see it on reality TV, but SouthPark mall has undergone something of an extreme makeover, mall edition.

The mall is in the midst of a $100 million expansion and remodelling that has brought some notable high-end retailers into the state, including Luis Vuitton, Kate Spade, Burberry, Helzberg Diamonds and Tiffany's. There's also lots of new shopping for more reasonable purchases, including Pottery Barn Kids, Ann Taylor Loft and Nordstrom. And Belk debuted improvements to its flagship store in 2002.

With so much to do, it is no wonder Charlotte is attracting the young and the young at heart. — Laura Williams-Tracy




Banking on Mass Transit to Ease Congestion
Planes, trains and automobiles weigh heavily on the minds of Mecklenburg County's leaders. This urban area is dealing with crowded highways with not enough state money available for expansions; the second round of bankruptcy court for US Airways, which operates its largest hub here; and a deadline of 2006 to open the first stretch of North Carolina's first urban light rail system.

In 1998, Mecklenburg residents approved a half-cent transit sales tax to fund the local portion of a new mass transit system. The overall plan is expected to cost $2.9 billion, making it North Carolina's most expensive public works project ever. Half of the money will come from the federal government, 25 percent from the state and the other 25 percent from the local tax.

The overall transit plan, which will take more than 20 years to realize, includes commuter rail lines along the heaviest traveled freeways as well as a new road network dedicated solely to buses. A 9.6-mile light rail line with 15 stations along the route from uptown to near Pineville opens in 2006.

"We'll never relieve the congestion with all of the pavement in the world. My goal is to provide as much choice for the commuter as possible," says Charlotte Mayor Pat McCrory.

Charlotte drivers endure one of the longest average commute times in the country. Local leaders are working to ensure that state highway money is available to expand some of the state's busiest roads. State Rep. Ed McMahan (R-Mecklenburg) and others are working to amend the wording of the state's Highway Trust Fund Act, which allows for paving new roads but not widening existing roads.

This past session the General Assembly was able to appropriate money to widen the southern portion of Charlotte's outer loop from Matthews to Pineville, which was backed up the day it opened. "The way the law is written, we're not providing money to urban growth areas," says McMahan.

There is a study commission currently looking into urban congestion issues. Representing NCCBI on the commission are Steve Zelnak, CEO of Martin Marietta Materials and chairman emeritus of NCCBI, and Mark Cramer, Charlotte attorney.

At the same time, Mecklenburg County is bracing for a sharp blow if US Airways dissolves. There are 5,700 US Airways employees in Mecklenburg County. And the airport's 523 daily flights help make the city attractive to businesses that rely on air travel for employees.

"I think people have overlooked the importance of US Airways to Charlotte," says Robert Stolz, CEO of the U.S. Wood Division of The Wurth Company, which has 55 locations in the United States. "If they go away it will have a significant impact on the business community and the quality of life of people like me." -- Laura Williams-Tracy


Fast Facts About CLT
Charlotte-Douglas International Airport (CLT) is the nation's 13th busiest airport in terms of operations, with 524 daily departures. The airport is served by eight domestic carriers, two foreign flag carriers and seven regional airlines. Non-stop service is available to 120 destinations, including 24 foreign cities. There are four runways, five major concourses covering 1.7 million square feet and a total of 85 gates.

The airport served 23.1 million passengers in 2003, 17th most in the nation. More than 154,000 tons of cargo move through the airport each year. There are 15,000 parking spaces with another 3,000 in a new parking deck scheduled to open next summer/

Nearly 16,000 people work at the airport, including 5,700 employed by U.S. Airways.