North Carolina State Ports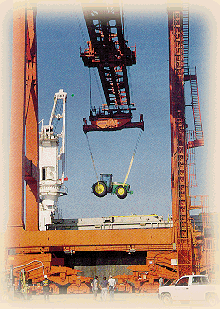 Position: NCCBI encourages the North Carolina Legislature to appropriate funds on an ongoing basis to the North Carolina State Ports Authority sufficient to adequately maintain and improve the Ports' marine terminals and related infrastructure.
We recommend that the Legislature appropriate the state's cost share funding as required for the federal navigation improvement project that would deepen the Cape Fear River navigation channel. Deepening the Cape Fear is essential for the Port of Wilmington to remain competitive and serve North Carolina's business and industry into the next century. We further recommend that highway projects necessary for improved access to both State Ports be identified, included in the state's Transportation Improvement Program (TIP), and assigned the highest priority for implementation.
Explanation: North Carolinians are just beginning to realize the tremendous potential of our State Ports to access global markets and foster economic development throughout North Carolina. The strategic location of our Ports at Morehead City and Wilmington allows North Carolina business and industry to better compete in the global marketplace through savings on inland transportation costs. For example North Carolina customers shipping containerized cargoes accrue an estimated $19 million in savings on inland transportation annually by using the Port of Wilmington, instead of other gateways. The Ports Authority's reinvigorated partnership with the State has resulted in nearly $30 million in appropriations the last three years. Most of this money has gone for major maintenance projects (60%) with the balance used for new capital projects. These appropriations have yielded substantial benefits in the ability of North Carolina's ports to better serve our State's business and industry. However, just as at ports throughout the country, the huge economic returns from the operations of our ports required continued investment for its realization. The Ports Authority's defined six-year program based on this revitalized partnership has been submitted to the State along with its 2000/2001 Biennium Budget request to continue the State capital contributions for new construction projects and repairs and renovations (R&R) projects. It should be noted that new capital construction will be joint ventured with the private sector interest wherever possible.
If you have comments on any of the NCCBI positions or other issues,
please click here for a feedback form