NCCBI Publications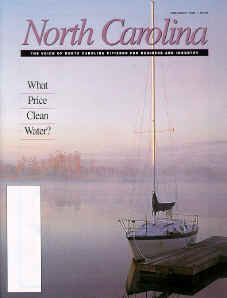 NCCBI has published the North Carolina Magazine monthly since 1943, making it one of the oldest and most respected magazines in the state. Each month the magazine explores issues in business management, politics, state government, international trade, finance, and economic growth. The official magazine of NCCBI is read each month by some 50,000 business, political and educational leaders across the state.

North Carolina has won many awards for journalistic excellence over the years, including the 1998, 1999 and 2000 Sir Walter Raleigh Awards for Excellence in Communication. Back issues dating to early 1999 are archived at this site.

Subscriptions are available at $21.40 for one year or $37.45 for two years. Thousands of readers receive the magazine because their companies are members of NCCBI, the state's largest business organization which serves as North Carolina's state chamber of commerce. North Carolina is a member of BPA, the national circulation auditing firm.

More than 250 companies advertise in the magazine each year, attracted by the upscale demographics of our loyal readers and our statewide circulation. We invite you to become an advertiser. Please download the magazine's media kit, including our current rate card and editorial calendar. To contact a member of our editorial or advertising staff, consult our staff directory. For specific information on advertising in the magazine, e-mail Director of Advertising Stephen Wissink at swissink@nccbi.org.

Online Newsletters
NCCBI also provides its members with two online newsletters, the weekly Legislative Bulletin when the General Assembly is in session, and the monthly For Members Only newsletter at other times of the year. These online newsletters are delivered by e-mail to more than 2,000 readers. Read a sample issue of the Legislative Bulletin and the For Members Only newsletter.

Membership Directory
NCCBI offers a searchable database of members at its web site, with both alphabetical lists and yellow pages listings of members by category. It's a great place to find business contacts, especially if you're looking for the state's most reputable businesses.