Your Online Report for January 2001
FOR MEMBERS ONLY
Keeping NCCBI members informed about business, politics and public affairs




Happy new year
from everyone on
the NCCBI staff!

Membership News
A record 470 new members have joined since April 1

State Government
Agencies told to cut spending to ease looming budget deficit.

Agency Watch
On-the-job injuries at N.C. companies decline for the seventh year in a row.

Business Growth
Corning will double its Cabarrus County fiber optics plant; ceramics firm expands in Mooresville.

Washington Watch
Daily coverage of Congress (when in session)

Names in the News
Duke Energy names several senior vice presidents

Resources & Links
How to reach most state, federal agencies


NCCBI set to unveil its
political agenda during
Legislative Conference
We hope you plan to attend our annual Legislative Conference on Feb. 22 in Raleigh. Speakers include the House and Senate leaders and several other top politicians. Beverly Perdue, the first woman to be elected lieutenant governor, will deliver the keynote luncheon speech. The chairs of NCCBI's seven policy committees will unveil the association's political agenda for the new legislative session.


Read that story

Download your free
Legislative Directory
To help NCCBI members better communicate with their elected representatives, we offer you a free directory of the new General Assembly, which convenes on Jan. 25. Included are guides of the state House, Senate, Council of State and the Judiciary.

Hunt challenges NCCBI
to monitor school reforms
Gov. Jim Hunt warns that school reform "is a marathon, not a sprint" and challenges the NCCBI Executive Committee to keep up the pressure for higher test scores. Story, pictures
Did you Know . . .
Other executives at your company can register to receive our online newsletters. Click here to register them.

Picture Pages
See photos from the last two Area Meetings -- Fayetteville and Wilmington.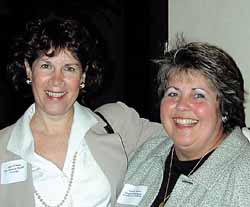 Judy O'Neal of the New Hanover Health System greets Connie Majure of the Wilmington Chamber.

See previous picture pages from Asheboro, Boone, Charlotte, Concord, Elizabeth City, Gastonia, Greenville, Hickory, Kinston, New Bern, Rocky Mount, Salisbury, Southern Pines, Statesville, the Triad, and the Triangle.

Ergonomics Hits Home
Learn what practical steps you will have to take to comply with the new federal ergonomics standard by reading an analysis prepared by the National Association of Manufacturers.

Got a Comment? Share your thoughts, suggestions or complaints with us by using the automatic e-mail feature of NCCBI's Web site. Thanks!

Calendar of Events
Check the master list of NCCBI meetings


Print Out
Get a text-only print out of this issue of the newsletter