Biographies of NCCBI officers for 2004-05


Chair Stephen Miller of Asheville is senior vice president of The Biltmore Company. Miller has worked for The Biltmore Company in increasingly responsible positions since graduating from UNC-Chapel Hill in 1977 after obtaining a bachelor's degree of science in business administration. He graduated Phi Beta Kappa.

Miller, who oversees the new Inn on Biltmore, is active in civic affairs in the Asheville area, especially in the healthcare field as chair of the Memorial Mission-St. Joseph's Hospital board. He is a member of the board of directors and the economic development committee of the N.C. Travel and Tourism board, a member of the ReCreation Experiences board of directors and a past chairman. He is a past chairman of the Asheville Chamber of Commerce and a former chairman o the Buncombe County Tourism Development Authority. He is a graduate of Leadership Asheville, Bell Leadership Leader's Roundtable and the UNC-Chapel Hill Executive Program.
First Vice Chair Graham Denton of Charlotte nis North Carolina state president of Bank of America and commercial executive for the Atlantic Region. Denton, who serves as the bank's senior leader for community and civic activities in North Carolina, joined Bank of America in 1971 as a cash management analyst. He has held a number of management positions at the company in cash management, corporate lending, commercial lending, loan policy, middle market investment banking and commercial finance. In late 1999, Denton assumed responsibility for a variety of businesses in global corporate and investment banking, including Latin America investment and Financial Institutions Banking Canada, sports finance and U.S. corporate banking. In late 2001, he was appointed business risk executive for consumer and commercial banking. He assumed his role as commercial executive for the Atlantic Region in 2002 and was named state president in June 2003. Active in the state and local community, Denton is a trustee of Wake Forest University. He also serves on the board of the Charlotte Chamber of Commerce, Leadership Charlotte, Wake Forest University Baptist Medical Center, United Family Services and United Way of the Central Carolinas.


Second Vice Chair John Atkins is president and CEO of O'Brien/Atkins Associates, a multi-disciplinary design firm founded in 1975 by Atkins, William L. O'Brien and C. Belton Atkinson. Located in Research Triangle Park, O'Brien/Atkins has won more design awards from the North Carolina Chapter of the American Institute of Architects than any other firm in the state, and which was the inaugural recipient of the prestigious state AIA chapter's North Carolina Firm of the Year Award in 1998. Specializing in custom-designed corporate offices, biotech/pharmaceutical laboratories, and institutional facilities, O'Brien/Atkins has a client list that includes many of the Triangle's largest firms and most recognized names. Born and reared in Durham, Atkins received his undergraduate and architectural degree from North Carolina State University. He also earned a master of regional planning degree from the University of North Carolina at Chapel Hill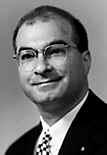 Treasurer Stephen K. Zaytoun of Cary is president of the Zaytoun & Associates Inc. insurance brokerage company. Zaytoun is a 1979 graduate of UNC-Chapel Hill with a bachelor of science degree in business administration. He was named president of Zaytoun & Associates, a firm founded by his father, in 1985 after six years with the company. He is active in civic affairs in Cary and is a former chair of the Cary Chamber of Commerce, the Cary Rotary Club the United Arts Council of Wake County. He is a member of the board of directors of the Capital Area YMCA and Cary Family YMCA and a past president of the Raleigh Association of Life Underwriters.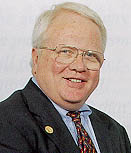 President and Secretary Phillip J. Kirk, Jr. of Raleigh is a native of Salisbury and is a graduate of Catawba College. A former newspaper reporter and English and journalism teacher in Salisbury, Kirk has held numerous governmental positions, including service as a state senator, administrative assistant to Gov. Jim Holshouser and U.S. Sen. Jim Broyhill. He twice served as secretary of the N.C. Department of Human Resources and also served as chief of staff for Gov. Jim Martin. He serves on more than 20 boards, commissions, and committees, representing the "Voice of Business." Kirk became the fifth president and secretary of NCCBI on Dec. 1, 1989. He also serves as publisher of the North Carolina magazine and is ranked the 22nd most effective lobbyist by the N.C. Center for Public Policy Research. He has received an honorary doctor of laws degree from Catawba College and the Friend of Education award from the Professional Educators of N.C. He is a member of the board of trustees of Catawba College and Meredith College and the board of visitors at East Carolina University. He was appointed by Gov. Jim Hunt as the chairman of the State Board of Education in 1997 where he served for nearly six years. He also serves on the N.C. Economic Development Board, the N.C. Baptist Hospital board, the Public School Forum board, the N.C. Travel and Tourism board, and the Travel Coalition board. He is married to the former Margaret Simmons of Newport and has four daughters and four grandchildren.

Immediate Past Chair Barry W. Eveland is vice president of Integrated Supply Chain and IBM Senior State Executive for North Carolina. Eveland joined IBM in the Federal Systems Division, Owego, N.Y., in 1966 after graduating from Lehigh University with a B.S. degree in industrial engineering. In 1970, he moved to Research Triangle Park, where he held management positions in manufacturing and strategic planning. He was instrumental in the expansion of IBM's site in RTP, and the opening of IBM's facility in Charlotte. Eveland held headquarter executive positions in manufacturing and supply chain management while working in Westchester County, N.Y., for 12 years, including corporate responsibility for worldwide logistics operations. He returned to Research Triangle Park in 1993 as a vice president in IBM's personal computer operations to apply his logistics expertise in manufacturing and customer fulfillment, and later became general manager of PC Manufacturing Operations. In 2002 Eveland was named vice president of operations for the Integrated Supply Chain organization, with responsibility for IBM's system hardware manufacturing and distribution worldwide. He currently holds the position of IBM senior state executive for North Carolina, and is senior location executive for IBM's Research Triangle Park facility. Eveland is very active in community activities, and has served as campaign chair for the Triangle United Way and the Wake Education Partnership.