Maestro!
Chancellor Frank Borkowski, an accomplished musician,
has orchestrated several ringing accomplishments at ASU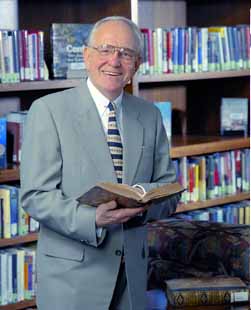 By Phil Kirk
A football autographed by legendary Florida State football coach Bobby Bowden occupies a prominent spot in the office of Frank Borkowski, the chancellor of Appalachian State University in Boone. On it Bowden has written, "We don't need another football team."
The additional football team Bowden thought Florida didn't need was one at the University of South Florida in Tampa, which at the time was the largest area in the nation without a college team. A feasibility study on the need for USF to begin a football program came back with a positive recommendation. But the issue was divisive and created uncomfortable pressures on USF's president, Frank Borkowski.
"Community support was high, but the (state) governing board was dominated by Gators and Seminoles," Borkowski recalls, referring to University of Florida and Florida State alumni.
Had it not been for that thorny issue, Borkowski might still be leading the University of South Florida instead of being at the helm of ASU. His five years at South Florida had produced many successes, such as closer ties with the Latin America community and the medical community, but Borkowski, a native of West Virginia, and his wife Kay missed the mountains and the change of seasons Tampa can't offer.
"We had been expressing this desire to move, and we received a call (about an opening at ASU) from David Brown, former chancellor at the University of North Carolina at Asheville," Borkowski says. They had become friends when they worked together in higher education in Ohio. Borkowski checked out the state and the situation in Boone with another friend, UNCC Chancellor Jim Woodward.
Borkowski liked what he heard about Boone and the UNC System. He applied and he was hired in 1993 as the fifth chief executive in Appalachian's history.
By all accounts ASU has benefitted greatly from the varied experiences in higher education that Borkowski, 63, brought to Boone. By several yardsticks ASU's programs have grown in quality and quantity during his tenure.
Consistently receiving high marks in numerous national studies, such as "America's 100 Best College Buys" and U.S. News and World Report rankings, Appalachian has advanced beyond its long-held reputation as a good teachers college. It recently was ranked fifth among regional public universities in the South and 15th among public and private institutions in the magazine's college 2000 rankings.
Everything at ASU revolves around students and how to prepare them for life when they leave the strikingly beautiful mountain campus. Borkowski points out with pride that within the 16-campus UNC system, ASU has the second-highest five-year graduation rate, the third-highest freshman retention rate, the top graduation rate for all football teams, and the second-highest graduation rate for students athletes for all UNC system schools with or without football. Even the student union is receiving national attention, as when it was ranked recently by the New York Times as among the 25 best in the nation.
An only child, Borkowski was born in his grandmother's house in Weiston, W. Va. His 86-year-old mother, Felicia, still lives in Steubenville, Ohio, just across the river from his birthplace. She worked in steel mills during World War II and at various other jobs. His father, Francis, worked in a paper mill in southern Ohio. "I came from a blue-collar family," he points out. "They worked in steel, coal and paper mills."
Music united Borkowski and his wife of 40 years, the former Kay Kaiser of Hamilton, Ind. After receiving his undergraduate degree with a major in music education and a minor in English from Oberlin College, he went to Indiana University. There his major was music performance with a minor in conducting. One course requirement was to play in a small ensemble. In the opera orchestra, he was first chair clarinet and Kay was first chair flute.
Borkowski is an accomplished musician and conductor. He has performed with the Indianapolis Symphony, the Indianapolis Woodwind Quintet and the Jacksonville Symphony Orchestra. He established and conducted the West Virginia University Wind Symphony and the Ohio University Symphony Orchestra. Each summer, he conducts the North Carolina Symphony during performances in Boone.
Despite his heavy teaching and administrative workload over his years in higher education, he has performed as a soloist, conductor, or in ensembles in more than 600 music performances.
Growing up in a blue-collar, diverse community, he was exposed to music and religion at an early age. He remembers Serbian, Greek, Polish Catholic and Black Baptist churches and a Jewish synagogue in his neighborhood.
His first musical instrument was the accordion, which he began playing at the age of 9. Receiving encouragement from his parents, Borkowski joined the high school band and played the clarinet. He still plays the accordion at weddings, religious observances and other celebrations.
Borkowski's teaching and administrative experience have given him the tools to deal with diverse challenges. While at Ohio University, for instance, he was a member of the faculty senate and chaired the faculty-student liaison committee during the tragedies at Kent State.
"We were the next university to close after Kent State," he recalls. "Ohio University was a very volatile campus." During the first five years of the 1970s, enrollment at Ohio University plunged from 18,600 students to 12,500, primarily because of unrest and uncertainty on the campus.
Financial problems grew as did the threat of collective bargaining. As associate dean of faculties, Borkowski was at the forefront of the union debate. The union lost, but Borkowski decided to move to Indiana-Purdue University at Fort Wayne as first vice chancellor and dean of faculties.
In 1978 he began a 10-year stint at the University of South Carolina as executive vice president and provost. There, one of his points of emphasis was on developing international programs. His biggest "catch" was bringing Pope John Paul and major religious leaders from around the world to the USC campus.
Then it was on to the presidency of the University of South Florida, which is now the 11th largest university in the country, with four campuses.
Borkowski's love of travel and his interest in international affairs have led to an expansion of the foundation former Chancellor John Thomas built for ASU on the world scene, including ASU's relationship with Northeast University in China. The university received considerable publicity last fall when it convened an international banking conference in China attended by a number of prominent Tar Heel bankers.
Insisting on sharing credit with others, the ASU chief executive believes that "one always builds on the successes of this predecessors . . . . John Thomas did a superb job of positioning the university for my team and me to accomplish good things for our students and faculty around the world."
ASU has direct links with 30 foreign universities. Students from all disciplines can study business in China or Mexico, literature in France, Third World development in Africa, or a language in Asia, South America or Europe. Last year more than 350 students participated in a study-abroad experience.
The immediate past prime minister of Poland was a visiting lecturer at ASU in the fall of 1998, which led, in part, to Borkowski receiving the Diamond Laureate Award, the highest honor bestowed by the Poland International Center for Promotion. As a second-generation American with Polish roots, the award was especially welcomed.
Appalachian has just completed its 100th year, having been founded as the Watauga Academy in Boone in 1899. Enrollment is 12,200, and the average SAT score for freshmen is an impressive 1,095. Of the 535 full-time faculty, 475 hold a doctorate or first professional degree.
The main campus occupies 250 acres in the beautiful mountain town of Boone. The university also operates living-learning centers in Washington, D.C., and in New York City.
"We are seriously looking at establishing an academic center in Mexico," Borkowski says. "We need to learn more about Latin American business practices."
With all building space on campus occupied, there is no additional room for the university to grow. However, even if this were not the case, the leadership of ASU would think long and hard before plunging ahead. "Big is better" is not a philosophy that guides ASU's strategic plan. A continued emphasis on small classes, undergraduate instruction, and a friendly atmosphere is a recruitment tool for students and educators.
"Different is better" may be the more accurate motto guiding Appalachian's future. Certainly technology will provide a growing number of off-campus learning opportunities for students.
A perfect example is the Appalachian Learning Alliance that ASU forged with several community colleges in the region. Technology, libraries, faculty and other education resources will be shared. Collaborations may include distance learning, Web-based instruction, graduate education, life-long learning opportunities, certificate programs, special corporate programs and regional public service initiatives.
ASU's reputation as a first-class training institution for teachers remains strong and Borkowski assures this emphasis will remain. But ASU does much more than train teachers. Forty-three percent of students major in arts and sciences, 24 percent in fine and applied arts, 21 percent in business, and 17 percent in education. About one-fourth of all North Carolina's city and county managers are ASU graduates from the department of political science and criminal justice. The pass rate of ASU accounting students taking the CPA exam is two to three times the state and national averages. Bank of America has identified the Walker College of Business as one of six target schools nationwide for recruiting for its management associate program in internal audit.
The school newspaper, The Appalachian, is a consistent award winner at the national level and has been judged an All-American paper attaining four of five marks of distinction each of the past seven years.
Athletics plays an integral role at any top-notch university. The ASU football team regularly competes for the NCAA Division 1-AA championship and other teams have achieved similar success. But academic success by student athletes is also viewed as important. For example, the women's basketball team has the 24th highest NCAA Division I team grade point average.
"Being part of a team or excelling in individual competition is certainly an outstanding learning experience that will likely last a lifetime," the chancellor says.
The Seby Jones Arena for basketball in Appalachian's new George Holmes Convocation Center undoubtedly will raise ASU's visibility in athletics, and the center will increase Boone's status as a tourist and convention mecca. Jones is a former mayor of Raleigh and Holmes is a veteran member of the North Carolina legislature.
UNC President Emeritus Dick Spangler, who hired Borkowski, calls ASU "an emerald in the mountains of North Carolina . . . it has just recently been polished into a jewel."
Spangler admits that his admonishment to the ASU leader "not to be on the job 365 days a year" has been unsuccessful.
Vision and leadership are also mentioned prominently in describing Borkowski. Former U.S. senator Jim Broyhill, an ASU trustee and former board chairman, says, "Frank has a definite vision of where Appalachian should be positioned as an educational institution in the next century. He is providing outstanding leadership in making sure the school meets its obligations and responsibilities as a premier university."
Energetic, enthusiastic and optimistic are other adjectives used often to describe the chancellor.
"Chancellor Borkowski has generated a spirit of optimism and achievement that is felt all across the campus at Appalachian," former UNC president Bill Friday says.
State Treasurer Harlan Boyles adds, "I have been most impressed with the energy and enthusiasm that Dr. Borkowski has brought to Appalachian State University. His boundless energy and his eagerness to leap all hurdles that might impede progress at this great university are remarkable. His great success in bringing together the business and civic community and forging their support for the university will be his great legacy, I'm sure. The manner in which ASU's endowment has grown under his leadership will have a far reaching impact upon the future of the university and its ability to increase the manner in which it serves our leaders tomorrow."
From the campus comes this assessment from Bob Shaffer, associate vice chancellor of public affairs: "His efforts are indeed a work in progress. His six years at Appalachian are forging a vision built upon those qualities that make Appalachian unique."
Borkowski has a unique way of connecting with students — his "thumbs-up" policy. Shortly after he arrived at ASU in 1993, he asked students to give him a thumbs up or thumbs down sign when he saw them anywhere. Thumbs up brings a smile, while a thumbs down prompts the chancellor to find out the reasons.
He uses other forms of staying in touch with students. He frequently dines with students in the university cafeteria, spends the night in a dorm room, and hosts monthly breakfasts for student leaders.
The communication strategy is paying off. Students are surveyed at all UNC campuses every two years. Last spring Appalachian finished first in the UNC System for quality instruction, academic advising, student leadership development opportunities, campus counseling and administrative services such as registration, financial aid and campus food services.
But many challenges remain for ASU's future, including public funding, increasing the number of minority students and finding more female and minority faculty members.
"The competition for public dollars will continue to become more intense," Borkowski notes.
Health care costs will continue to increase, especially as the population gets older and lives longer, he points out. The need to educate more people and the growing expectations of business and industry for increased skills in the workplace will place added pressures on resources.
Increased demands for more accountability, more assessments, and growing micromanagement from political bodies and governing boards will continue.
However, Borkowski feels the excellent reputation of the UNC System will enable North Carolina's colleges and universities "to continue to excel." He credits the outstanding leadership of current UNC President Molly Broad and former UNC leaders Bill Friday and Dick Spangler.
"The leadership of this state is committed to keeping UNC accessible. The commitment of resources has been solid." ASU has raised more than $40 million of a $50 million campaign to supplement state funding and tuition dollars.
Music, traveling, and jogging are all enjoyable hobbies which provide some relaxation; however, all keep him connected with students, faculty, and alumni in one way or another.
Very much a family man, Borkowski and his wife are an inseparable team representing Appalachian both on and off campus. Spangler puts it this way: "Kay is a distinguished flutist in addition to her substantial responsibilities as first lady. Together they make a powerful team to support the students, the faculty and the other constituencies on that campus."
Friday adds, "He and Mrs. Borkowski make a splendid, inspiring team, giving so unselfishly of themselves to all of us."
The Borkowskis are proud parents of three grown children. Stanley, 36, is employed in the computer industry in Columbia, S.C. Anne-Marie, 35, is married to Robert Scott. Both are writers. She is travel editor for the Michelin Travel Guide, and he is the business editor for the New Orleans Times-Picayune. The Scotts have blessed the Borkowskis with a 2-year-old granddaughter, Mary Elizabeth (Molly). Christian, 33, is the youngest and teaches political science and social studies at Reynolds High School in Winston-Salem. His wife, Karen, is in charge of policy loans at BB&T.
Academician, administrator, world traveler, husband, father and grandfather -- there's no relaxing or coasting for Chancellor Frank Borkowski as he continues to push ASU to further excellence in the 21st Century.
Phil Kirk can be reached at pkirk@nccbi.org
Read these previous Executive Profiles:
Dwight Allen of Wake Forest, president of Sprint Mid-Atlantic Operations
Charlie Green of High Point, founder and president of Classic Galleries
Abdul Rasheed of Raleigh, founder and president of the N.C. Community Development Initiative.
Dr. John Weems of Raleigh. long-time president of Meredith College.
Margaret Rudd of Southport, co-founder and president of Margaret Rudd & Associates Realtors
Stephen Miller of Asheville, senior vice president of The Biltmore Company.
Ralph Shelton of Greensboro, president and CEO of Southeast Fuels Inc.
Ed McMahan of Charlotte, vice chairman of Little & Associates Architects.
Barry Eveland of Research Triangle Park, senior state executive for IBM.
COPYRIGHTED MATERIAL. This article first appeared in the January 2000 issue of North Carolina Magazine.