Executive Profile

Wise Counsel
Getting other people elected is George Little's hobby,
a sideline that's made him legendary in Moore County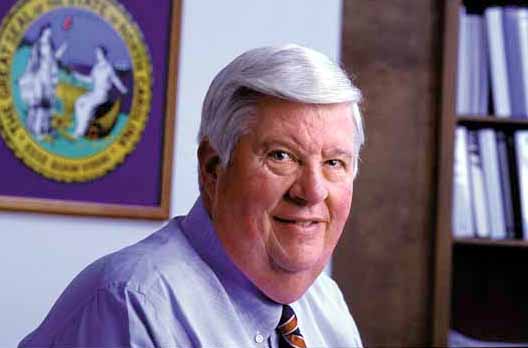 By Phil Kirk
In a 1969 bid for a seat on the Southern Pines Town Council, George Little lost by a mere seven votes at his first and only foray into politics as a candidate. After the election, when he counted more than enough non-voting supporters to have made a difference had they gone to the polls, he learned a painful albeit valuable lesson: "Identify your voters. Turn 'em out and make sure they're counted."
Since then, his "hobby" of getting other people elected to office has made him legendary in Moore County. Even in today's political campaigns — which emphasize polling, advertising and the use of the Internet — Little still heeds that lesson.
The Southern Pines businessman, whose philosophy ("If I see enough, I'll sell enough") has guided his highly prosperous career in the insurance industry, saw his political career rebound in 1972 with underdog Jim Holshouser's campaign for governor.
Little backed then Lt. Gov. Pat Taylor in his losing bid for the Democratic gubernatorial nomination. However, he had met Holshouser at a Jaycee convention in Portland, Ore., in 1971, which Holshouser was attending to receive a major Jaycee award for his successes in getting young leaders involved in government and politics. At the same meeting, Little was recognized as the top state chairman in the nation for the same reason.
Not many people thought that a mountain Republican with little money could defeat Congressman Jim Gardner for the GOP nomination, much less the wealthy Skipper Bowles in the November election.
Little told Holshouser if he won the GOP primary he would help him. Actually it took two primaries for Holshouser to best Gardner. But Little kept his word and became Holshouser's chief fund-raiser.
"We raised $175,000 in six weeks, and that was big money back then," Little recalls.
On election night, Holshouser's top political strategist, Gene Anderson, asked Little to come to the Raleigh headquarters to help provide security and to control the crowds at the Brownestone Hotel. Little, who has never been known as a shy person, ended up in all the media pictures with the new governor on election night. Underdog Holshouser won and Little was on his way to becoming a major player in the first Republican administration in this century.
First, there was a $75,000 debt for the governor-elect to pay off. He called on Little, who raised more than $100,000, finding it a little easier to secure funds for an actual winner than for an underdog.
Little recalls that winning that Republican campaign cost around $400,000 and that was for two primaries and the general election.
As Holshouser began putting his administration together, he again placed a call to Little. This time the request was for him to become deputy secretary of the Department of Natural and Economic Resources. His friend, Jim Harrington, was to be the secretary and they formed an excellent working partnership. Little became secretary the last year of the Holshouser administration.
Little did not set out to become a politician. In fact, his parents, George B. Little, an automobile dealer, and his mother, Muriel Evans, office manager for N.C. Natural Gas in Southern Pines, were Democrats until they switched to the Republican party in the mid '60s to support Jim Gardner in his successful congressional campaign. His mother was a native of Southern Pines and his father began his life in Pinebluff, but most of their lives were spent in Southern Pines. They are deceased, as is Little's only brother, Kenneth, who died of a heart attack at age 49 eight years ago. His sister, Joyce Rhodes, is dean of continuing education and business education at Sandhills Community College.
Little met his wife, the former Teena Smith of Pinehurst, at a Christmas party at UNC-Chapel Hill. They dated a couple of years before marrying in 1963.
He got his start in business at the tender age of 8 when he began delivering newspapers, and as a teenager he took care of the tennis courts for the town. His career as a salesman began while in high school and college at Style Mart, where he learned to sell men's clothing. "I learned a lot about sales there from Alan McLaughlin," Little says.
And he's been a successful salesman ever since his days at Carolina, Pembroke, Richmond Technical Community College, and many insurance courses.
"I enjoyed my many years at Carolina," Little acknowledges. "There were only 9,000 students there then, but I came from a graduating class of 60 at Southern Pines High School. Chapel Hill and Southern Pines are a lot alike." He remains a true Tar Heel fan to this day.
In August 1964 Little became a sales rep for Metropolitan Life as a trainee. Although it typically takes five years to do so, he reached the "Millionaire's Club" in only three years. During the same time he began an active Jaycee career and served as president of the Southern Pines chapter from 1968 to 1969.
"This helped me in my insurance business," Little explains. "It gave me good contacts, and since I had to call on many of my customers at night in their homes, that gave me more flexible time during the days to be active in the community."
Little's parents instilled in him the belief that he needed to give to his community if he also wanted to be on the receiving end. Volunteering in politics and community affairs is a hallmark of his life.
While Little served in every state Jaycee office except state president, he again made his mark by helping others succeed. He worked hard in friend Jim Hastings' successful campaign for the national presidency of the Jaycees.
Politics and government caused a four-year interruption in Little's business career; however, the Littles maintained their home in Southern Pines as there was never any doubt about his returning to the insurance field later.
A call from the new governor for Little to come to Raleigh was answered immediately with enthusiastic agreement from Little's wife, Teena, who is a successful politician in her own right. A former public school teacher, she has served as a state senator and member of local and state boards of education. She is now on the UNC Board of Governors.
The love of politics grew during the Holshouser years, and Little's involvement in campaigns, especially in the areas of fund-raising and organization, continues until this day.
Among his activities have been Moore County GOP chairman, 8th District GOP chairman, secretary and finance chairman for the state GOP, and delegate to two national Republican conventions.
Moore County, now a Republican stronghold, has not always been in the GOP column, and Little's tenacity and organizational skills are credited by many for the party's long string of successes there.
Business reasons likely explain why Little never sought public office for himself after his narrow loss in 1969.
"My business depends on my selling," he explains. "To run and serve would take me away from my business. Raising a family and a desire for a good quality of life means that I could not afford to seek elective office."
However, politics has been good to the Littles. He was appointed to the Sandhills Community College Board in July 1981, and he has been a member ever since. The successful GOP county commissioners asked Little what position or appointment he wanted, and the community college board appointment was his first and only choice.
"Teena was on the Moore County Board of Education, and I had served on a business advisory committee at the college. I understood the importance of economic development in Moore County and because of my experience in that area in the Holshouser administration, I thought I could be of some help."
He became chairman of the community college board in 1985 and has been re-elected every December for 15 years.
"I have served with only two presidents, Raymond Stone and John Dempsey, and there have been only five board chairs in the college's history," he points out. Little will become the longest-serving chairman at Sandhills this year.
Little has been a strong, effective leader in state and national community college circles. He served as state president of the North Carolina Association of Community College Trustees from 1994 to 1996, where he championed more effective involvement in a legislative advocacy program. Having his wife in the Senate and the Republicans in the majority in the House were assets to Little's goals.
He has also risen quickly to the top of the leadership of the Association of Community College Trustees and will become national chairman in San Diego next year.
"We're one of the top three states in terms of our leadership and effectiveness of our community college system," Little says.
At both the state and national levels, the Southern Pines educational leader uses his political experience to push legislative advovacy and education and training.
He credits the business and industry training programs as the main factor behind North Carolina's booming economy. He also has pushed more trustees to lobby their legislators for additional funding.
"Legislators are now more aware of the benefits of community colleges," he says proudly. "While we are still under-funded, the last several sessions of the legislature have been good to us."
Little is also happy with the growing number of partnerships between the community colleges and public schools. He will continue to push for more cooperation among all the components of the education continuum in North Carolina.
He lists overall funding, staff salaries, and facilities as three challenges and will continue to work to strengthen local community college foundations to supplement state funding.
Beaming with justifiable pride, Little says, "The quality of instruction at Sandhills is very good. The quality of life here attracts strong people to our college. But we need to pay our people more, and we will continue to improve the quality if we do that."
He applies the same management philosophy to his successful insurance business as he does to his various volunteer positions.
"I hire people who can do the job. I let them do their job, but I expect results and I believe in rewarding them. I like self-starters, and I like to have fun in the office. Some would say I'm a perfectionist."
His organizational skills have also been effectively used in several local liquor-by-the-drink campaigns and several winning bond campaigns for Moore County Schools and Sandhills Community College.
Little has been recognized for his accomplishments by winning many awards over the years. In addition to receiving much recognition through Jaycees and the Sandhills Chamber, perhaps the most prestigious award he has received is the State Board of Community Colleges' I.E. Ready Award. He and Bill Friday, president emeritus of UNC, were honored at the same time. Little also was selected as the Outstanding Trustee for the U.S. Southern Region by the Association of Community College Trustees.
In his busy career, he has also found time to serve on corporate boards.
Dwight Allen, president of Mid-Atlantic Operations for Sprint, has worked closely with Little on many issues and commends, among other things, Little's legendary sense of humor.
"George is blessed with a keen sense of humor and can `quip' with anyone about any subject, but he is also an astute business person who prepares well and understands the details.
"He's always involved in many things but always has time to listen and it doesn't matter if you're the company president or someone much lower in the organization. If you ask George to do something, he never says `no.' His response is `where do I need to be and when do I need to be there.'"
The Littles have two daughters and a son. Cynthia Little Frazier lives in Cary but works for her dad. Their other daughter, Lindsay Little Browning, is in the human resources field at First Health Moore Regional Hospital and her husband, Chris, is vice president of North Carolina Motor Speedway. Lindsay and Chris have two children, Mary Beth, 9, and Erin, 6. The Littles' son, Wes, is an enforcement officer with the Division of Motor Vehicles in Southern Pines and his wife, Theresa, teaches food and nutrition courses in the Moore County schools. They have a daughter, Tori, who is 3.
Little's hobbies include golf (and he is committed to increasing his time on the golf course) and attending Carolina football and basketball games. The Littles share ownership of a condo in Litchfield, S.C. Both are active in golf tournaments in Moore County.
In addition to his community college activities, Little is on the executive committee of NCCBI and NCFREE. "These are two strong organizations which have a positive impact on our state."
And since this is another campaign year, Little is active in the campaigns of George W. Bush for president and Leo Daughtry for governor.
Sandhills Community College President John Dempsey says of Little, "I have never known a person as relentlessly upbeat and optimistic as George. He has the perfect `can do' attitude, and his enthusiasm and energy are contagious. The essence of leadership is the ability to inspire others to stretch themselves — and George does this beautifully.
"His work on behalf of Sandhills, of community colleges, and of all North Carolina has been tireless. He is never too busy to listen, to lend a hand, or to undertake a task that will benefit community colleges. If we gave a `volunteer of the century' award, it would surely go to George."
Read these previous Executive Profiles:
Hunt Broyhill of Lenoir, CEO of Broyhill Asset Management LLC
Frank Borkowski of Boone, chancellor of Appalachian State University
Dwight Allen of Wake Forest, president of Sprint Mid-Atlantic Operations
Charlie Green of High Point, founder and president of Classic Galleries
Abdul Rasheed of Raleigh, founder and president of the N.C. Community Development Initiative.
Dr. John Weems of Raleigh. long-time president of Meredith College.
Margaret Rudd of Southport, co-founder and president of Margaret Rudd & Associates Realtors
Stephen Miller of Asheville, senior vice president of The Biltmore Company.
Ralph Shelton of Greensboro, president and CEO of Southeast Fuels Inc.
Ed McMahan of Charlotte, vice chairman of Little & Associates Architects.
Barry Eveland of Research Triangle Park, senior state executive for IBM.
COPYRIGHTED MATERIAL. This article first appeared in the March 2000 issue of North Carolina Magazine.
Phil Kirk can be reached at pkirk@nccbi.org.